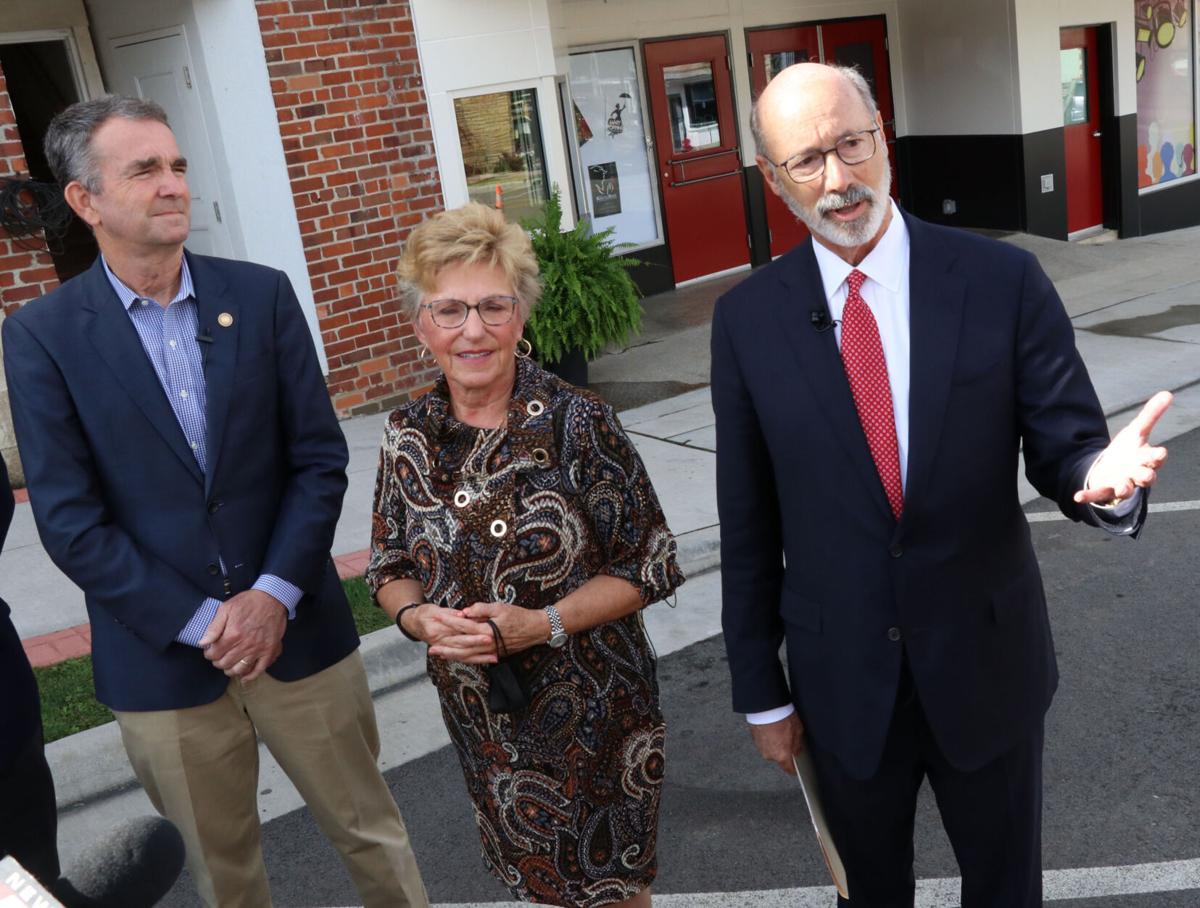 ST. PAUL, Va. – Broadband expansion and tourism promotion were among the priorities this week during the Appalachian Regional Commission meetings in Southwest Virginia.
Representatives from 13 states participated in a meeting Tuesday morning in St. Paul before participating in an ATV trail ride Tuesday afternoon. The commission met to discuss and formalize a new five-year strategic plan which will be unveiled today during a virtual conference. The online event -- Appalachia Envisioned: A New Era of Opportunity -- is scheduled to begin at 8:30 a.m.
Asked, during a Tuesday press event, about some of its priorities, a trio of governors and federal Co-Chair Gayle Manchin of West Virginia all stressed the importance of greater funding for broadband.
"We've all talked about broadband. Broadband is something that is absolutely essential and I think that was only reinforced by the pandemic," Pennsylvania Gov. Tom Wolf said.
Virginia Gov. Ralph Northam, the ARC's co-chair, previously announced plans to invest $700 million in broadband expansion across Virginia into primarily rural areas, during a visit to Abingdon.
Manchin, wife of U.S. Sen. Joe Manchin, D-W.Va., and a former first lady of West Virginia, compared fast, reliable internet service with the interstate highway network.
"President Kennedy said a state cannot grow if it doesn't have a highway system and that's how the Appalachian Regional Commission was created," Manchin said. "That's what built the highway system through the Appalachian region. The irony is that today we face a whole new highway system that has to be created because a state cannot grow without the broadband highway system that we talk about today," Manchin said.
The proposed federal infrastructure bill includes significant boosts in internet funding which has the attention of the ARC.
"We are all rooting for Congress to do the right thing and hope that infrastructure bill passes," Wolf said.
Manchin said the greater federal funding would certainly be welcomed.
"The infrastructure bill would give $210 million to ARC which is a striking advancement over our current and past fiscal budgets and perhaps $1 billion over a five-year period for broadband," Manchin said. "We're looking forward to having opportunities this year that we haven't had before and we may never have again so we want to make sure we're very strategic and collaborative that our states work together."
A trained workforce is also vital to the region's prosperity, Northam said.
"We've heard from some of the educational programs supported by ARC and when we talk about bringing businesses and helping businesses grow in Appalachia, it's important to have a talented workforce so that will be important as we move forward as well," Northam said.
The Appalachian region includes 25 million people, Manchin said, that have a stronger voice when its leaders cooperate.
"We have 13 strong governors and I think they're a powerful voice for the Appalachian region and, working together, I think we can actually transform our Appalachian region and bring the parity. That is our mission to bring parity to the Appalachian region through innovation, partnerships, working together, so we look forward to the work in front of us," she said.
Maryland Gov. Larry Hogan said he recognizes the importance that tourism plays in small towns like St. Paul.
"Tourism and outdoor recreation are something many of the local governments in the region are really excited about and interested in," Hogan said. "It's a great economic driver and getting more people to come out and appreciate the natural beauty is going to bring more dollars into the town, fill up lodging and people will be going to restaurants. It's good for the whole community."
Northam said the global pandemic has been "tough for everyone" and encouraged people to take advantage of outdoor recreation, state parks and other amenities.
"We need to protect the culture and beauty of the Appalachian region," Manchin said. "The only greater asset that we have are its people that are gracious and warm yet strong and resilient. With outdoor recreation, there is no better way to build on the grandeur and beauty of the Appalachian region than being outdoors, enjoying it and appreciating it."