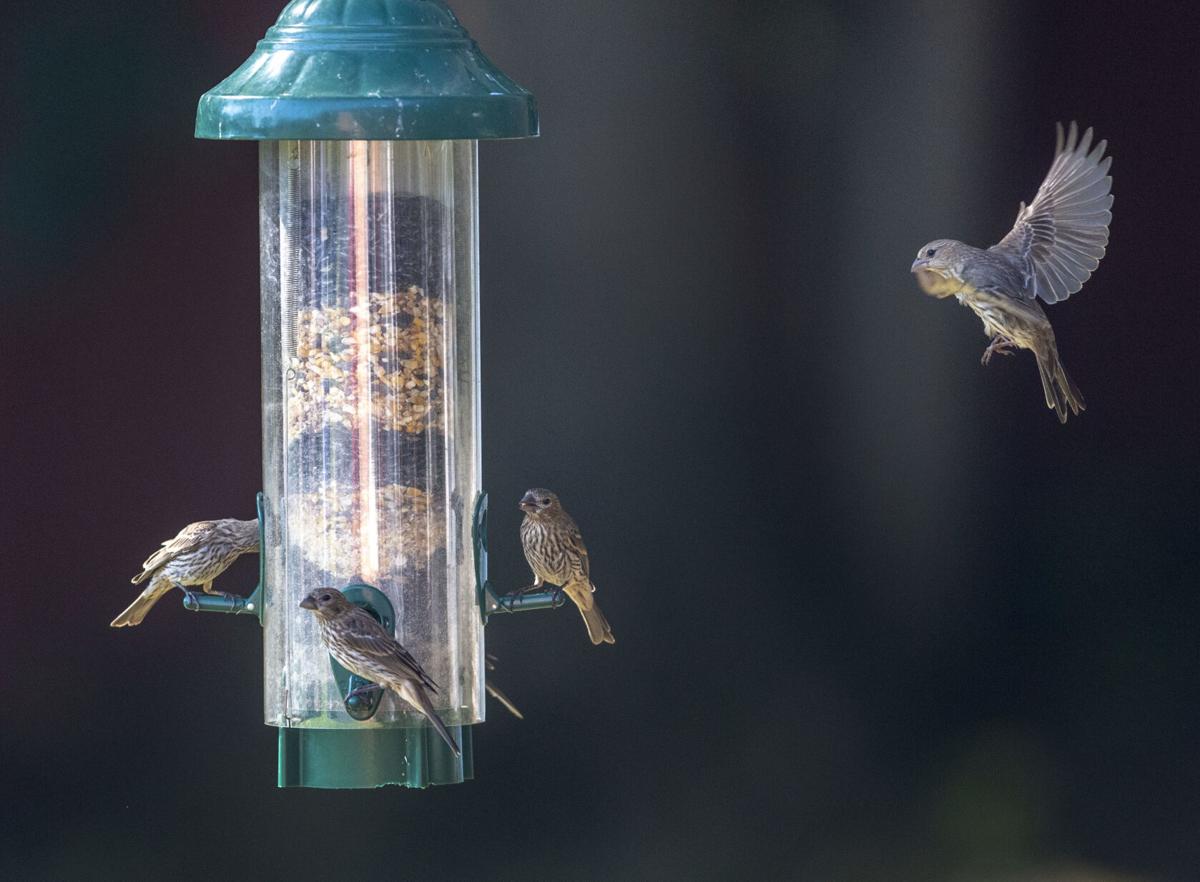 A regional wildlife organization is asking Southwest Virginia and Northeast Tennessee residents to take down their bird baths and feeders to protect songbirds from a mysterious disease — one the group says appears to have reached Southwest Virginia.
"We are currently awaiting some lab results from two different [diseased] birds here in the Roanoke area," Chester Leonard, assistant director of the Southwest Virginia Wildlife Center of Roanoke (SVWC), said Friday. "So we do think it's actually here, but we can't officially state that yet … without the official bloodwork and analysis from the lab."
On Tuesday, the organization issued a public advisory asking residents to "be proactive, not reactive" until experts can figure out what's actually driving the disease that has been spreading across several states, how it's spreading and how to stop it.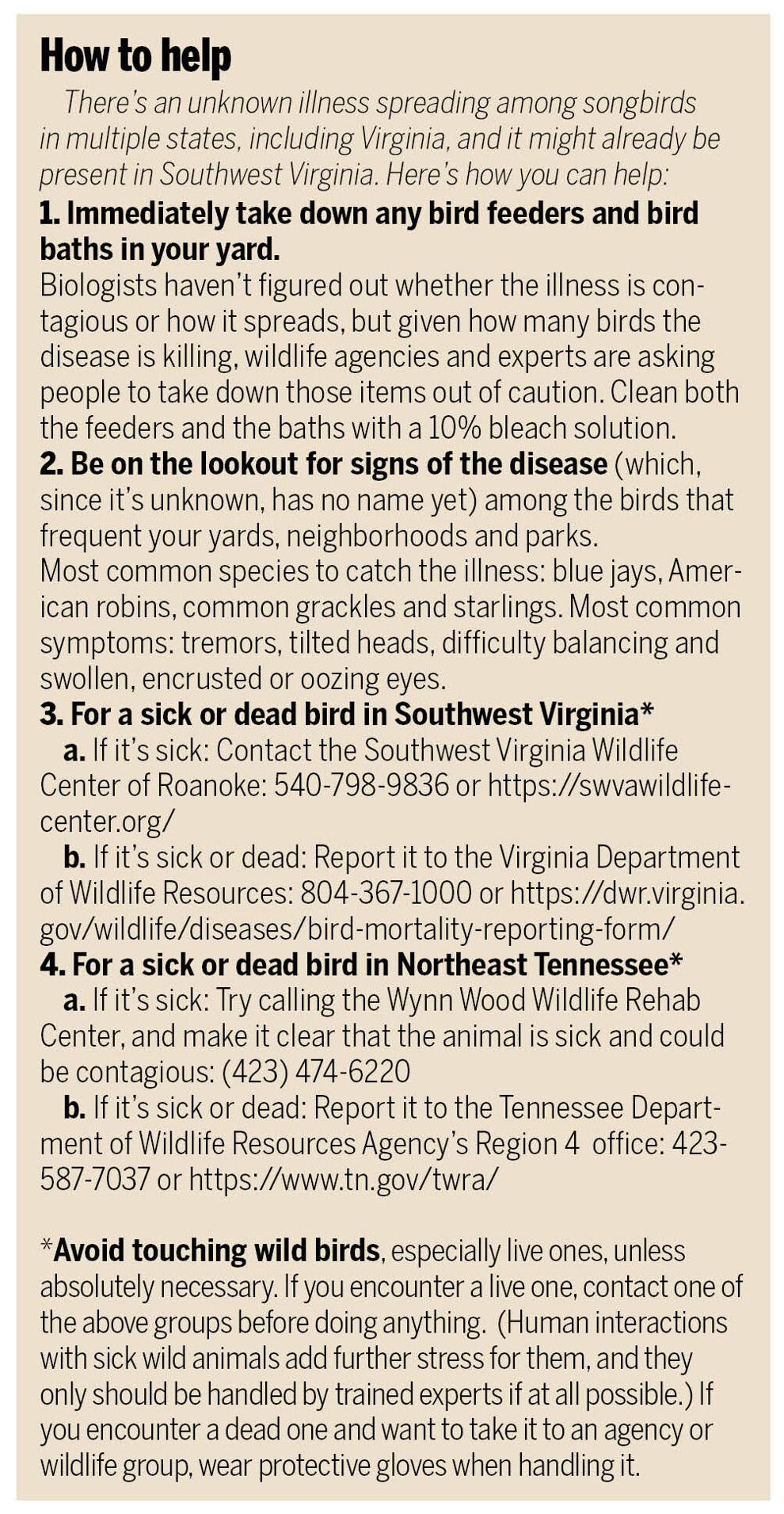 "We are not sure whether this is pesticide-related, viral, fungal or bacterial," the statement said. "There are many labs currently hard at work trying to figure out what's causing this illness; however, in the meantime, we ask that [people] put a hard stop on all bird feeders."
Blue jays, American robins, common grackles and starlings are the species hardest hit by the disease, the statement said. While the symptoms aren't identical from bird to bird, the ones that show up most frequently are tremors, difficulty balancing, tilted heads, and eyes that look swollen, encrusted or oozing.
Leonard said the first cases were reported in northern Virginia, about two months ago, before reports began cropping up in other parts of the state as well as Maryland, Indiana, Ohio, Kentucky and West Virginia.
"If you look at the areas where it's spreading, geographically, they're all relatively similar — they're kind of in the valleys and mountains," Leonard said. "And the same songbirds that are ... in northern Virginia and Kentucky — we're dealing with the same species."
"Where the disease currently exists, it's not rampant, it's not like bird Ebola or anything, it's not going crazy," he added. "But it's still affecting a significant number of birds."
Although some media outlets have reported cases of the disease in Tennessee, the state government did not appear to have issued any statements about it as of Friday. The Tennessee Wildlife Resources Agency could not be reached for comment late Friday.
The Virginia Department of Wildlife Resources, meanwhile, has recommended that Virginians take down and clean their feeders in areas that are seeing the sick birds.
But Leonard said that given birds' ability to fly long distances, their extremely social natures and the vacuum of knowledge about how the disease is spreading, the center decided to ask people in this region to take down feeders and baths, even before seeing any confirmed cases.
The call applies to Northeast Tennesseans as well as Southwest Virginians, he said.
"West Virginia, Kentucky and Indiana have already advised residents across the entire state to take down their bird feeders. … It's kind of encompassing us gradually," Leonard said. "By taking down the bird feeders and the bird baths [in this region], we hope to reduce the number of cases that we see."
The same day the advisory went out, a man in the Roanoke area brought a dead bird to the Wildlife Center's office, Leonard said. Its appearance matched some of the symptoms of the mystery ailment. Then, he said, on Thursday morning, SVWC Executive Director Sabrina Garvin noticed her dogs nosing around something in her front yard: another very diseased-looking, dead bird.
"We've actually had several people email us with pictures [of other birds] and questions as well, especially after a little media [coverage]," he said, referring to a June 30 Roanoke Times article on the disease.
Leonard said his team has worked with multiple state agencies, labs and biologists to test the animals for "all the common stuff," including salmonella. There's been a recent outbreak of that illness among both wild birds and the people who feed them, and a host of government agencies and organizations — SVWC among them — have issued health warnings and calls for people to carefully clean their bird feeders.
But "nothing common is coming back" for the two dead birds from this week, Leonard said. Now, those at the center are just waiting to confirm what he said he's "confident" is the unnamed bird bug.
Any Virginian who sees a dead bird can call the Virginia Department of Wildlife Resources or report it using an online form. Tennesseans can call the Tennessee Wildlife Resources Agency.
If the bird is still alive, he said, Virginians can call SWVC, which only has jurisdiction over animals within the state. Tennesseans can try the Wynn Wood Wildlife Rehab Center in Carter County.
"...We'll do what we can [for the sick ones]," Leonard said. "But if it is this disease, so far, the mortality rate is very high."
"Poor things," Laurel Dokter McKinney said of the birds by phone Friday evening.
McKinney, a bird enthusiast, said she was sitting on her front porch in Kingsport, watching a robin in her yard.
"I live in an older residential neighborhood, so there are a lot of big trees in the neighborhood," she said. "We have little red finches ... sparrows ... a lot of blue jays and cardinals here as well. … Some of the [neighborhood] lawns will be covered in starlings at dusk."
McKinney keeps a bird feeder hanging from a dogwood in her front yard stocked with seeds, and also fills a bird bath every day. But after learning about the advisory, she said she'd definitely stop doing both for the time being.
"I don't want to make birds sick," she said. "We put up feeders more for humans than for the birds, really. Birds are pretty resourceful."