Splintered remnants of Alpha Natural Resources continue to mine coal, six months after the coal company emerged from bankruptcy.
Once among the world's largest coal producers, Alpha reorganized under federal Chapter 11 bankruptcy last July by splitting into private firms and selling off assets to satisfy some of its creditors. The current entities are Alpha Natural Resources Holdings Inc. and ANR Inc., with offices in Kingsport, Tennessee, and Julian, West Virginia, and Contura Energy, a separate private company with corporate offices in Bristol, Tennessee.
Collectively, they expect to produce a combined 50-60 million tons of coal in 2017 — much less than the once publicly traded firm produced.
The holding company serves as Alpha's parent organization, according to Alpha CEO David Stetson.
"That was a structure devised in the bankruptcy court that is more tax-focused," Stetson said. "ANR Inc. is the operating entity and Alpha Holdings is the ultimate parent. ANR Inc. handles all of the operating activities for Alpha."
Alpha's operations now consist of a dozen underground mines, five surface mining sites and seven preparation plants in seven West Virginia counties. Alpha currently controls about 800 million metric tons of coal, including 520 million metric tons of thermal or steam coal reserves for producing energy and 280 million metric tons of metallurgical reserves, which are used to produce steel. The company now employs about 2,700.
Contura Energy began operations on July 26, 2016, through the purchase of Alpha assets by a consortium of first-lien lenders as a part of the restructuring. Its holdings include nine underground and four surface mines in Virginia, West Virginia, Pennsylvania and Wyoming's Powder River Basin. Contura and its affiliates control about 1.4 billion tons of reserves, including about 80 percent in thermal coal.
Contura currently employs about 2,200 former Alpha employees and notes in a November 2016 company overview that the overwhelming majority are non-union workers. Contura employs 648 members of the United Mine Workers of America, according to the overview.
At its zenith five years ago, Alpha employed about 14,000, operated upward of 150 mines and controlled more than 5 billion tons of coal reserves.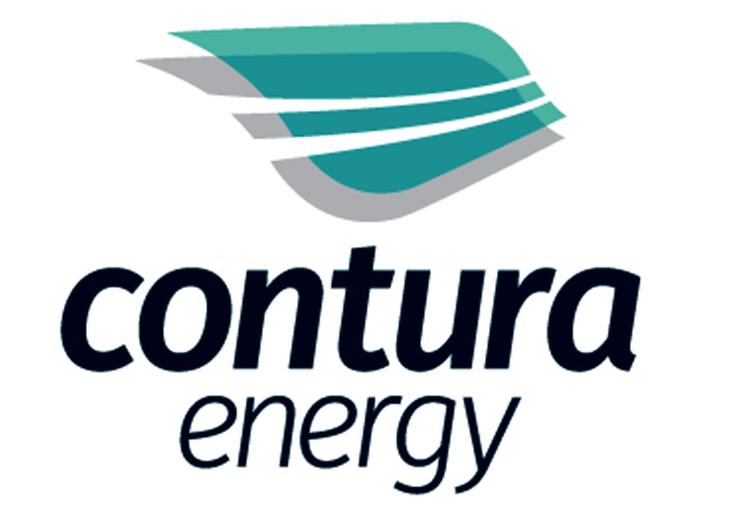 Alpha and Contura maintain separate balance sheets, but the two companies are linked in a couple of ways.
Contura rejected multiple requests to speak directly with management, including CEO Kevin Crutchfield, but the company did supply emailed responses to questions.
"Contura Energy and Alpha Natural Resources are fully separate companies, operating independently of one another," Contura officials said in a written response to Bristol Herald Courier questions. "We do have an agreement in place, however, whereby Contura assists Alpha in marketing and selling a portion of its coal into the export market. Through this, and other purchased coals we secure, Contura is able to offer our customers a variety of coal blends in response to specific market opportunities."
Contura is managed by former Alpha CEO Kevin Crutchfield. It also owns about 41 percent interest in the Dominion Terminal Associates export terminal in Newport News, Virginia, which has an annual capacity of 22 million metric tons of coal.
Contura also has the authority to loan funds to Alpha.
"As a condition of Alpha's restructuring settlement, Contura is providing a contingent credit facility to Alpha, under which it can draw up to $35 million of cash, depending on certain liquidity measures at Alpha," according to a Contura response. "This credit facility may be drawn on until the end of the third quarter of 2018, and any outstanding balances must be repaid by the end of the third quarter of 2019."
ANR CEO Stetson predicts that option won't be exercised. During the bankruptcy, Contura agreed to provide Alpha a $35 million line of credit that could be used if Alpha liquidity drops below $20 million, he said. The line of credit is a "backstop" created by the bankruptcy court to give the company some flexibility, he added.
However, Stetson characterized Contura as "invaluable" for the new Alpha.
"We have a strong relationship with Contura and have absolute confidence in their senior management and sales team," Stetson said. "They have access to the ports in eastern Virginia, they have expertise and knowledge in the international market that we don't currently have in-house and a strong balance sheet and great liquidity. Contura is an invaluable tool and resource to Alpha's success."
The original Alpha was founded in Gate City in 2002 by longtime coal executive and engineer Michael Quillen, who borrowed $50 million from private equity firm First Reserve Corp. to purchase the former assets of Pittston Coal.
In the decade that followed, the company embarked on a series of acquisitions and mergers that saw it spiral up to become a Fortune 500 company listed on the New York Stock Exchange and a global leader in coal production.
As a product of that growth, the firm relocated to larger offices in Abingdon and later to Bristol, Virginia.
Alpha's annual revenues swelled to more than $7 billion in both 2011 and 2012, but the bubble was about to burst. In 2011, Alpha spent $7.1 billion to acquire embattled Massey Energy — once the largest coal producer in Appalachia — but the company was reeling after a 2010 explosion killed 29 miners at one of its facilities in West Virginia. Massey was hit with more than $10.8 million in fines from the Mine Safety and Health Administration for flagrant safety violations and longtime Massey CEO Don Blankenship was tried and subsequently sentenced to prison.
The Massey acquisition made Alpha the nation's third largest and world's fifth largest coal producer and a powerhouse in metallurgical coal. But massive debt combined with plummeting foreign and domestic demand for both thermal and metallurgical coal, competition from ever-cheaper natural gas and stringent Environmental Protection Agency regulations cast a pall over the coal industry.
As the price and demand for U.S. coal slumped in 2012, Alpha and other producers began announcing layoffs. Its earnings slipped to $5 billion in 2013, and the downward spiral continued for the following two years.
In mid-2015, rating agency Standard & Poor's downgraded the company's $3.2 billion long-term debt to negative and called it "unsustainable." First listed on the New York Stock Exchange in 2006, Alpha's stock was suspended in July 2015 for remaining "abnormally low." It closed virtually worthless, at 24 cents per share and traded over the counter for pennies.
Alpha petitioned the U.S. Bankruptcy Court in eastern Virginia in August 2015. At that time, it had 8,000 employees, nearly $10 billion in assets and $7.3 billion in liabilities. It also announced plans for a $692 million, 18-month bankruptcy loan arranged by Citigroup, according to its filing.
By December 2015, midway through bankruptcy, employment levels at Alpha and its affiliates declined to 6,700 people with 43 active mine sites, 19 preparation plants, and several office support locations, primarily in Kentucky, Pennsylvania, Virginia, West Virginia, and Wyoming.
Some of those assets were subsequently sold to satisfy some creditors and the company auctioned off oil and natural gas assets in Pennsylvania for $340 million.
As with any bankruptcy, there were winners and losers.
In July 2016, the United Mine Workers of America ratified new 4.5-year collective bargaining agreements with both Contura Energy and Alpha.
"As always happens in bankruptcy situations, Contura Energy and Alpha had orders from the bankruptcy judge that eliminated the previous contract and stripped away any obligations for these companies to continue paying for pensions and retiree health care," UMWA International President Cecil E. Roberts said in a written statement. "We were essentially starting from zero in negotiating these agreements. Because of the solidarity, our members at these operations were able to preserve virtually every article of the previous agreement other than defined benefit pensions and retiree health care."
As per the bankruptcy judge's order, neither Contura Energy nor Alpha will pay into the UMWA 1974 pension plan going forward. In lieu of the companies paying for and administering retiree health care, lump-sum payments totaling $28.5 million will be paid to a Voluntary Employee Benefit Association that UMWA will manage until that funding runs out, according to the statement.
In November, West Virginia regulators settled a lawsuit with Alpha Natural Resources over concerns about its reclamation obligations.
The settlement came days after Alpha revealed $100 million in unaccounted-for expenses. That state's Department of Environmental Protection filed a lawsuit against Alpha and, as part of the agreement, Alpha will use its $6 million headquarters in Boone County as collateral and Contura agreed to post a $4 million letter of credit and issue a $4.5 million guarantee, each through 2018.
Alpha has updated a November 2016 estimate and now expects to produce more coal than originally forecast this year.
"We originally looked at where we would be going into 2017 and came up between 12.5 and 13.5 million tons of coal," Stetson said. "Since that time, based on the current market conditions, we have increased that number north of 14 million tons. That is a direct correlation to the current market and current demand from our customers."
While markets remain volatile, the company expects foreign and domestic sales growth.
"Everyone has seen the metallurgical market has increased significantly since we emerged from bankruptcy in July. We have seen significant demand at both the domestic and international level," Stetson said, noting that they will rely on Contura for all international sales. "China cut back in the number of days they're allowing their mines to operate. Right now, we're seeing strong demand.
"Domestic side, we had a good contractual period. [They anticipate] a strong market first half of the year with some softening the second half of the year, but nobody knows how much that will be. We see some strengthening in the thermal side. Our customers have requested us to provide them quantities to move our tonnage up from 12 million to over 14," Stetson said.
Alpha officials are actively working to divest their least productive assets, Stetson said.
In October 2016, Alpha sold off its Enterprise Mining operations in eastern Kentucky, including mine sites and the Roxana preparation plant. The operation had been idle since July 2016. Buyer Kingdom Coal of Texas indicated it expects to restart those mines and hire ex-Alpha employees, Stetson said in a written statement.
Alpha officials will continue to look for opportunities to sell "non-strategic" assets.
"If we have properties that we believe don't fit into our five-year, long-term mining plan we are looking at divesting," Stetson said. "We have letters of intent out on two additional properties and we have two others that are being reviewed by third parties. I anticipate by the end of first quarter 2017 we'll have at least three more property divestitures that are non-strategic."
However, Alpha is also looking at bringing shuttered facilities back online.
"We have 12 underground mines currently in operation and five surface operations. We're going to bring on two more surface properties that are idle into operation. We're in a very strong position. We've got some very strong properties and we're deploying capital to continue that," Stetson said.
The company is also allocating money — more than $65 million — for capital expenditures, including $25 million to develop the Marianna [West Virginia] reserve to bring about 16 million tons of low-volume coal to market, Stetson said.
The company is deploying capital for its five-year business plan and all strategic planning is three to five years out, Stetson said.
Alpha is also committed to completing reclamation obligations, reducing the number of idle operations and divesting itself of "non-strategic" mining permits, according to the company's November 2016 overview. That includes investing $70 million on reclamation and idle properties and efforts to reduce self-bonding.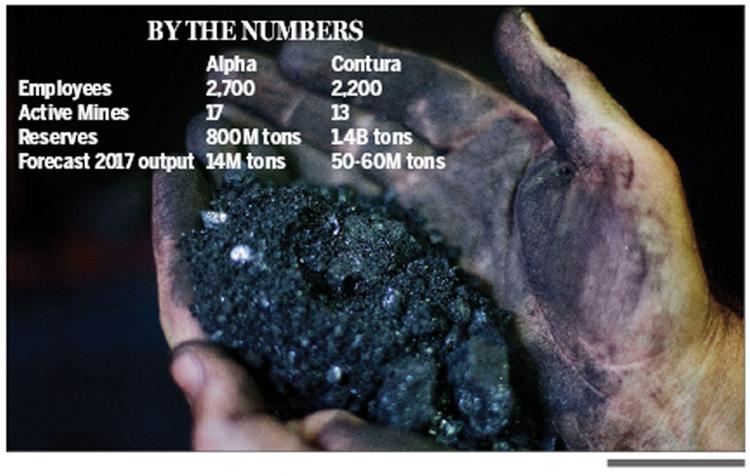 Contura anticipates its total 2017 coal shipments to range between 43.1 million and 50.5 million tons, according to its outlook report issued last November. That includes 3.5-4.3 million tons of central Appalachian coal, 7.6 to 8.2 million tons of northern Appalachian coal and between 29 million to 34 million tons from Wyoming's Powder River Basin.
Those totals include an estimated 3-4 million tons of metallurgical coal marketed for or purchased from other producers.
The company reported a net loss during the third quarter of 2016, but its 2017 guidance is more positive. Contura had a net loss of $51 million on revenues of $245 million during the period. Coal revenues from July 2016 to September 2016 were $212.9 million, with central Appalachia accounting for $37.2 million, northern Appalachia revenues totaling $42.3 million and the Powder River Basin generating $80 million in coal sales.
"With our strong set of coal and logistics assets, well-established customer relationships, and experienced production and sales teams, we are excited to chart a new course for our recently formed company," Contura CEO Kevin Crutchfield said in a written statement at that time. "We believe Contura is well-positioned to take advantage of tremendous opportunities in the current market environment, especially in metallurgical coal markets, through our organic production and our trading and logistics activities."
In a written statement to the Herald Courier, Contura officials sounded optimistic about the year ahead.
"As a newly formed company, we've been focused on operating safely, responsibly, and efficiently so that we can fully participate in a market environment that has improved significantly over the past several months. We are happy with the progress we've made. With the team and experienced leadership Contura has in place, along with a set of cross-basin, productive assets, we feel we are well positioned to take advantage of these strengthening markets," according to the statement.
The vast majority of Contura's coal assets are in steam coal and that is expected to be the dominant part of its sales going forward.
"In the first three quarters of 2016, operations acquired by Contura Energy shipped approximately 33.8 million tons of coal, including 3.3 million tons of export coal to more than 15 countries around the globe; roughly 30 million of those tons were sold into thermal markets," according to a company statement.
For 2017, the company expects to produce a total of between 40.1-46.5 million tons, supplemented by another 3-4 million tons of purchased coals. The percentage of met versus thermal production next year will depend somewhat upon market dynamics, states the release.
Contura officials say neither expansion nor divesting itself of mining assets are priorities.
"Contura's focus since formation has been on operating in a safe and responsible manner while maintaining cost-efficiency, rather than pursuing any asset sales or new acquisitions. That being said, we are constantly evaluating various strategic actions, and will be opportunistic in any transactions that we consider," according to the written statement.
The Associated Press contributed to this report.
Be the first to know
Get local news delivered to your inbox!