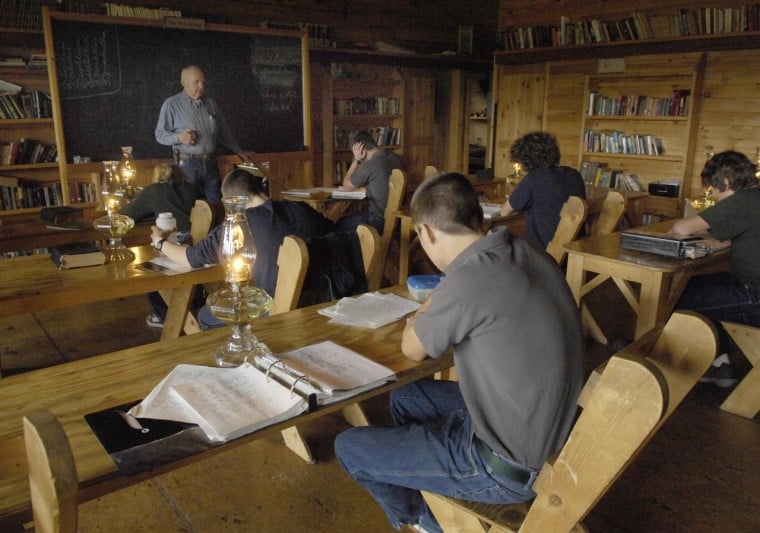 MOUNTAIN CITY, Tenn. – Up before the sun rises every day, these teenagers are fixing breakfast from scratch on an old iron cook stove by the light of a kerosene lamp.
The meat comes from animals they help slaughter and vegetables grown in their garden. The simple meal they prepare is fuel for a long day of hard work that they pay for the privilege of doing.
In East Tennessee, these are the hallmarks of an elite education.
After 10 years of teaching students in rural Johnson County, staff members at Freedom Mountain Academy say few people in the area have even heard of them – but a respect for the land and culture of the forefathers has been sent home with a generation of students who've come to study from across the nation.
The family-run academy, a lodge in a rural area between Mountain City and Damascus, Va., combines farm work and outdoor expeditions with an academic program focused on critical thinking. It replaces one year of high school and promises to help students find themselves – all on a remote mountain farm.
Tuition is $27,500. But, says Margaret Cullinane, a teacher and counselor at the boarding school, "There won't be anything even remotely resembling cafeteria food. Ever."
Kevin Cullinane says grace over the midday meal, thanking God for the health and strength to do tough physical work as millions lie in hospital beds around the
world just wishing for the opportunity.
He is a former Marine, a former lobbyist, a man disillusioned by the realities of war and politics; he says his soul was restored at 35 degrees below zero on a wind-blown Idaho ridgetop during a six-day expedition with students.
He founded a school in Idaho in 1972 and, with his wife, founded Freedom Mountain Academy in 2000.
He missed an opportunity years ago, he said, when he was given a 10,000-acre farm on the Brazilian frontier, but with a wife and four children he found himself unable to inhabit a place that was more than a day's journey from the nearest store.
Only later did he stumble upon the "Little House on the Prairie" books, which chronicle life on the American frontier in the late 19th century.
"That's when I realized my own upbringing in suburban America had left me woefully unable to take advantage of the frontier," he said. "There's all kinds of good land with nobody living on it because there's no school nearby, there are no shops nearby."
So he decided that when he opened a school his students would learn some of the survival skills that Americans have forgotten with each generation removed from the wilderness.
He defines freedom as self control, and he speaks in parallels of the tie throughout American history between the desire for intellectual freedom and the need for self-reliance to achieve it.
The people who came across the Atlantic on the Mayflower to settle in the new world were separatists seeking one thing, he says: an opportunity to live their lives and raise their families without government interference.
They didn't mind the hard work or hardship they endured for the sake of freedom, he says;
it's a vein of self-reliant idealism that's run through much of the nation's past.
"It's definitely extreme and radical because in the very beginning they left everything that was comfortable," said Ava Bollinger, a 19-year-old graduate of the program who's returned as an assistant instructor.
"It definitely wasn't easy … but they did it for freedom," Bollinger said. "People have always fought for freedom, and I think that's what we're doing here … freedom of thought … study yourself, question, bring back the curiosity that was once there."
Teacher and counselor Dan Cullinane arrived at the school two-and-a-half years ago from Los Angeles. He said he was "seeking something a little quieter, less frenzied."
Many of the students come seeking the same, he added.
"I guess they [my parents] really wanted me out of D.C.," said Hope Allen, a 14-year-old student from Washington, D.C. "I kind of wanted myself out of D.C."
But the reasons for coming to the school are as varied as the students, said Margaret Cullinane, also a teacher and counselor.
Some arrive with a sense of adventure, a desire for something different than what's offered in a traditional school setting, she said. Others are sent by parents hoping to improve their kids' grades and attitude.
"It's all people who need a year out of their home environment to get to know themselves and their potential," she said.
"Because they come from fairly affluent circumstances, they often don't have to do anything, and they miss out on all the things they'd get to learn by working
When the students arrive, the clothes they're wearing go into a bag, said Kevin Cullinane, along with the cacophony of electronic devices that have become a norm of teenage life.
All the essentials here – clothes, work boots, bed linens, outdoor gear – are provided.
A typical day starts earliest for the students whose turn it is for kitchen duty; they get up at 4:30 a.m. to light the stove and cook breakfast. For everyone else, the day begins at 6 a.m.
The students start the morning with history class, followed by breakfast and chores: cleaning, cutting wood and feeding livestock. At 9 a.m., comes more academic study, followed by dinner at midday.
The academics are non-traditional, with the class of 14- to 18-year-olds tackling intellectual heavyweights across the ages, from Plato to Ayn Rand. They study ethics and alternative history along with science and English – and they're told they must question everything.
The students then work on the farm until supper, which is followed by more classes and an hour of free time.
Joseph Sariego, a 16-year-old student from Miami, Fla., described how he's helped build a bridge over a small creek on the property.
"First, we picked out a tree that we wanted, we cut it down, then we had to limb it and cut the tree to size, and after we do that we have to peel the bark off the
tree with a drawknife, and that helps protect the wood so it doesn't rot so fast," he explained. "We had to drag the two main struts, which are about 12 feet long, and then we put rocks underneath it to elevate it from the ground to keep it from rotting, then we dug post holes for the railing, put in the posts, nailed down the railing, nailed down the planks, now we're just building up some ramps for it that are made out of dirt."
The other big thing Joseph said he has learned since his arrival in September: how to clean a chicken.
"It teaches you a lot of stuff that you would otherwise never learn," he said of the school. "A regular school would never teach you how to build a bridge, it wouldn't teach you how to go out backpacking, and it wouldn't teach you a lot of the stuff that they teach you here."
With the exception of a phone call to family every two weeks, the students communicate with friends and family the old-fashioned way, Margaret Cullinane said: "They learn to write letters."
Trending toward simplicity
Mike Besneatte, farm manager and outdoor hiking instructor at the school, said in the past few
years he's heard of more schools like this being formed around the country.
"In my opinion, parents are unhappy with what they're getting out of public schools," he said, adding that with the problems of drugs and violence, more parents are becoming disillusioned with the system, especially when their kids' grades suffer.
The number of students at the school varies. Currently, there are eight, while in the past there have been around 20 students.
And while the number of students enrolled here has decreased with the economic downturn, the tough economy has more people worried about their dependence on jobs with an uncertain future, he said, increasing the market for schools that teach hands-on skills to their kids.
"I think it's distrust of the government, and not just the government itself, but the government's ability to provide," Besneatte said. "Because of the economic downturn, more people are seeking ways to prepare and to provide for themselves."
Those issues aside, the students here gain a new appreciation for their ancestors who settled the frontier, he said – and a new knowledge of their own capabilities.
"By doing it themselves and not having other people do it for them, they get so much more out of it," he said. "Their sense of accomplishment is so great when they do it."
"Trying to make things easier on yourself, using the least amount of energy, you create a lazy society. I think it weakens the strength of certain characteristics that create the human," said Sierra Raaum, 23, who works at the school. "There's a peace that comes with this place that you'd never get until you put yourself in this situation."
Impending societal collapse?
If she weren't here, said Chana Kellman, a 14-year-old student from New York City, she'd be pretty bored.
"I'd be in school … just sitting there probably asleep, and then after that I'd be taking the subway home, which took like three hours," she said. "A lot of fun."
The trip is five miles, she said, but the train makes a lot of stops.
"My grades were awful, and I needed a much better environment," she said. "I don't like the city."
Chana might be the smallest of the group, but when it comes to splitting wood, she intentionally tackles the most knotted, misshapen piece she can find. She said it seems so much easier to just get milk from a cow than to have to travel to a store and buy it.
"It's a little hard to adjust," she said of life on the farm, "but I like the adjustment."
She acknowledges that her friends back home thought she was crazy to leave behind electricity, television and computers – and feared she would turn into a redneck.
"So I wrote to them and said howdy, just to freak them out. It's pretty fun freaking them out," she said. "I don't want to go back to my old school or any school."
One aspect of the Mountain Academy curriculum is a broad view of society, Bollinger said. The course takes a look at the rise and fall of many past societies and a pattern of decline that is mirrored in modern America.
Bollinger comes from Boulder, Colo., with a certain attraction to the Appalachian region because, she said, "It's not completely developed." She thinks people in other places are too dependent on society – and they could learn a few things from the people here.
"It's a more impoverished area than much of the United States, but people know how to live and be more self-sufficient," she said.
"Farm life is hard work, but it's worth it. It's healthy and peaceful and your emotional, spiritual and physical self gets fulfilled. … I think it's how humans were
Ultimately, she wants to live on a self-sufficient farm.
Student Cree Darling, 18, of Santa Cruz, Calif., said he wants to live self-sufficiently, too, but he believes it can be done in the city.
"Now almost everyone is predicting a hard slide," Kevin Cullinane said of the current economic time. "It's not going to be a standard recession … and what I knew would be useful during hard times is self-reliance."
He says it's been an essential piece of American history – the willingness of people to go out on their own, to settle the frontier and grow, and an industrial economy that became the envy of the world – and an enduring self-reliance that kept the growth of government in check. His history course has a strong bias toward what's right about America, he said.
"It [America] attracted people … from all over the world that were confident, those who were productive, who were innovative, this country was what they wanted," he said. "Those who craved security and safety stayed in [Europe]."
In the early days, all it took for a man to go into business as a street merchant in America was to buy a push cart; all it took for him to earn a living was to get off the boat, grab a shovel and head for the Erie Canal.
"In Russia or Germany where he came from, he had to have a license, he had to have a permit, all kinds of restrictions and regulations," he said.
The American culture he promotes is one not of a particular race or religion, not defined by holiday traditions or social standards but by the ideals of freedom – self-control and self-reliance – and the sense of opportunity that has lured people here for centuries.
Whether or not America as we know it is nearing its end, this tiny boarding school, tucked amid the pastures and wooded hillsides of Johnson County, could be called an intellectual outpost of American culture in a frenetic globalized world.
Every collapsing society has its remnant, said Besneatte, a group of people who carry the torch forward to start over again.
"We know we're falling, but we don't know how far it is to the bottom," Bollinger said. "We have a model here of preparing for the worst and hoping for the best."