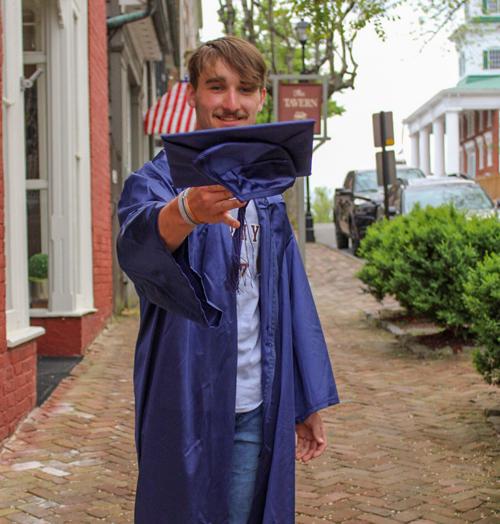 ABINGDON, Va. — Reed Jones was sitting in calculus class at Abingdon High School this spring when he got the surprise of a lifetime.
"I'll never forget this in all of my life," said the 18-year-old, who's already experienced many "wow moments" as a top-ranking varsity football player and a dedicated volunteer in the community.
"I had gotten two missed calls from a number in San Antonio, Texas. I figured it was spam, but when I looked at my phone again, I had an email."
That's when things got interesting.
The email was from Darin Kellogg, scholarship and enrollment officer for Army ROTC at Virginia Tech and Radford University.
The graduating senior learned that he is one of only two students in Virginia to receive a $2,500 Marocchi Memorial College Scholarship from the Virginia War Memorial for 2021. He was recognized during the 65th annual Commonwealth's Memorial Day Ceremony at the Virginia War Memorial in Richmond on May 31.
The scholarships are awarded annually by the Virginia War Memorial to deserving high school seniors in public and private schools. Recipients must plan to pursue a career in military service by beginning with the Army Reserve Officers' Training Corps (ROTC) program at a Virginia college or university.
Jones applied for the scholarship during his senior year at Abingdon High School.
The student will attend Virginia Tech this fall where he will enroll in the ROTC, using the scholarship money toward his college education. He will pursue a degree in national security and foreign affairs.
His goal is to join the Ranger Company at Virginia Tech, a program that develops Army ROTC cadets as leaders and prepares them for the rigors of a career in the Army.
The scholarships were established in memory of the late Rear Admiral John Marocchi by his family and are administered by the Virginia War Memorial Foundation. Admiral Marocchi served in the United States Navy for decades in a career that spanned World War II, the Korean War and the Vietnam War. He was the recipient of the Purple Heart, Legion of Merit and was one of the few Navy officers to complete Army Airborne training.
"The legacy of Admiral Marocchi is very admirable," said the student. "His life is something everyone can look at and take as an example. He left quite a legacy."
Nothing could have suited the teen more than to receive this honor.
Jones has wanted to serve the nation since he was a child. It's something he's dreamed about all of his life.
"A life of service is one that will make me happy," he said.
"I think serving the country is one of the most honorable things someone can do. Everyone talks about serving your country, but it's also about serving your neighbors."
Except for a grandfather who served in the 101st Airborne Division in the Vietnam War, the teen can't put his finger on any one thing that made him want to join the military.
"It's a collection of things, I guess. It's a passion for sacrifice, physical fitness, warriorship and service."
He's always been enthused by all things military for as long as he can remember — tanks, planes and helicopters. As he grew older, he learned what it really means to sacrifice.
"Someone has paid for my freedom, and it wasn't free. I want to pay it forward and pay for someone else's freedom," he said.
A leader in the community
It's no wonder Jones was selected to receive the scholarship. With a 3.76 grade point average, the student has made serving others a priority in his life.
As a high school freshman, he was a greeter and community volunteer at Highlands Fellowship in Abingdon. The following summer, he joined the volunteer staff at Bristol Regional Medical Center, where he was an emergency room and catheterization lab volunteer.
"That was really awesome. I got involved in the hospital atmosphere," said Jones, who at the time was interested in pursuing a medical career.
When COVID-19 put his volunteer work on hold, Jones reached out to Meals on Wheels at the Community Center of Abingdon, where he volunteered as a driver for several months.
"I developed relationships with the people I served. I liked being able to bring a little joy to them."
His other volunteer work includes helping with the St. Jude Walk/Run fundraiser; Kirk Nairn Memorial Golf Tournament; and the Damascus First Baptist Thanksgiving Food Drive Delivery.
On top of his volunteer assignments, Jones also worked part-time at a local grocery store in town.
The teen's next steps will be a road trip to Virginia Tech, where he will begin new cadet week Aug. 14.
"I'll get a fresh buzz cut that everyone loves, a new uniform, learn to march, and generally get familiar with the Virginia Tech Corps of Cadets."
Along with other cadets, Jones will rise at 5 a.m. and report to physical training by 5:30 a.m. before he showers and eats breakfast and prepares for a day of classes. After going through the day as a regular student, he will attend military classes where he will learn all things Army — formations, etiquette and leadership skills.
Like all cadets, he will wear a Corps uniform when he attends classes.
Through the Army ROTC program, Jones will earn a commission in the U.S. Army in hopes of being placed on full-time active duty after graduation from college. A commissioned officer is a military officer who has achieved a rank before officially assuming their role.
As a commissioned officer, he plans to achieve the rank of second lieutenant and will commission into the U.S. Army as a second lieutenant.
"I think I'm ready for it. It's been a long time in the making. I'm very excited," he said.
Jones credits his family for preparing him for this adventure.
"My parents have pushed me above and beyond to achieve things they knew I was capable of. Without them, I would never have made it to where I am today."
His dream future plan is to one day move to Texas, where he will own a ranch and tend to a farm.
One thing is certain. Serving his country and community will never be far behind.