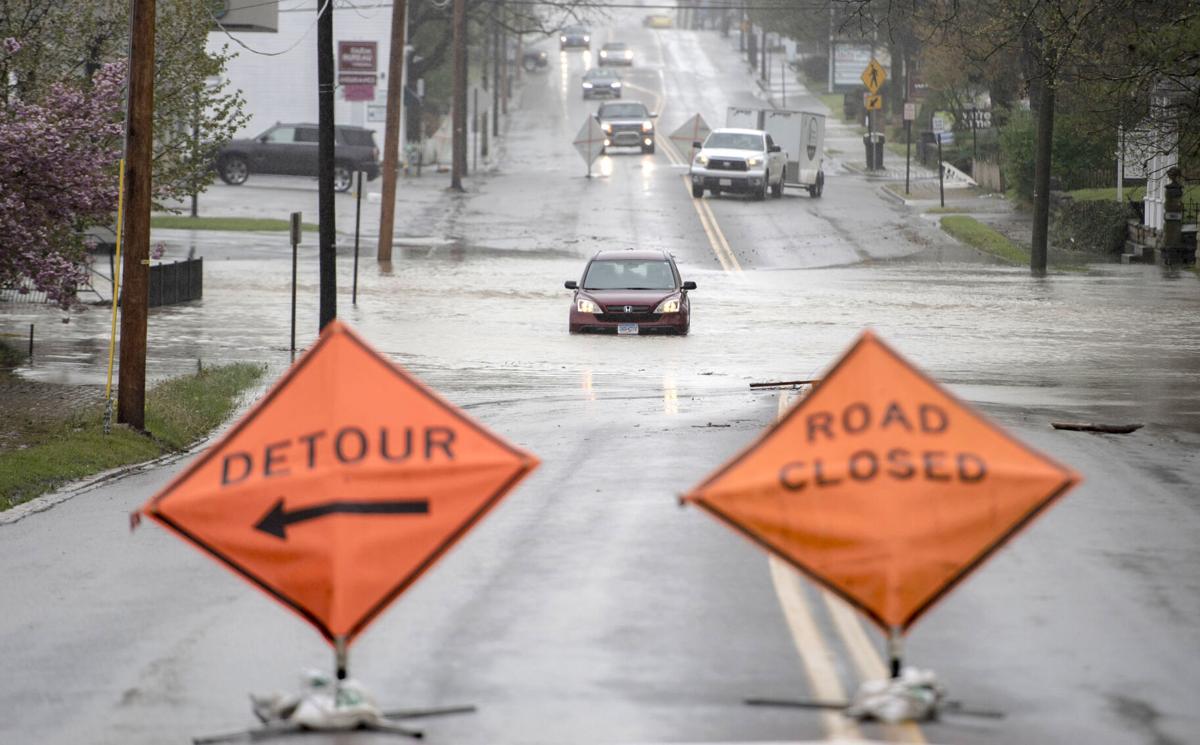 ABINGDON, Va. — The deluge of rain that came with last weekend's thunderstorms resulted in Town Creek flooding across East Main Street in Abingdon, once again snarling traffic and forcing motorists to follow a detour.
In all, the 300 block of East Main Street was shut down for more than 24 hours — a situation that Washington County's director of emergency management, Theresa Kingsley-Varble, called "a nightmare."
This was also far from the first time that the Abingdon Police Department had to put up barricades blocking the main drag through town due to excess water.
"It's a low area. It's not surprising," said John Dew, the town's public works director. "In very simplistic terms, it's just too much water coming down a drainage-way with too much development around it."
This recurring problem is set to be the focus of a comprehensive Town Creek study, said Town Manager Jimmy Morani.
Dew hopes to work on the study later this year.
"That's going to give us a good baseline going forward as we approach grants," Morani said.
Dew said, "We have a strategy and a path that we're pursuing to try to address it."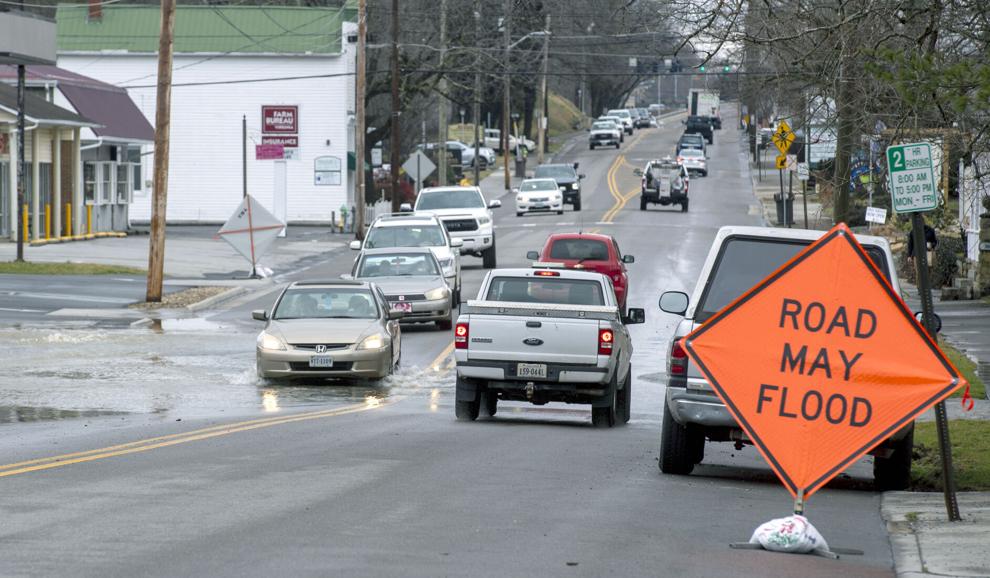 At present, traffic gets stopped by Town Creek floods "between two and five times a year," Dew said. "It just depends on the intensity of the storm events."
Abingdon's Main Street doubles as U.S. Highway 11 — a primary north-south corridor that serves as the emergency route for the parallel span of Interstate 81.
"It's certainly not a desirable situation when it goes across Main Street," Dew said. "I understand it's an inconvenience."
Flooded business
Erika Campbell says this flooding problem seems to get worse each year.
"The level of that stream, every year, it seems to have risen. It used to stay really low," said Campbell, 42, the manager at 343 Designs, a cabinet shop at the site of an old gas station on East Main Street.
"Increasingly, with the past two years, the water level stays up much higher than it ever has," Campbell said.
Town Creek flows alongside this business property, which is left stranded when East Main Street shuts down due to floods, Campbell said.
"When they close the road, our customers cannot get to us," he said.
Yet that is not the only concern.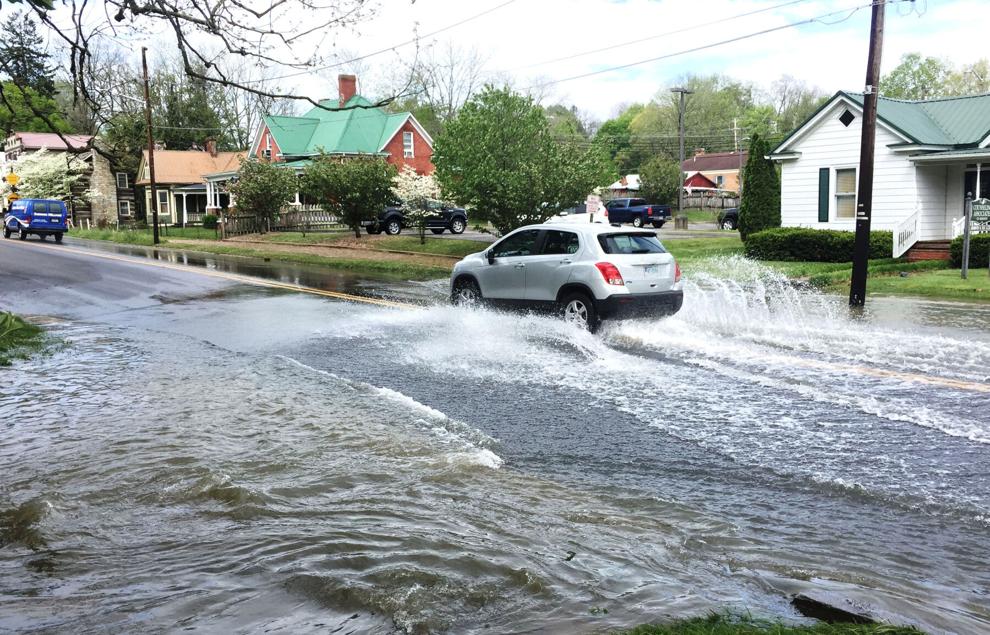 "All of the sewer lines run across the creek," Campbell said. "When the creek rises, you cannot flush the toilet. And when you try to, it will back up."
Longtime problem
Flooding on East Main Street was a problem long before Dew came to work for the town in 2006, he said.
"Town Creek is channeled into too many narrow places," he said.
Recently, he found a 1922 map of Abingdon that lists Town Creek as an open channel. Back then, Dew said, Main Street traffic had to ford the creek.
"It's a problem that's taken 100 years-plus to create and there's certainly not a cheap solution," Dew said. "And it's just been an issue that's been created and continued through all the years of development in a drainage-way — a floodway."
Seeking a solution
Decades ago, town leaders looked for a solution to the floods, Dew said.
"The town went as far as having a design done in the late 1990s or in 2000 to raise Main Street and put some larger box culverts underneath," he said.
Currently, town officials are looking to study Town Creek's corridor as it flows through the corporate limits.
An application has now been submitted for a $50,000 grant from the flood prevention and protection program of the Virginia Department of Conservation and Recreation, which is set to be matched with another $50,000 from the town's coffers, Dew said.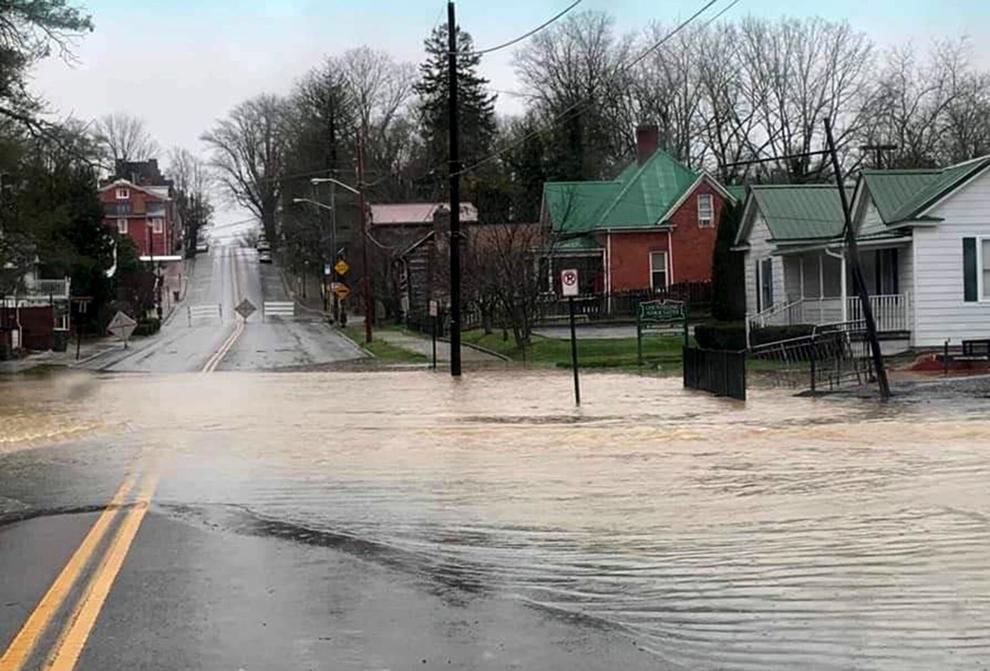 That money would then give the town enough leverage to wage war against the elements and seek a solution to the flooding, Morani said.
Results of this study should help the town look for future funds — possibly from the Federal Emergency Management Agency or the Virginia Department of Emergency Management — to solve the problem, Dew said
"The beneficial information will be able to apply for the larger funding grants," Dew said. "The larger the study, it's going to have benefits down the road to set us up with the larger funding programs."
Certainly, a study is necessary, Morani said.
"It hasn't been engineered yet. We don't have the data to properly know what the solution is," he said.
Simply studying this problem area — or even just raising this area of East Main Street — won't fix this problem, Dew said.
"You can't simply just do it within the confines of East Main Street pavement," he said.
In the end, finding a solution may require some property acquisition, which would increase costs, Dew said.
Hopefully, constructing a solution could begin within three years, Dew predicted.
"As you can imagine, it's going to be expensive to try to do anything — in that decision to try to raise the elevation of Main Street and try to mitigate the impact of that on the surrounding properties."