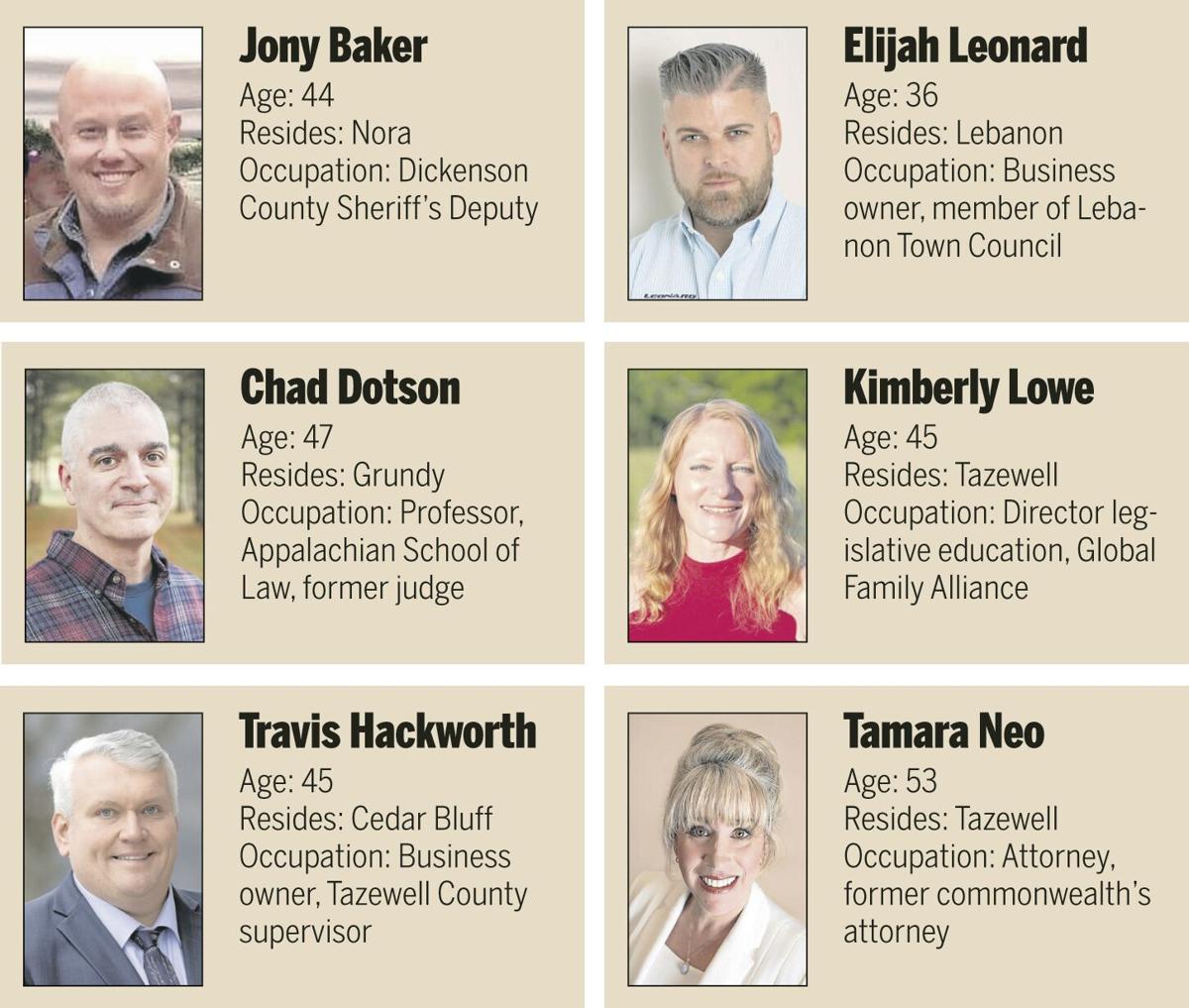 On Thursday, voters across Virginia's 38th Senatorial District will head to eight makeshift polling places to select a Republican nominee for the March 23 special election.
At stake, the unexpired portion, nearly three years, of the term of former Sen. Ben Chafin, R-Lebanon, who died Jan. 1. The seat has been in Republican hands for six years and is expected to remain there, as no Democratic candidate has yet emerged. The state filing deadline is Friday.
Six candidates are seeking the seat, and all have spent just over a week trying to get their name and message out to voters across a mostly mountainous district that is more than 150 miles wide and includes all of Bland, Buchanan, Dickenson, Pulaski, Russell and Tazewell counties, the cities of Norton and Radford, along with portions of Montgomery, Smyth and Wise counties.
To aid voters in their decision-making, the Bristol Herald Courier posed questions to each candidate. Their responses, in some cases edited for space, appear here.
Why are you the best qualified candidate to serve in the state Senate?
Jony Baker: "I'm the best qualified candidate because I come from the people. I'm part of the people. I've been with the people. I've been paying attention. I've been active in the community as the other candidates. I respect and like each one of them. I'm glad to see other candidates running but I'm the best one to represent Southwest Virginia. I helped statewide candidates through this area over 2020, trying to get more attention for Southwest Virginia so we can get policies changed in Richmond and get people elected with conservative values."
Chad Dotson: "As a prosecutor, judge, professor and most importantly, a dad and husband, I understand how to perform effectively for those who depend on you. The people of the 38th District can expect that I'll give them 110%, just like I have my other obligations in life. I was raised with the morals we share and believe that part of being qualified for public office is the assurance that I will always be the same man on Saturday night that I am on Sunday morning. I think that's important.
"I've had to make hard decisions as a prosecutor and a judge. I've sent folks to death row. That's not easy. But I never hesitated to do my job. I'll never hesitate to do this job either, as senator."
Travis Hackworth: "I've been on the Richlands town IDA board for several years; chairman. I served on the county Planning Commission for several years. I also serve on the bank board, hospital board, Cumberland Plateau [Planning District] board, been elected two times to the Tazewell County Board of Supervisors. I am a businessman. I have ten businesses that have over 100 employees from construction to real estate to restaurants, pharmacy to manufacturing. I have worked with budgets, with counties and towns, small businesses.
"There is not another candidate that I know that has that type of experience in the private sector actually running businesses, paying a payroll, insurance, contract negotiations, dealing COVID and the struggles COVID has done to restaurants, manufacturing. And in the government world being able to look at the needs of local boards. I have a wide range of 25 years of experience we can take to Richmond."
Elijah Leonard: "I am an Air Force veteran, successful small business owner and father. In addition, I have a history of successful activism for change.
In 2017, with the birth of our second child Ruby Kate, came devastating news that our child was diagnosed with a rare terminal disease that required a stem cell bone marrow transplant to save her life. Despite being residents of Southwest Virginia, Ruby was born in Tennessee. Luckily, the state of Tennessee started screening for Ruby's rare disorder before she was born. The screening literally saved my daughter's life. I met with Virginia state legislators to help organize Senate Bill 449 and House Bill 1174. On July 1, 2018, Ruby Kate's bill was passed into law.
"In late 2019, Democrats in Richmond announced 'assault weapon bans' that would turn millions of law-abiding gun owners into felons for the crime of not destroying their legally purchased weapons. The broader movement I joined successfully killed the Democrats assault on our 2nd Amendment freedoms."
Kimberly Lowe: "I'm the best qualified candidate because I already have bills to introduce, I have solutions to problems. I've hired a grant writer to close the gap in funding needs in order to bring money into the area and I've been working with legislators across the nation in order to produce replicable bills that will help our families, community and economy. I've already been doing constituent services and have the staffing to immediately walk into the seat, as well as the Senate contacts in order to co-sponsor bills. I've already been working with all of the state offices to meet citizen concerns.
"I'm the best qualified candidate because I have out-of-the-box solutions and know that policy isn't the only solution to fixing our problems. I've worked on funding in order to have mobile health clinics to address low area health outcomes and I'm working with outside investors to come in and help bring in farm manufacturing which would create jobs."
Tamara Neo: "My experience both as Commonwealth's Attorney, former Special Assistant United States Attorney, small business owner and a mother of three, starts me at the top of those being considered. My early and unrelenting support of President Trump, my fighting spirit and unending drive put me above. I volunteer co-chaired the 9th District campaign for Trump. No other candidate in this race has put their beliefs into actions when not required to by employment, or while seeking or holding public office. I have not been in public office in more than eight years, yet those past 8 years have been some of my most active in public causes.
"I rallied my community when it appeared our Supervisors, including opponent Travis Hackworth, would not pass a 2nd Amendment sanctuary resolution. I filed suit against Ralph Northam for his unfair restrictions of firearms on the Capitol lawn at the 2A Rally. I found funding and organized a busload of patriots to attend that rally. I don't just speak about my beliefs, I act on them."
What legislation is most relevant to the district and what, if any, personal legislative goals do you have?
Baker: "The things I want to carry forward include pro-life. I am in full support of pro-life. I was adopted. As state senator, I will fully support pro-life legislation. That's one of my issues. The other would be with the Second Amendment. I fully support the Second Amendment and fully funding law enforcement. That's everyone that's put on a badge, just like I have – Department of Corrections, sheriff's deputies, state police, city police and town police. We need to be fully funded not defunded and I will fully support them.
"We don't need to send 20,000 people to deliver one message; we need one person to be able to deliver the message of 20,000 people and the entire district. As state senator that's what I'll do. I'll listen to the people like I have been all my life and carry those messages to Richmond."
Dotson: "There's not enough space in this article to list all I want to do, legislatively but I'll say this: First and foremost, I want to embody the honor and integrity that Ben Chafin brought to the job. I never thought I'd run for this seat. I didn't yearn for it or plot with others ahead of time but I won't back down from making sure that many of his priorities we shared are fulfilled for Southwest Virginia. I think voters have a right to expect that of me and I'll work hard to not let them down. Defending our Second Amendment rights, protecting innocent life, destroying burdensome regulations and protecting our coal jobs are just a few of the things voters can rely on me for. I'll always have an open door for my constituents, the way Sen Chafin did."
Hackworth: "Preserving the coal tax credit is critical for our area; that is huge for Southwest Virginia and saves a lot of jobs. We also want to protect qualified immunity for our law enforcement community. That is legislation that would cripple the hiring and keeping good, qualified law enforcement officers.
"We're looking at some of the greenhouse [emissions] bills that are being introduced that would be devastating for Southwest Virginia.
As a legislator, I would like to work with our local Boards of Supervisors. As I've traveled this last week I've talked to a lot of them and they really appreciate my extensive knowledge of the pain they go through from unfunded state mandates passed to localities where they're forced to raise taxes or cut services in order to fund. I think it's unfair."
Leonard: "My top priority is defending our constitutional rights from the continuing assault from Richmond. From constantly shifting lockdowns to the proposed gun bans if we need a fighter to stand up to Northam and the liberal bullies in the legislature.
The other top priority is to ensure we have access to affordable rural broadband in our region. High speed internet is an educational and economic must-have for Southwest Virginia and I will fight to get it funded in Richmond."
Lowe: I want to introduce a bill that will help our veterans with their taxes such that Virginia is only a handful of states that taxes military retirement. I've been working on a comprehensive bill to reform family court, civil court, and the Department of Social Services and by reallocating funds we would have the money necessary to address generational poverty, substance abuse, housing, mental health, and job sustainability issues.
By reforming courts we save citizens millions in their state tax dollars. I'd like to introduce a farm bill so we can sell and produce meats locally rather than buying our meats from overseas. I'd like to have a program to support our coal miners as the coal industry declines such that the state fills the income gap for miners as job losses occur."
Neo: "Any legislation to support the community and current businesses through COVID is essential, as is focusing on multiple smaller employers to broaden our economic base. Then we need to switch gears and start fighting back against the onslaught that Northern Virginia is heaping upon us. I would start with the election laws and the giant holes the prior legislation created in our most sacred civic duty.
"Under the current law, if I'm willing to lie (which we know is occurring), I can appear to vote and say I am a specific person who is registered and has not already voted (perhaps elderly or traveling) and vote as them. Without any identification, or even a utility bill, I still can still that day in person. I will be handed a statement, placed under oath, and then swear I am who I say I am. That's it, I can vote right then. No provisional ballot like in past times, no identity verification, nothing; just a fully valid, cast ballot. This situation is abhorrent to our American voting system."