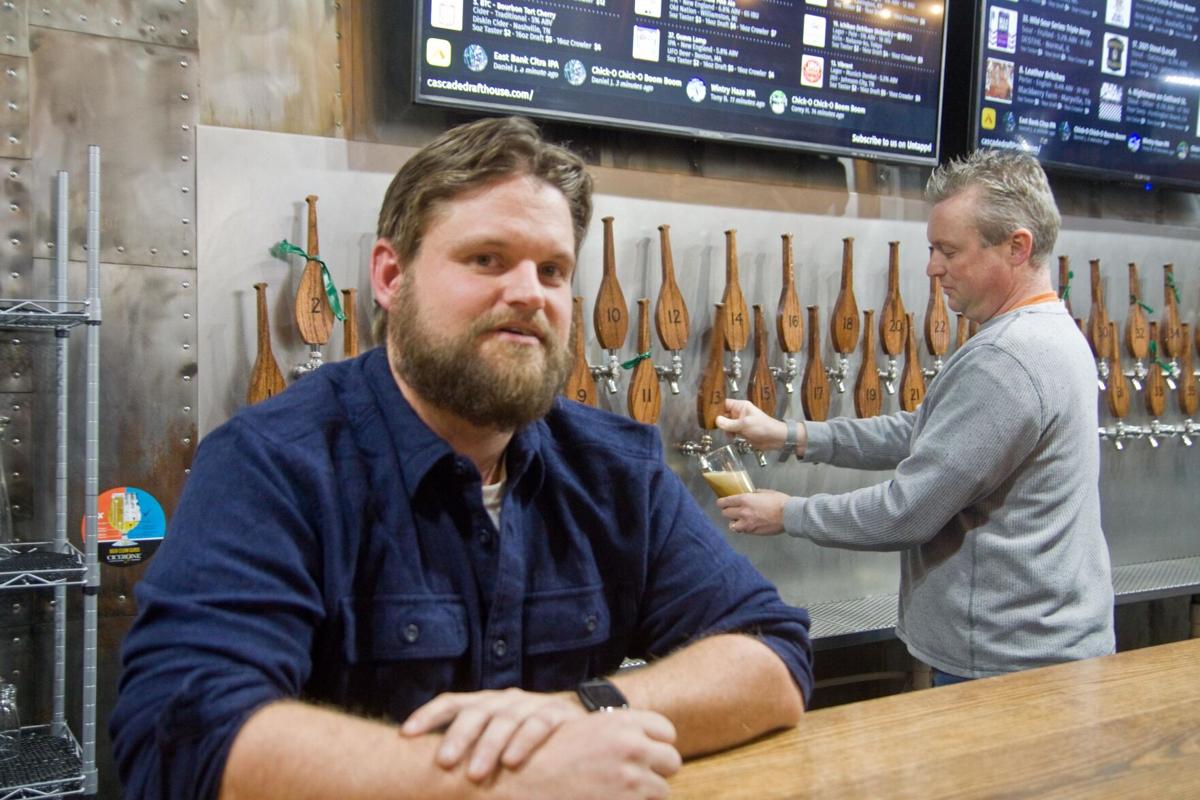 BRISTOL, Tenn. — Zak Saltz sat at the bar inside Bristol's Cascade Draft House on a chilly Monday night. He nursed a tall craft beer while a television crackled sports news over his left shoulder.
He spoke of life and of songs.
On Friday, Jan. 15, Saltz will sing songs his own and from others inside Cascade Draft House on the Tennessee side of State Street. Free of a cover charge, he's paid dearly for at least a handful of those songs written.
"I'm a drug addict," said Saltz, 35. "I've been clean about two years now. Music is an escape. It keeps me level. It keeps me focused."
Saltz's lyrics aren't exactly permeated with references to his drug-using days of yore. Instead, his music contains a mix of personally revelatory details and observations made during a life that's veered from the straight-and-narrow to the wild-and-reckless sides of life.
For Saltz, life began in Marion.
"My dad was a Pentecostal Holiness preacher," he said. "It's on both sides of my family. That's where I learned to play music. There were nights when we played music all night long."
His peers may have grown up on rock 'n' roll, but not Saltz. He wasn't allowed to listen to rock music. At 18, he knew more of "Rock of Ages" than The Rolling Stones.
"I grew up on Doyle Lawson, gospel and bluegrass," Saltz said.
But then came his 20s. With that, the music of such songwriters as the late Townes Van Zandt followed. Many of Saltz's favorites, including Van Zandt, abused substances.
"Years ago," Saltz said, "if you played music, it was like you were supposed to do alcohol and drugs."
His drug days represented a prison without bars. Occasional references to those darkened times emerge within the lyrics of his folk-and-country-embracing songs, including a declarative "I've Got to Be Free."
"It talks about how you can't change a gypsy's soul. You've got to be free from drug addiction," he said. "It says I've had it, and I don't like it at all."
Think something, feel something.
"His style is smooth," said Spence Flagg, owner of Cascade Draft House. "I appreciate his act. Crowd favorite. Crowd pleaser."
Fine songs, whether from Saltz or others, often seek an audience from people who look for more than something that's merely pretty. Take them in, mull them over.
"I wish I could play nothing but originals," Saltz said. "You want to be heard, want people to hear what you're going through. It is therapeutic. You should have some part of your soul in the song. That's what makes people react to you."
Ask any songwriter. Songs often appear as if from the strangest of places and most inopportune of times. Ideas stream to mind when driving, doing nothing, and even while sleeping.
"A lot of my best songs, I dreamed them," Saltz said.
For instance, Saltz's "When You Come Around."
"I dreamed the idea," he said. "It's about the progression of a relationship all the way through marriage. I've dreamed whole songs. I had a girl break up with me one time. She said, 'To stay with you would have become a mistake.' Years later, I woke up and wrote 'Mistakes You Should Have Made.' Country song, definitely."
Drop in to experience Zak Saltz. His songs reveal a heart that's strong, a life that's been difficult and a soul that's survived. There's nothing prefabricated about either the songs or the substance of Zak Saltz.
"You feel, you hurt," Saltz said. "One way or another, you'll feel something."