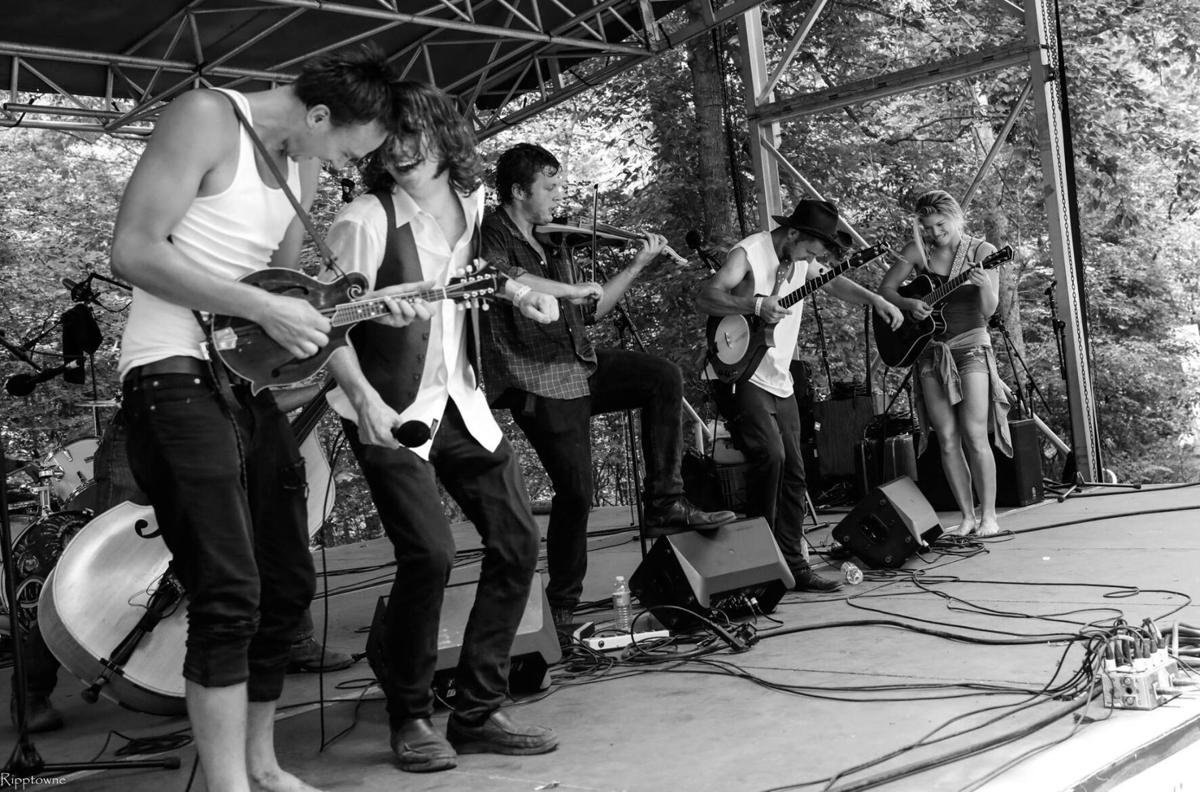 If hurricanes could play music, they'd sound something like North Carolina's Tan and Sober Gentlemen.
Whirlwinds onstage and on record, The Tan and Sober Gentlemen headline the return of Bristol's beloved Border Bash. Presented by Believe in Bristol and slated to stage in downtown Bristol on Friday, June 4, Border Bash marks its 21st year as a spring and summer concert series. East Tennessee's stellar Loose Leaves open the show.
"I am thrilled to be playing Border Bash — absolutely thrilled," said Ben Noblit, upright bassist in The Tan and Sober Gentlemen. "We have not really played in Bristol. Hey, Bristol, that's where it all started."
And yes, Bristol Rhythm & Roots Reunion officials, Noblit said that he would cherish the opportunity for his band to play the festival. Then again, after a year or so off the road, he said The Tan and Sober Gentlemen are grateful to again play for live audiences.
"Lord, it feels amazing," Noblit, 29, said by phone last week from a tour stop in Charleston, South Carolina. "It's good to be back to feeling like us. Now, it's all well and good."
As with many bands, The Tan and Sober Gentlemen were not exactly dormant during the pandemic. They recorded new music.
"We made a new record during the pandemic," Noblit said. "We're hoping to release it this coming winter."
Perhaps unsurprisingly, much of the material written for the record does not quite fit into a category marked happy-go-lucky.
"A lot of the tunes were depressing and mournful," Noblit said. "We recorded a few of those."
By the time the band formed in 2016, most of the members had known each other for years. The band morphed into being after multiple nights of what amounted to jam sessions.
Then as now, The Tan and Sober Gentlemen make music that's a mix of moonshine and rocket fuel. It's wild and free bluegrass mated with punk rock. Incorporated with unabashed Gaelic, they thrive from a hammer-down style.
"We're not trying to break any musical ground," Noblit said. "We're just playing old tunes and new tunes that sound like old tunes."
For evidence, spin their version of the classic, "Rabbit in a Log." It's Jimmy Martin and Ralph Stanley turned into a pair of Mr. Hydes, red-eyed and rocking with wild and reckless abandon.
"We're playing music that you can listen to and have fun with," Noblit said. "Play it hard, play it fast!"
Corks popped from a jug, The Tan and Sober Gentlemen come liquored in lyrics not exactly rendered for thought. They're a cut-loose band made for a cut-loose crowd.
Onstage, they're as happy as a moonshiner in the light of a silvery moon.
"It feels like everything is right in the world," Noblit said. "Playing music with these people is what I was put in this world to do. I am very, very blessed."