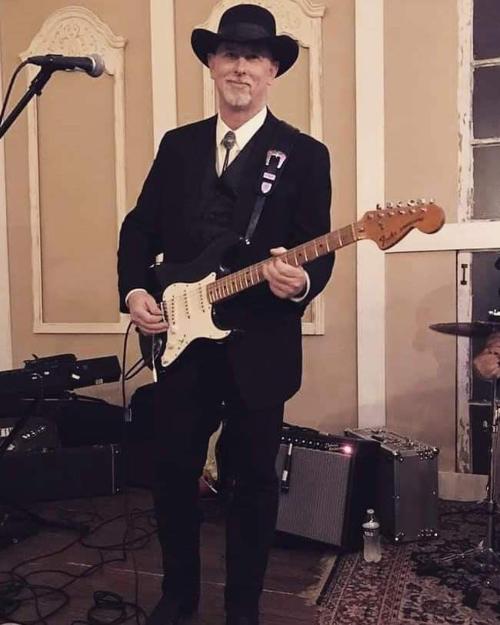 Make way for a long, sleek and rumbling Cadillac motoring down the highway.
He's destined for downtown Bristol.
Call that Caddy by the name of Billy Crawford. Out of the garage after an extended hiatus amid COVID-19's onslaught, The Billy Crawford Band returns to Delta Blues BBQ on State Street in Bristol, Tennessee on Friday, April 9. See them again on Saturday, April 17, at Quaker Steak & Lube in Bristol, Virginia.
"It's going to be pretty exciting. There will be some gratitude, too," said Crawford. "For months, we couldn't do even the most basic things. We really locked down for months. At least I had music as an outlet in my house."
Crawford played his last show on the occasion of the first anniversary celebration of Delta Blues BBQ last Sept. 26. Afterward commenced a nearly seven-month hiatus for the longtime musician, for whom performing live is a lifetime occupation.
"It was hard to accept at first," Crawford said. "But it was a necessary thing to step back, take a break. It was the longest break I've had since I was 18."
Not that Crawford, who owns a stable of electric and acoustic guitars, sat idle for months. Quite the contrary.
"I forced myself to play a few hours every day," he said. "Plugged in a guitar, turned up an amplifier. Every day, just got after it."
Some musicians and fans questioned Crawford during his stoppage. While many musicians played on during the pandemic's darkened days and nights of winter, he went the shutdown route to help prevent his family from catching COVID.
"Some of my friends kept playing," Crawford said. "They had to make their own choice. I made mine. Well, nobody in my band got sick from COVID. We did the right thing. And now I'm coming back."
A rocket burst of a blast this way comes. Crawford's a six-string slinging dynamo. A two-legged turbocharger, he's fueled on gas-guzzling blues as wheeled through fields of rock. During the show — any show — he's apt to leap from the stage and atop a table, mid-guitar solo. Showmanship fuses with talent for one dynamite of a show whenever Crawford occupies a stage.
"For me, it's always an honor and a pleasure and a joy," Crawford said. "I've walked out on stage to 10 people, and I've walked out on stage for 60,000 people. Whether it's 60,000 at the Chicago Blues Festival in 2000 or 100 people at Delta Blues, I always play my best."
Crawford issued a new album last year titled "Oh Yeah." Recorded at Mike Stephenson's Classic Recording Studio in Bristol, Virginia, the album's songs help add to a program that brims with new-to-his-fans performances to come.
"We've got 15 new songs we've never played before as a band," Crawford said.
Among them, there's a pair of Stevie Ray Vaughan instrumentals, including "Say What." Listen also for new renditions of some Jimi Hendrix sizzlers. Who knows? Just maybe Crawford will go country for a moment with Buck Owens' "Buckaroo."
"I've loved it since I was a kid, but I've never played it onstage," Crawford said. "I have toyed with playing 'Buckaroo' onstage. You've got to give people something for their money. They don't want to see you just staring at your shoes onstage."