Sriracha pasta starts with farm-fresh chile pepper sauce, says Sfoglini co-founder Steve Gonzalez. He works with Kitchen Garden Farm in Sunderland, Massachusetts, to produce spice-packed sriracha (a Thai pepper sauce with sugar and garlic) that gets blended into a durum semolina pasta dough.
Fusilli is the shape of choice for this firecracker pasta, and Albany, New York-based chef and owner of Cafe Capriccio, Franco Rua, says that it makes the perfect base for clams pasta, a traditional Italian-American dish. Instead of the typical crushed red pepper, Rua relies on the heat from the sriracha pasta to give the dish a kick.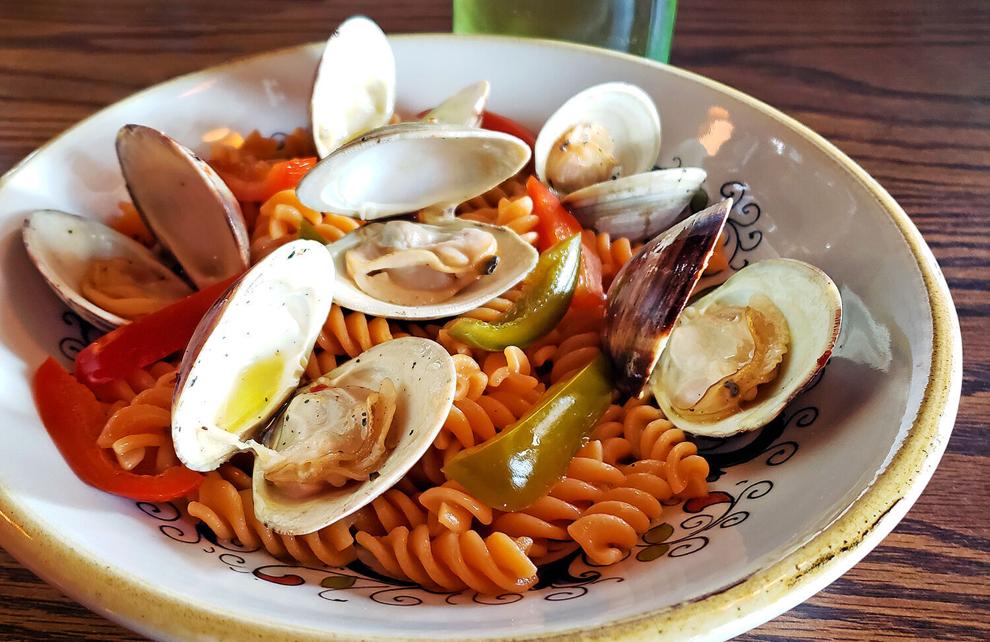 ---
Sriracha Fusilli with Clams & Cherry Peppers
1 lb Sfoglini sriracha fusilli or plain fusilli pasta
3 dozen littleneck clams
¼ cup extra virgin olive oil
6 garlic cloves, lightly crushed with side of chef's knife
3 to 6 pickled hot cherry peppers (depending on size), stems and seeds removed, then sliced
½ cup fresh Italian parsley leaves, chopped (about ¼ cup), divided
salt and freshly ground black pepper
1 lemon, cut in half
Prepare clams: Discard any clams with open or broken shells. Place clams in deep pot or large bowl. Allow clams to soak in cold water 1 hour, which should purge them of any sand or grit, changing water 5 to 6 times. As the clams soak, they will take in clean water and filter out any sand, which will sink to the bottom of the pot. Scrub outside of clams well, then drain. To verify clams are not empty shells filled with mud, pinch shells as if to force them open. If they are not firmly shut after pressing on them, discard the clam.
In 12-inch skillet, heat oil over medium heat. Add clams, garlic, cherry peppers, about half of parsley and a pinch each salt and black pepper. Reduce heat to low, cover and cook until all clams open, about 5 to 10 minutes. Halfway through cooking clams, add juice of lemon, making sure to remove any seeds.
Drain pasta, then return to saucepot. Add clam mixture, and toss to coat. Transfer pasta to wide, shallow bowl to serve family-style. Sprinkle with remaining parsley.
Suggested wine pairing: Vermentino, such as the Argiolas Costamolino Vermentino
"Italian whites get the short end of the stick, says Joe Armstrong, wine consultant for Cafe Capriccio. "They often taste like bitter water and are very acidic. But this Sardinian white has a great mouthfeel and viscosity. It envelopes your mouth when you drink it." 
Armstrong believes wine needs to go "power-for-power" when pairing with food, and this Vermentino will "make your head swoon a little bit."