When Franco Rua thinks of Rome, he thinks of all'Amatriciana, a classic Roman dish that originates from vendors quick-cooking in Italy's street markets.
This bucatini dish brings together the rendered fat of guanciale, or cured pork cheeks, with onion, crushed tomatoes and grated cheese for a simple pasta dish that often acts as a course before a meat-based entrée. If you can't find guanciale, bacon or pancetta can be substituted.
Cook the pasta just until al dente, Rua says, and allow it to finish cooking in the tomato sauce. Add a splash of pasta water to help the flavors penetrate the bucatini — the traditional pasta pairing for all'Amatriciana, as its hollow center absorbs some of the sauce.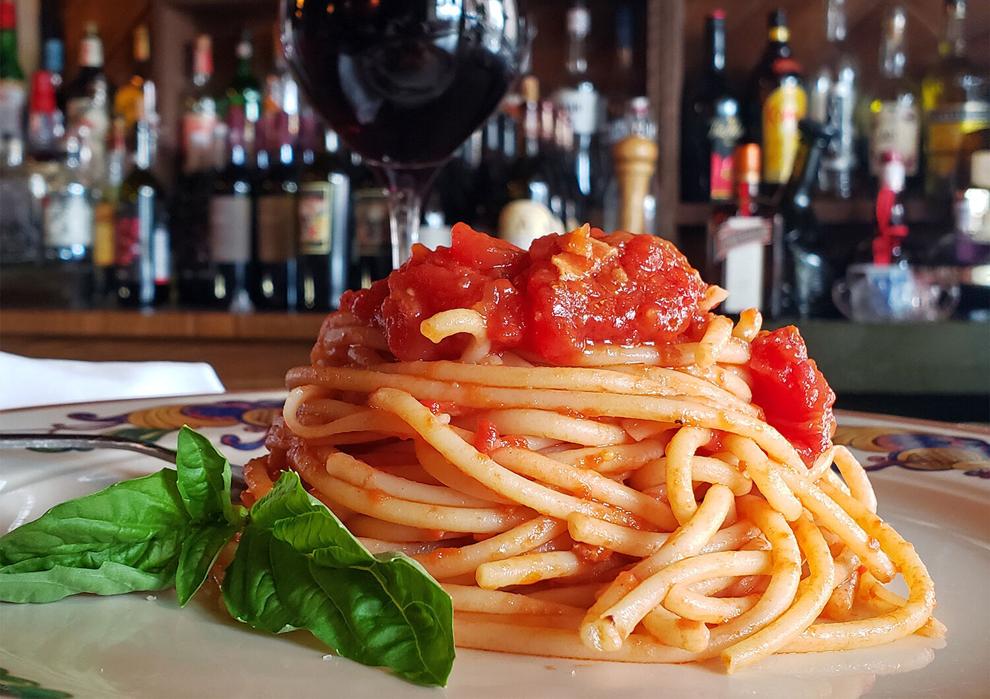 ---
Bucatini all'Amatriciana
1 lb Sfoglini bucatini, spaghetti or rigatoni pasta
2 to 3 Tbsp extra virgin olive oil, divided
6 oz guanciale, pancetta or thick-sliced bacon, cut into 1-inch-wide by ¼-inch-thick pieces
4 garlic cloves, chopped
1 small onion, thinly sliced
1 can (28 oz) whole peeled plum tomatoes, crushed by hand
¼ cup coarsely chopped fresh oregano leaves
pinch crushed red pepper flakes
salt and freshly ground black pepper, to taste
freshly grated pecorino Romano cheese
Meanwhile, in 12-inch skillet, heat 1 tablespoon oil over medium-low heat. Add guanciale, and cook until fat begins to render and meat becomes crisp, stirring occasionally. Add garlic and onion, and cook 3 to 4 minutes or until onion is soft and translucent, stirring occasionally. Add tomatoes with their juices, oregano, crushed red pepper flakes and salt and black pepper to taste; heat to boiling over medium-high heat. Reduce heat to low, and simmer 5 to 10 minutes or until sauce thickens slightly, stirring occasionally.
Reserve some pasta cooking water, then drain pasta. Return pasta to saucepot. Add sauce and remaining 1 to 2 tablespoons oil; toss until well combined. Add a touch of pasta cooking water to loosen sauce, if desired. Divide pasta between plates. Sprinkle cheese over pasta to serve.
Suggested wine pairing: Susumaniello, such as Masseria Li Veli Susumaniello
Joe Armstrong is the wine expert who recommends pairings for chef Rua's cuisine at Cafe Capriccio. He says, "Though its ancestry is unknown, Susumaniello is an indigenous varietal to Puglia with ancient roots. One parent is thought to be of Greek origin and the other, the Garganega grape, but researchers are still trying figure out where it comes from.
"One of the biggest complaints we get about Italian red is that they are too earthy and taste like dirt. The Susumaniello is beautifully sweet upfront with a seductive liquor cherry flavor. It goes well with a red sauce."