"It's amazing how much a kid will determine a sale," says Scott Ketchum, co-founder of Sfoglini Pasta. "Corkscrew-shaped fusilli and other pastas that are easily picked up by little hands were big sellers at farmers' markets in the early days of the business." Fusilli is still one of their most popular shapes.
The addition of beet juice gives a maroon color to the pasta and a slightly sweet flavor. "A lot of times, the flavors added to pasta just give color," says Franco Rua, the chef and owner of Cafe Capriccio. "But the beet fusilli in this Gorgonzola cream sauce offer a gentle sweetness that works in tandem with the creamy, sharp flavors of Gorgonzola."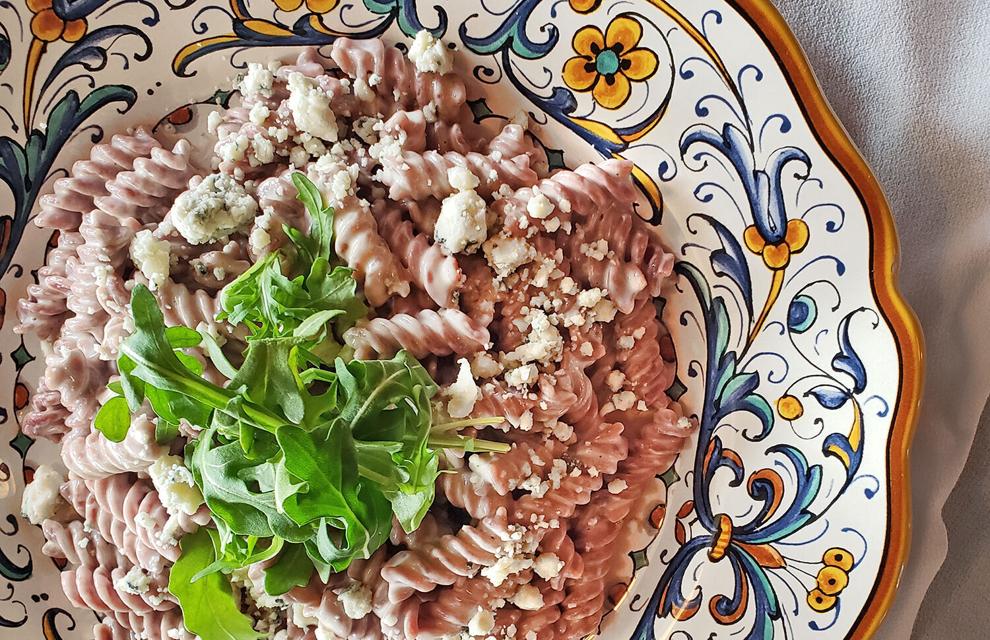 ---
Beet Fusilli with Gorgonzola Cream & Arugula
1 lb Sfoglini beet fusilli or plain fusilli pasta
4 garlic cloves
½ cup chicken broth
½ cup dry Italian white wine, such as Pinot Grigio
2 cups heavy whipping cream
4 oz Gorgonzola cheese, crumbled (1 cup), divided
1 package (5 ounces) baby arugula
Meanwhile, in 2-quart saucepan, add garlic, broth and wine; heat to boiling over medium heat. Reduce heat and cook until liquid is reduced by about three-fourths; garlic should be soft and rich amber in color.
Transfer garlic mixture to small blender, food processor or hand blender and purée until smooth. Return garlic mixture to saucepan. Add cream, and stir with whisk until well-blended; heat to boiling over medium heat. Reduce heat to low and simmer about 10 minutes or until mixture thickens slightly, stirring occasionally and taking care so that bottom of saucepan doesn't burn.
Drain pasta, then return to saucepot. Add cream mixture and ½ cup cheese; toss until well-combined. Divide pasta between plates. Sprinkle with remaining cheese and top evenly with arugula. Drizzle oil over pasta to serve.
Suggested wine pairing: Soave, such as Inama Soave Classico
"Dairy-based dishes can be tricky," says Joe Armstrong, who consults with chef Rua to pair wines for Cafe Capriccio. "The weight and power of the Gorgonzola cream sauce needs a wine with similar power. Since lactic acid predominates, and the dish itself has low acidity, the wine should match with low acidity as well," Armstrong says.
"My choice is from western Veneto, where many small, family producers are making extremely high-quality Soave wines from the Garganega grape," Armstrong says. Inama's 74-acre estate lies in the heart of Soave, thus lending it the "classico" designation on the label. "This wine has a creamy mouthfeel, floral aroma and notes of minerality and melon on the palate," Armstrong says.