Yams or sweet potatoes? Don't worry, they're the same thing. Whatever you choose to call them, they are a holiday side dish staple. While most connect this toothsome dish with thanksgiving, it's really a "home sweet home" food that's perfect all season long. Yams – specifically, candied yams topped with marshmallows – are my favorite side dish, and after this quick tutorial, they'll be yours too.
Start by peeling your yams. It's important to peel through the white stuff and get to the bright orange part. Next, cut the yams into smaller pieces (watch your fingers!) and then slice them into cubes. Coat the dish with oil or butter and drop in the yams.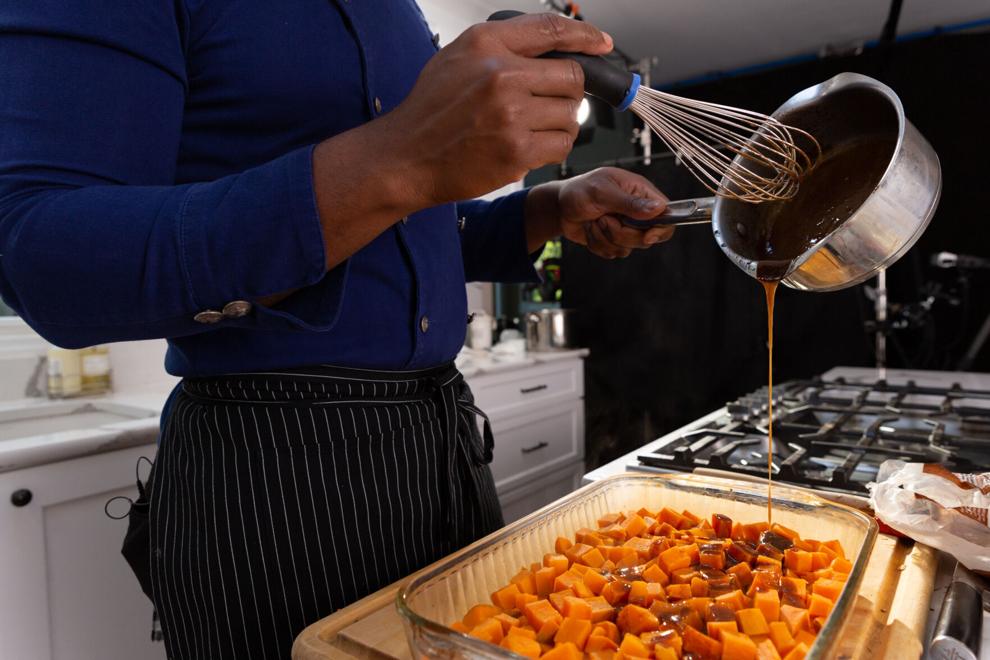 Next, we're adding the first layer of sweetness which is the key to tender, melt-in-your-mouth sweet potatoes. We're starting with melting one stick of butter (yes, the whole stick!) into a saucepan. Add brown sugar and ginger, cinnamon and nutmeg. (I'm from Jamaica, so cinnamon and nutmeg are in pretty much everything we cook.) Those are the spices that really bring out the flavor in this particular dish.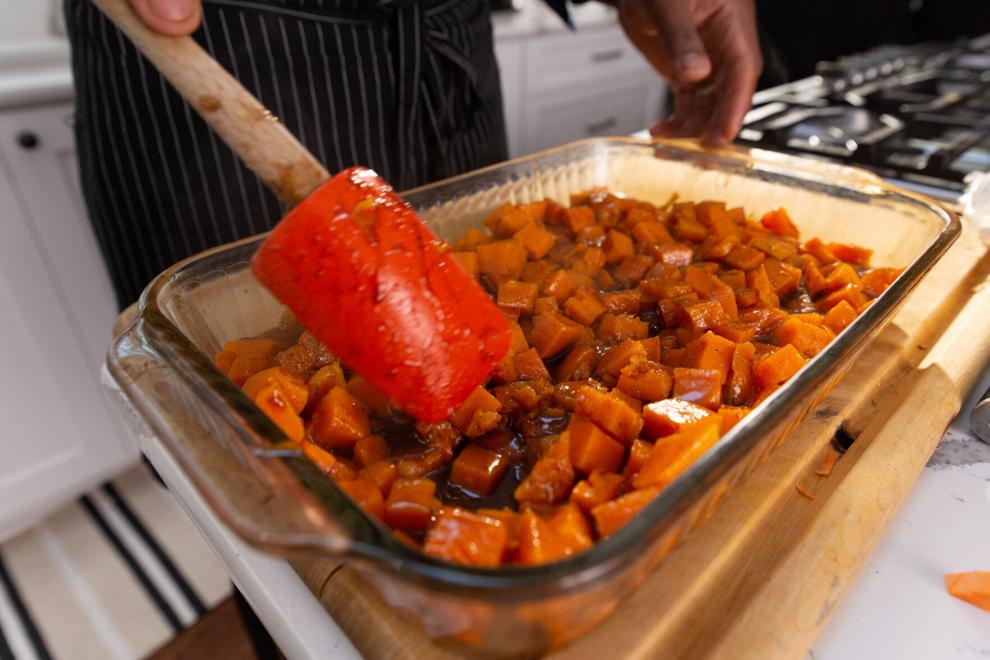 Turn off the heat, add vanilla extract and pour this mixture over your cubed yams. Mix, mix, then mix some more! Pop the yams in the oven for their first round of cooking.
Once they're ready to be pulled out of the oven – it's show time (and my kids' favorite part). You guessed it – bring on the marshmallows! Completely cover your yams for melty marshmallow goodness. Keep in the oven until your mallows are golden brown.
There you have it. This staple side dish captures the essence of the holidays: warmth, spice and a little bit of magic.
Candied Yams with Marshmallows
Yields: 15 servings (or 1 cup)
5 pounds orange-fleshed sweet potatoes
2/3 cup packed brown sugar, light or dark
1 stick unsalted butter
1 Tbsp ground cinnamon
1 Tbsp ground nutmeg
½ Tbsp ground ginger
1 ½ tsp vanilla extract
4 cups mini marshmallows, more or less as needed
|Preparation| Preheat the oven to 375°F. Butter a 9 x 13 x 2-inch baking pan or shallow 3-quart casserole.
Peel the sweet potatoes and cut them into 3/4-inch cubes. You should have about 10 to 12 cups when finished. Arrange in prepared baking pan.
In a saucepan, melt the butter and combine the brown sugar, cinnamon, nutmeg and ginger and then place it over medium heat. Bring the mixture to a boil; stir until sugar is dissolved, about 7 to 8 minutes. Stir the vanilla extract into the sauce mixture and pour evenly over the sweet potatoes. Mix it all together, cover the baking pan tightly with foil and bake for 45 minutes.
Remove foil from baking pan, use a fork or knife to check the doneness of the potatoes; they should be tender and the liquid syrupy.
Increase the oven temperature to 450°F. When the oven has reached 450°F, cover the sweet potatoes with the miniature marshmallows and return the pan to the oven and bake uncovered for about 3 to 5 minutes, or until the marshmallows are partially melted and golden brown.