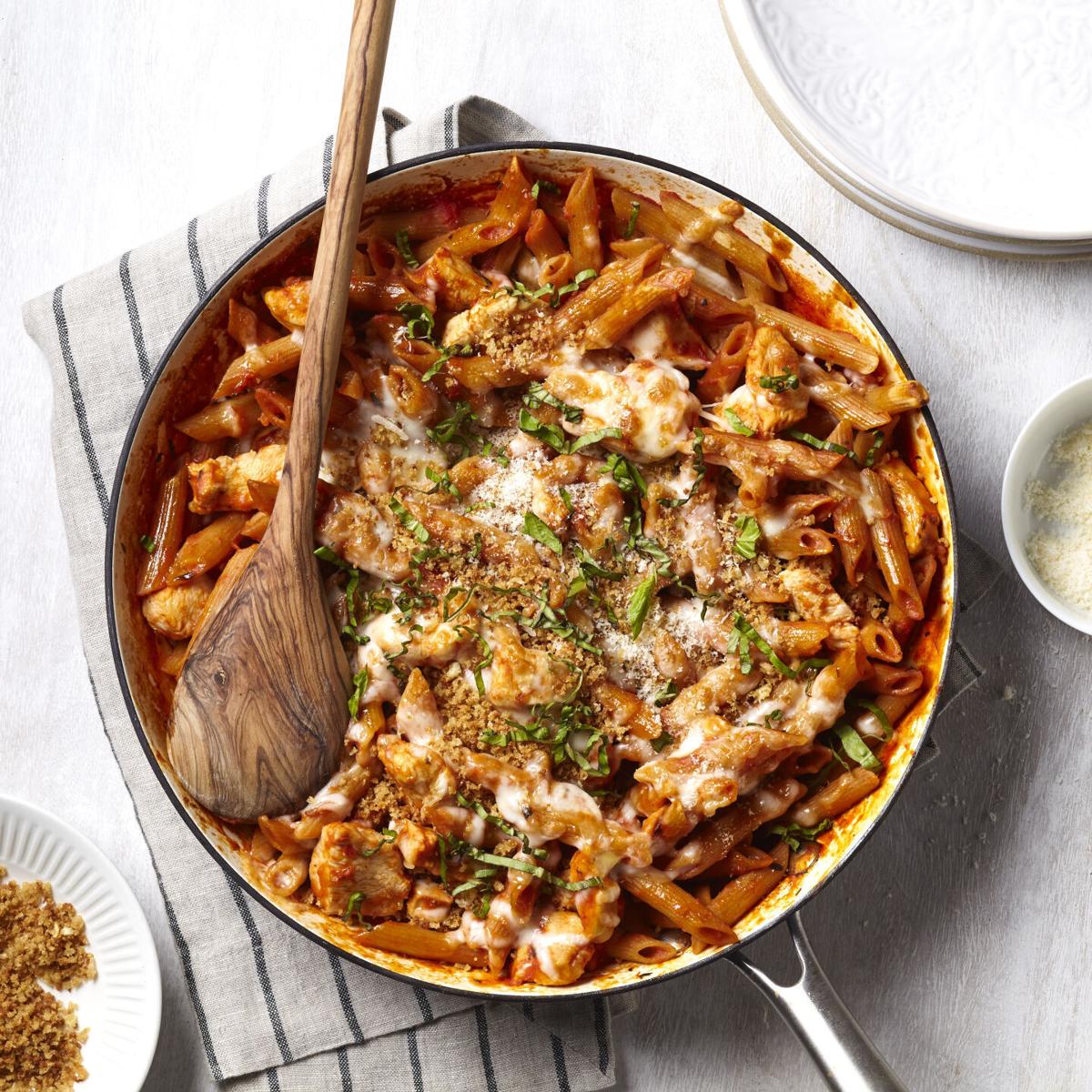 This chicken Parmesan pasta uses the one-pot pasta method to cook your noodles, chicken and sauce all in one skillet for a fast and easy dinner with minimal cleanup. Finish the dish under the broiler to achieve a delicious melted cheese crust.
One-Pan Chicken Parmesan Pasta
2 tablespoons extra-virgin olive oil, divided
1/4 cup whole-wheat panko breadcrumbs
1 tablespoon plus 1 teaspoon minced garlic, divided
1 pound boneless, skinless chicken breast, cut into 1/2-inch pieces
1 teaspoon Italian seasoning
1/4 teaspoon salt
3 cups low-sodium chicken broth
1 1/2 cups crushed tomatoes
8 ounces whole-wheat penne
1/2 cup shredded mozzarella cheese
1/4 cup shredded Parmesan cheese
1/4 cup chopped fresh basil
1. Heat 1 tablespoon oil in a large ovenproof skillet over medium-high heat. Add panko and 1 teaspoon garlic. Cook, stirring, until the panko is golden brown, 1 to 2 minutes. Transfer to a small bowl and set aside. Wipe out the pan.
2. Heat the remaining 1 tablespoon oil in the pan over medium-high heat. Add chicken, Italian seasoning, salt and the remaining 1 tablespoon garlic. Cook, stirring frequently, until the chicken is no longer pink on the outside, about 2 minutes. Add broth, tomatoes and penne. Bring to a boil and cook, uncovered, stirring frequently, until the penne is cooked and the sauce has reduced and thickened, 15 to 20 minutes.
3. Meanwhile, position an oven rack in the upper third of the oven. Preheat the broiler to high. When the pasta is cooked, sprinkle mozzarella over the penne mixture. Place the pan under the broiler; broil until the mozzarella is bubbling and beginning to brown, about 1 minute. Top with the panko mixture, Parmesan and basil.
Recipe nutrition per serving: 537 Calories, Total Fat: 17 g, Saturated Fat: 4 g, Cholesterol: 77 mg, Carbohydrates: 55 g, Fiber: 7 g, Total Sugars: 6 g, Protein: 41 g, Sodium: 611 mg, Potassium: 874 mg, Iron: 4 mg, Folate: 18 mcg, Calcium: 212 mg, Vitamin A: 488 IU, Vitamin C: 9
(EatingWell is a magazine and website devoted to healthy eating as a way of life. Online at www.eatingwell.com.)