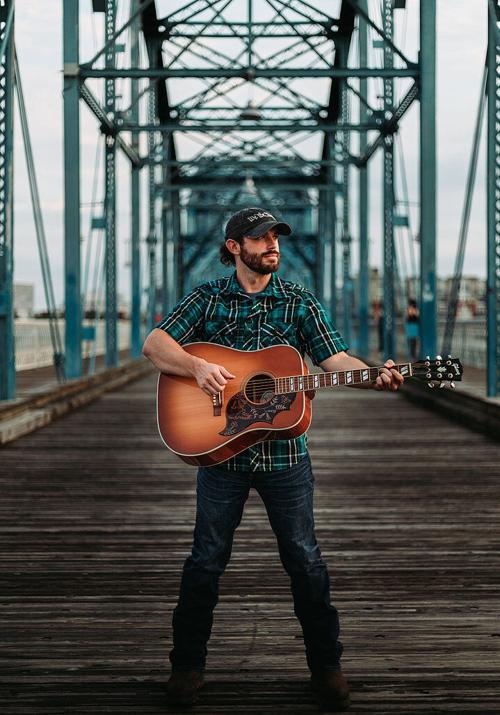 You'll not find a working man's hands attached to the arms of Cole Sitzlar. Oh, he's worked, quite hard, too.
But he punched his last time card about four years ago. Out went the alarm clock, in came a guitar, and upon his route in music traveled the native Tennessean.
Sitzlar's hillbilly highway leads to Johnson City's Wild Wing Café on Friday. It's an actual show for actual people, though masks are asked for and socially distanced seating applies.
"Music's the only thing I can do that doesn't feel like I'm working," said Sitzlar by phone from Englewood, Tennessee. "Who doesn't like music?"
So goodbye factory and hello love — as in music. Sitzlar ventured into life as a professional musician nearly four years ago.
"Everybody loves music," Sitzlar, 26, said. "If you're sad, listen to sad songs. If you're happy, listen to happy songs. Music can balance you out. It's gotten me through some rough times."
Like a turtle content inside his shell, Sitzlar said he defined as an introvert during his childhood and teenage years. Music pulled him out, transformed him into an extroverted personality who craves audiences and the live stage.
"Honestly, I picked up the guitar to impress girls," he said. "Hell, I tried everything else, but that one works. I wasn't going to get rich throwing a football. I'm not smart enough to be a lawyer. But I'm blessed to make music."
With a lone EP in his discography, Sitzlar intends to record an album this year. He said he plans to record the first half next month. Stylistically, he leans in the direction of Eric Church with dramatic material that embraces rock that's Southern and country sans twang.
"Country is definitely the roots, but I take a lot of inspiration from Lynyrd Skynyrd and stuff my parents played around the house," he said. "Dad played Lynyrd Skynyrd and mom played Travis Tritt. I love the Black Crowes and Tom Petty."
Lyrically, Sitzlar tends to write songs from an East Tennessee rural way of life perspective. Family emerges, as do people he admires, frames of mind that he embraces.
"I want to take somebody to a certain place and time or feeling," Sitzlar said. "When somebody hears my songs, I want them to feel what I'm feeling."
Plucked from Sitzlar's growing catalog, those songs include a patriotic "Shakin' Hands" and the scenic balladry of "Take a Ride." Each turned up on his EP, and each will be rerecorded for his forthcoming album.
Thematically adventurous, Sitzlar's songs communicate life as he knows life to be. They must, he said, embody a sense of personal authenticity.
"It has to be real," he said. "I feel like a lot of stuff today is too much of the same thing. I want to pave my own path, make my own way. I just roll that way."