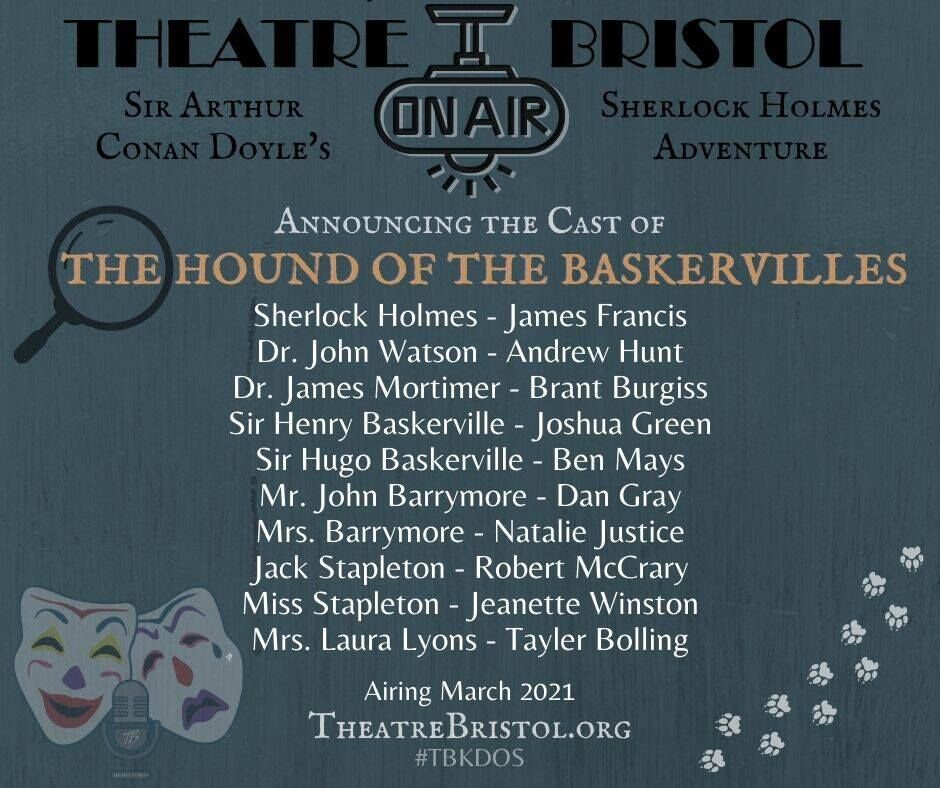 Theatre Bristol continues performing with the first Theatre Bristol On Air production of the 2021 season, "The Hound of the Baskervilles," featuring a talented cast under the direction of Glenn Patterson.
The #TBKDOS Series — which stands for "Theatre Bristol: Keeping Drama On — and Off —Stage" — launched with Theatre Bristol On Air, a radio drama throwback to Theatre Bristol's days of "Don't Touch That Dial." Theatre Bristol On Air's production of "The Hound of the Baskervilles" will air on radio station 89.5 WETS. Mid-March, the program will also be available on various podcast services and the Theatre Bristol website. The date and time will be announced soon.
Based on a local legend of a spectral hound that haunted Dartmoor in Devonshire, England, "The Hound of the Baskervilles" is set in the moors at Baskerville Hall and the nearby Grimpen Mire, and the action takes place mostly at night, when the terrifying hound howls for blood. After Sir Charles Baskerville is found dead with his face twisted in stark terror, Holmes is called upon to protect his heir, Sir Henry Baskerville. Listen in to find out if Sherlock Holmes can find out who the killer is before it's too late!
Leading the classic Sir Arthur Conan Doyle story is Glenn Patterson, serving as director and program announcer. The cast is made up of both longtime veterans and some new-to-Theatre Bristol performers, including James Francis as Sherlock Holmes, Andrew Hunt as Dr. John Watson, Brant Burgiss as Dr. James Mortimer, Joshua Green as Sir Henry Baskerville, Ben Mays as Hugo Baskerville and various roles, Dan Gray as Mr. John Barrymore, Natalie Justice as Mrs. Barrymore, Robert McCrary as Jack Stapleton, Jeanette Winston as Miss Stapleton and Tayler Bolling as Mrs. Laura Lyons. Nicole Intagliata is the stage manager, Camille Gray is the soundographer, and Samantha Gray is the producer.
"The Hound of the Baskervilles" follows Theatre Bristol On Air's past successes, "The War of the Worlds" directed by Dottie Havlik and "A Christmas Carol" directed by Glenn Patterson.
Visit www.TheatreBristol.org for more #TBKDOS opportunities including Theatre Bristol Scripted for all ages and Quaranteam Theatre Bristol for families. The #TBKDOS Series offers three safe ways to get involved that together preserve elements of live performance: auditions, casting, rehearsals, storytelling, acting, community, fun, entertainment and audiences.
Theatre Bristol has lost a significant amount of income that it cannot recoup without community support. Patrons can make a contribution, of any size, and help the theater continue. To donate online, visit: www.TheatreBristol.org/donate or mail a check to 512 State St., Bristol, TN 37620.
Follow Theatre Bristol's website and Facebook page for details and updates on our #TBKDOS Series. For more information, visit Theatre Bristol's website or Facebook page, contact Theatre Bristol at 423-212-3625, or email info@theatrebristol.org.