Gigi Hadid and Leonardo DiCaprio 'are just friends'
Gigi Hadid and Leonardo DiCaprio "get along well" - but they're not dating.
The 27-year-old model and Leonardo, 48, were recently spotted together in Milan, but a source has insisted that they're merely friends.
The insider told 'Entertainment Tonight': "The two get along well and were enjoying time together with friends. Gigi's priority is her daughter and her business and that's what she's focusing on right now."
Gigi - who has Khai, two, with former One Direction star Zayn Malik - and Leonardo love spending time together.
However, they're not involved romantically.
The source added: "Gigi and Leo spent time together in Milan but they are just friends and are not dating."
Angela Bassett wins big at NAACP Image Awards
Angela Bassett was honoured with the Entertainer of the Year accolade at the NAACP Image Awards on Saturday (25.02.23).
The 64-year-old star saw off competition from Mary J. Blige, Zendaya, Quinta Brunson and Viola Davis to scoop the coveted award, and she also went home with the awards for Outstanding Actress in a Motion Picture for her work on 'Black Panther: Wakanda Forever' - which was named Outstanding Motion Picture - and Outstanding Actress in a Drama Series for '9-1-1'.
Accepting the Entertainer of the Year award, Angela referenced Ariana DeBose's viral rap from last weekend's BAFTAs.
She quipped: "I guess Angela Bassett did the thing."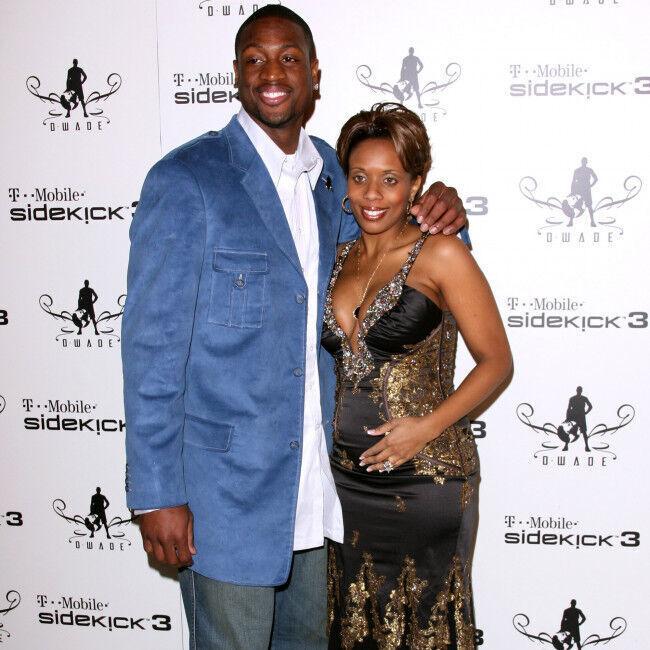 Dwyane Wade's daughter Zaya granted name change and legal transition
Dwyane Wade's daughter Zaya has been granted a name change and legal transition in court.
The 15 year old - who is the daughter of basketball star Wade and his ex Siohvaughn Funches-Wade - changed her name to Zaya in 2020 after coming out as transgender and she is now legally known as Zaya Malachi Airamis Wade.
According to PEOPLE, which obtained a filed in Los Angeles' Superior Court, the judge also granted approval for her legal transition.
Dwyane, 41, and his wife, Gabrielle Union, 50, have been extremely supportive of Zaya's transition, but her mother, has not.
Dwyane and Siohvaughn began dating in high school and had two children together before separating in 2007.
Lewis Capaldi fans chip in during Tourette's episode
Lewis Capaldi's fans stepped in to sing the rest of 'Someone You Loved' for the pop star at his gig as he suffered a tics episode.
The Scottish superstar has Tourette's syndrome and has recently reassured fans not to be concerned when he's twitching on stage, as the jolting movements are brought on when he's feeling excited or nervous.
And in a heart-warming clip from his concert, the crowd could be heard singing louder and louder as Lewis took a step back from the microphone.
The 'Pointless' hitmaker recently said talking about his diagnosis has taken the "sting" out of the issue.
The 26-year-old singer revealed earlier this year that he'd been diagnosed with the disorder, and Lewis admits that speaking about it has made his life a little easier.
***
Get more recent celeb news here:
Celeb news for the week of Feb. 20
'God decides': Nick Cannon discusses if he'll have more children after fathering 12
Nick Cannon has declared "God [will] decide" when he's finished fathering children.
The 42-year-old star has 11-year-old twins Moroccan and Monroe with ex-wife Mariah Carey, Golden, seven, Powerful Queen, two, and four-month-old Rise with Brittany Bell, 19-month-old twins Zion and Zillion and three-month-old Beautiful Zeppelin with Abby De La Rosa, Legendary Love, six months, with Bre Tiesi, and Onyx Ice, four months, with LaNisha Cole and most recently welcomed Halo Marie with Alyssa Scott in December, one year on from losing their son Zen to brain cancer, and though he thinks he's done having babies, he won't rule out more kids completely.
Asked if he is done having babies, Nick told 'Entertainment Tonight': "Yeah, yeah, yeah.
"God decides when we're done, but I believe I definitely got my hands full. And I'm so focused. I'm locked in.
"But when I'm 85, you never know. I might."
The 'Masked Singer' host insisted having so many children is a "blessing" and he hopes his privileged position can help them all achieve whatever dreams they want to fulfill in the future.
He said: "It's a blessing, man. Like, hopefully, because of what I am able to do, my kids can do whatever they want to do, to be able to be in a position that if they want to be a nuclear physicist, I know somebody at an Ivy League school that I could [hit up].
"If they want to go into the military, if they want to be artists, if they want to be actors, it's a thing where we have the capability.
Let's start talking about it now so we can help your dreams come true."
When it comes to balancing the needs of his children, Nick thinks "energy management" is essential.
He said: "Everybody thinks it's time management. It's energy management.
"Once we're all aligned, the flow is a lot easier. If there's any kind of low frequencies or dissension in there, that's what messes up the scheduling.
"As long as we're all on the same page and we all got the same goal -- to be the best parents we could possibly be -- that works and then the scheduling is the scheduling."
Hailey Bieber reveals the thing she loves most about marriage to Justin Bieber
Hailey Bieber loves the "companionship" in her marriage to Justin Bieber.
The 26-year-old model has been married to the 'Baby' hitmaker for four years and she's delighted to share her life with her "best friend" because she can't think of anyone else she'd rather spend time with.
Interviewed by Justin for Australia's Vogue magazine, she gushed: "My favourite thing about being married is honestly the companionship I feel we have.
"Genuinely, you are my best friend in the entire world. There's nobody I would rather spend more time with or do anything with."
Hailey has her own skincare brand Rhode but can't choose one of her friends who have inspired her in business because they are all doing so well.
She said: "It would be really hard for me to choose one person, because I feel like I have a lot of friends who are really owning their space in business.
"But what I will say is that it's really inspiring to be surrounded by other people who have founded their own businesses and have gone on that founder's journey.
"It's been helpful for me to be able to have that support and be able to have honest conversations about the highs and the lows of building a brand."
The 28-year-old singer admitted he has loved seeing his wife working on her own brand.
He said: "As your husband, watching you build this company has been the coolest."
Meanwhile, Hailey admitted she's a big fan of one of Justin's as-yet unreleased new tracks.
Discussing what she's listening to at the moment, she first named SZA's album 'SOS' and then added: "But also ... the new song that you just recorded, I can't stop listening to right now. Nobody knows what that is yet."
Simu Liu teases new Marvel appearance for Shang Chi
Simu Liu has teased fans will see him pop up in a new Marvel blockbuster "sooner than [they] think".
The 'Shang-Chi and the Legend of the Ten Rings' actor admitted he is very excited about the possibility of a crossover with other characters in the Marvel Cinematic Universe and suggested he has already been working on another project in the role.
He told People magazine: "I'm such a big fan of both the characters and the performers that play them, so any collaboration is an opportunity for me to work alongside someone who, in their own way, is breaking barriers and at the very top of their game.
"I think that's what excites me the most as a performer, [and] also as a fan."
He then teased: "And who knows, they might see something sooner than you think. We'll see."
Meanwhile, the 33-year-old star admitted he is "honoured" to be part of the cast of Greta Gerwig's long-awaited 'Barbie' movie, particularly because it is such a different project to "the Marvel thing".
He said: "The invitation to participate [is] certainly very humbling.
"I'm extremely honoured to have even been given the opportunity to play in that sandbox with such incredible auteurs every step of the way.
"[I'm honored] just getting to do something completely different than the Marvel thing and fighting, and letting it be about the dance and the colour and the vibrancy of that movie."
Simu previously admitted he had had "so much fun" working on the 'Barbie' film, which also stars Margot Robbie and Ryan Gosling.
He said in December after the first trailer was released: "The dancing, the laughing, all of that. That was every single day for us on set. So now to finally see that in a work form is actually surreal because we just felt like we were having fun the whole time.
"But I'm really excited for people to watch more. I think there will be one more trailer that comes out before the movie, but I think it's great to keep the audience guessing, and I can't wait for them to see."
Angela Bassett wins big at NAACP Image Awards
Angela Bassett was honoured with the Entertainer of the Year accolade at the NAACP Image Awards on Saturday (25.02.23).
The 64-year-old star saw off competition from Mary J. Blige, Zendaya, Quinta Brunson and Viola Davis to scoop the coveted award, and she also went home with the awards for Outstanding Actress in a Motion Picture for her work on 'Black Panther: Wakanda Forever' - which was named Outstanding Motion Picture - and Outstanding Actress in a Drama Series for '9-1-1'.
Accepting the Entertainer of the Year award, Angela referenced Ariana DeBose's viral rap from last weekend's BAFTAs.
She quipped: "I guess Angela Bassett did the thing."
After paying tribute to her "sisters" in the category, Angela - who received her supporting actress honour in one of the non-televised parts of the ceremony - reflected on her long career and the directors she had worked with, including 'Black Panther: Wakanda Forever's Ryan Coogler, who she said had "showed us that we are royalty and he built the crown for us all to wear."
She added: "I am deeply grateful. Gratitude is the universe's way of saying that we are not existing in this world alone; we have each other."
Ryan himself took to the stage when 'Black Panther: Wakanda Forever' was named Outstanding Motion Picture, adding to the seven other awards it has won at the Image Awards over the course of the six-day calendar of presentation events and took the time to honour the late Chadwick Boseman.
He said: "We gained an ancestor. He's with us every day, motivating us, and I can't think of anyone who done more to advance our image.. I am honoured to represent him."
'Abbott Elementary' won Best Comedy series, making its sixth award over the course of the week, with Quinta Brunson - the winner of Outstanding Actress in a Comedy Series and Outstanding Breakthrough Creative (Television) - joined on stage to accept the accolade by her co-stars including the Outstanding Supporting Actor and Actress in a Comedy Series winners Tyler James Williams and Janelle James.
She said: "We are a brand-new show. Watching all of the other shows [in our category] that paved the way for us, shows that helped push us through the door at ABC like 'Black-ish' … we are so grateful.
"We're happy that we get to make this show that is accessible to everyone but for and by us."
Will Smith wasn't in attendance to pick up his Outstanding Actor in a Motion Picture honour for 'Emancipation', while Outstanding Actress in a Motion Picture went to 'The Woman King' star Viola Davis, who hailed the film her "magnum opus" and "nothing but high-octane bravery" as she celebrated those who had worked on the film.
NAACP Image Awards list of winners from the televised ceremony:
Entertainer of the Year:
Angela Bassett
Outstanding Motion Picture:
'Black Panther: Wakanda Forever'
Outstanding Actor in a Motion Picture:
Will Smith - 'Emancipation'
Outstanding Actress in a Motion Picture:
Viola Davis - 'The Woman King'
Outstanding Comedy Series:
'Abbott Elementary'
Outstanding Actor in a Drama Series:
Nicco Annan - 'P-Valley'
Outstanding Actress in a Drama Series
Angela Bassett - '9-1-1'
Bella Hadid opens up about her anxiety struggles
Bella Hadid often leans on her career success to help fight her anxiety.
The 26-year-old model has taken to TikTok to open up about her anxiety struggles, admitting that self-doubts can sometimes get the better of her.
She shared: "I have like the worst morning anxiety.
"I want to come on here because I want to hold myself accountable for my morning routine and also, I want to just show you something: How f****** dumb I look sometimes in the morning when I do my morning affirmations [and] try to get my routine done. [It] usually doesn't work because I just have so much anxiety."
Bella tries to reassure herself by reciting a series of affirmations.
She said: "I wanted to show you was how stupid I feel sometimes when I'm laying here and I don't believe it. I'll be like, 'Your gonna have an amazing day today, Bella. You're not gonna let your anxiety overrule you. You are loved. You are loved. You are loved, Bella. Not everyone hates you.'"
The brunette beauty - who is one of the world's best-paid models - claimed that she's constantly struggling with anxiety.
However, she added: "Then there's like that one percent that, sometimes, is just worth it and I ride on that one percent."
Meanwhile, Bella recently revealed that she hasn't had a stylist for the last two years.
The model explained that she's become much more philosophical about her style over the last couple of years.
She said: "In the last year, it was really important for me to learn that even if people talk about my style or if they like it or if they don't, it doesn't matter, because it's my style.
"When I leave the house in the morning, what I think about is: Does this make me happy? Do I feel good in this and do I feel comfortable?"
Camilla 'will be known as Queen rather than Queen Consort'
Buckingham Palace reportedly plans to officially describe Camilla as Queen, rather than Queen Consort.
The 75-year-old royal is likely to have her title changed after King Charles' coronation in London in May.
A source told the Mail on Sunday newspaper: "There's a view in the Palace that Queen Consort is cumbersome and it might be simpler for Camilla to be known just as the Queen when the time is right."
The rumored change was recently hinted at when Camilla launched the Queen's Reading Room - without the Consort - when she changed the name of her charity.
The organisation was previously known as the Duchess of Cornwall's Reading Room.
The insider added: "The Reading Room was a sign of that. Her Majesty is the Queen after all.
"Prince Philip was Prince Consort officially, but he wasn't known as Prince Consort. The Queen would of course still be Queen Consort so the Palace of course wouldn't stop anyone calling Her Majesty that if they so chose."
In 2022, meanwhile, Queen Elizabeth announced that Camilla would be known as Queen Consort when Charles became king.
The late monarch - who died in September, aged 96 - confirmed her wish in a message marking the 70th anniversary of her reign.
She said at the time: "I would like to express my thanks to you all for your support.
"I remain eternally grateful for, and humbled by, the loyalty and affection that you continue to give me. And when, in the fullness of time, my son Charles becomes king, I know you will give him and his wife Camilla the same support that you have given me; and it is my sincere wish that, when that time comes, Camilla will be known as Queen Consort as she continues her own loyal service."
It's so hard to be a teenager, says Hugh Jackman
Hugh Jackman thinks it's "so hard to be a teenager".
The 54-year-old actor - who has Oscar, 22, and Ava, 17, with his wife Deborra-Lee Furness - believes teenagers are now facing more pressures than ever before.
Hugh told Sky News: "It's so hard to be a teenager, and I think particularly with the pandemic, I think it's incredibly difficult.
"There's social media, all these things that are so different than what we grew up with. It was hard for me growing up as a teenager - it's a really difficult time for any kid, I think - but I would say right now it's the hardest it's ever been ... that's my sense of it.
"And yet, having said that, I think there's real hope, I feel that the younger generation, those teenagers are much more open about talking about things. They're much more fluid and less judgemental about what group you're in or what sexuality you have - they don't care about any of that stuff and so I see a lot of hope, but I think it's really difficult for them."
Hugh is convinced that it's actually become easier for young people to express their fears and concerns without feeling judged.
The Hollywood star now wishes that he could've had "open conversations" during his own childhood.
The 'Deadpool 3' actor said: "Thankfully, we are getting better at having open conversations about being more vulnerable, about accepting that we don't have all the answers, about relying on other people for help.
"All of these things, I think, are long overdue. And, you know, I wish I could have had those conversations when I was a teenager."
Simon Cowell wants to work with Britney Spears
Simon Cowell would love to work with Britney Spears again.
The 63-year-old music mogul previously starred alongside Britney, 41, on 'The X Factor' and Simon has confessed that he'd jump at the opportunity to work with her.
He told 'Entertainment Tonight': "We worked together on 'The X Factor' and I would work with her again, honest, in a heartbeat because she's smart. I like her a lot."
Simon is convinced that Britney has the perfect profile to appear on a TV talent show.
The outspoken star - who is currently a judge on 'America's Got Talent: All Stars' - said: "Britney, with her choreography, choice of songs, her styling, she is super, super smart. And if you're known by your first name, you're a star.
"You know, the more we talk about it, it's kind of like, yeah, we should do it ... totally encouraged."
Meanwhile, Britney recently voiced her support for Pamela Anderson, admitting that she's a huge "fan" of the former 'Baywatch' actress.
The 'Toxic' singer took to Instagram to praise Pamela's children - Brandon, 26, and Dylan, 25 - for backing their mom over her sex-tape leak and the TV mini-series 'Pam and Tommy'.
In her post, Britney wrote: "I'm such a fan of Pamela Anderson. She was the only sex icon at one time in America and she still is!!!
"I really respect the fact that her children stood up for her relating to the fact that people were trying to sell her story from the past!!!. They said 'Why the hell bring up things that happened 20 years ago if that really messed up my mom???' Referring to the embarrassing subject being sold in a comedic TV comparison. He's right. He went on to say that because of the embarrassment she went through a very dark period in her life. I mean, when I read that I was like 'Damn!' (sic)"
Jonas Brothers heading to Broadway for five-night residency
The Jonas Brothers are heading to Broadway for a five-night residency.
Each night, Nick, Joe and Kevin Jonas will focus on a different album, including 'Jonas Brothers', 'A Little Bit Longer', 'Lines, Vines and Trying Times', 'Happiness Begins' and the upcoming 'The Album'.
They wrote on Instagram: "Your boys are back in town. We're coming to Broadway and playing the Marquis Theatre March 14-18!! Each night will be focused on a different album and we'll be playing all the hits. Believe us when we say you won't want to miss these shows… You'll need a Verified Fan code to get tickets, so make sure to register now through Sunday!! jonasbrothers.com."
Following the announcement, the trio then dropped new song 'Wings', from their upcoming sixth record 'The Album'.
Joe has previously spoken about how he feels 'Wings' "feels like a trailer to the rest of the body of work".
He said: "It might be the shortest song on the album, but I like it because it feels like a trailer to the rest of the body of work. Also 'Montana Sky.' There's a lot more acoustic guitar and real organic instruments that tap into a bunch of different influences, but we're aware of the fact that we're not a country act. [producer] Jon Bellion flipped it on its head -- he's got a modern edge to everything he does, even if it has really classic elements."
They have also stated that the Bee Gees were a huge inspiration for the album.
Kevin said: "They were a huge influence in our lives, growing up and listening to them with our father. And obviously, as we grew up being three brothers in a band, we definitely understood similarities."
Snoop Dogg reveals the secret to a happy marriage
Snoop Dogg says the secret to a happy marriage is being a yes-man and always giving his other half what she wants.
The 51-year-old rapper - who has Corde, 28, Cordell, 25, and Cori, 23, with wife Shante Taylor and son Julian, 25, with ex Laurie Holmond - has been married since 1997 and revealed it's best to let his "soulmate" get her own way.
Asked what the recipe for a healthy marriage is, he told In Touch US: "Giving them everything they want, getting out the way, saying yes, yes, yes. I learned that by saying no, no, no and getting in the way. Experience is a good teacher. We've grown as boyfriend and girlfriend to grandparents to soulmates."
The hip-hop legend has five grandchildren and says he's not as "firm and direct" with his brood's kids.
He said: "With my kids, I was more firm and direct. I would just tell them to do something.
"But I have to do in-depth therapy work with my grandkids. Now it's, "No, you have to do this and then that. Do you have all these steps? OK, give me a hug."
Snoop's sixth grandchildren, Kai Love, tragically died in 2019.
The newborn's father Corde confirmed the heartbreaking news by posting an image of Kai's name plaque at the hospital, as well as a video of his baby daughter Elleven Love giving her baby brother a kiss.
Corde wrote: "Kai Love 9/15/19 - 9/25/19 ///// My Son Kai brought so much love and positivity into this world. His energy will live on and these 10 days of love will always be special to us. Let's all cherish life and those we love while we are here. Thank you (sic)"
Corde had Kai with his partner Soraya, who is also the mother of Elleven. He is also father to a son named Zion, whom he has with his ex-girlfriend Jessica Kyzer.
Meanwhile, Snoop previously said he prioritises his family over everything else.
He said: "Well, I think I'm about a seven plus. I've got three things that I can work on, but I feel like my relationship with my kids is more important than anything. It's a friendship relationship. It's based on me being a father, a mentor and a friend to where they can always talk to me and feel like they don't have to run away from me."
And the 'Young, Wild and Free' hitmaker also vowed to be a very liberal grandfather.
Speaking after the birth of his first grandchild Zion, he said: "I'm going to be a gullible, get away with everything kind of grandfather.
That's the third generation of what we're doing. It's just a spark of joy to look in his eyes and be able to hold him. I thank my oldest son Spank for making me a grandfather."
Hugh Jackman: Wolverine damaged my voice
Hugh Jackman says 'Wolverine' damaged his voice.
The 54-year-old actor played the role of Logan/Wolverine in the 'X-Men' film series between 2000 and 2017 but he claims that the "growling and yelling" he did for the part wrecked his singing voice.
Speaking on the BBC's 'Front Row', Hugh said: "My falsetto is not as strong as it used to be and that I directly put down to some of the growling and yelling. My voice teacher in drama school would've been horrified by some of the things I did [in 'Wolverine']."
However, the 'Greatest Showman' star is working on trying to repair the damage.
He said: "We learned the technique [in school] of how to shout and how to yell without ruining your voice. However, during 'Wolverine', I did some screaming and yelling and things that I think did damage my voice, which I think I'm working on. I work with a singing teacher, and I make sure that I try not to hurt myself. And I really put a lot of effort into both physical movement, and my vocal preparation for every role."
Meanwhile, Hugh is set to reprise his role as Logan / Wolverine in the upcoming Shawn Levy-directed 'Deadpool 3', starring Ryan Reynolds.
He previously said: "A little part of me now thinks I'd be better at it. Is that arrogance of age or something? Wolverine's a tortured character -- more tortured than me. But I always get the feeling of him being comfortable in his own skin. And I feel more comfortable in my own skin now."
Lala Kent doesn't recognise herself on Vanderpump Rules
Lala Kent barely recognises herself in season ten of 'Vanderpump Rules'.
The 32-year-old TV star has admitted to watching "a person [she doesn't] really know" in season ten of show, as it focuses on her acrimonious split from Randall Emmett and moving out of their Bel-Air mansion.
Lala - who has Ocean, 23 months, with the movie producer - told 'Entertainment Tonight': "I mean, the Lala that was onscreen was still trying to process what had happened, you know? We were so fresh and in it."
The blonde beauty and Randall are currently locked in a "custody battle".
However, Lala is determined to keep the issue out of the spotlight.
She said: "I would prefer not to touch on what exactly I'm fighting for; I feel like that we can keep, you know, just behind closed doors for Ocean's sake, but I'm doing what I need to do to ensure her safety and her future."
Last year, Lala revealed that she lost 30 pounds from the "stress and the trauma" of her split from Randall.
The TV star admitted that her split from from her ex-fiance took an emotional and physical toll on her.
She wrote in an Instagram post: "Happy Independence Day to me. A year ago I had my ducks in a row and it was time to execute my game plan of escaping a toxic and unsafe place. Even writing this, my heart has started pounding. I didn't know what my future would hold. I lost 30 pounds from the stress and the trauma. (sic)"
Despite this, the reality star is determined to "carry on" for the sake of her daughter.
Lala explained: "I had to carry on, without skipping a beat- my daughter needed me. And when it all became too much, I would hand it over to God and the universe. I knew they would cradle me. They did and have ever since. (sic)"
Eva Mendes 'loved' Pamela Anderson's Netflix documentary
Eva Mendes "loved watching" Pamela Anderson's Netflix documentary.
The 48-year-old actress has taken to social media to praise the documentary and to share her recollections of working with Pamela on the action-comedy 'V.I.P.'.
Eva wrote on Instagram: "She was so Incredibly sweet to me. I was a nervous actor just starting out and she made sure I felt welcomed. An actor never forgets that. It means so much. [heart emoji] (sic)"
Eva is also thrilled that Pamela has finally had the opportunity to share her story with the world.
The actress - who has Esmeralda, eight, and Amada, six, with Ryan Gosling - added: "I'm so happy she's finally telling her story. [heart emoji] Lotsa love to you beautiful (sic)"
By contrast, Pamela previously confessed to feeling "violated" by the makers of 'Pam and Tommy'.
The biographical drama series explored Pamela's whirlwind romance with music star Tommy Lee, and the actress admitted to being frustrated by the Hulu show.
She asked: "How are they allowed to do that?"
Lily James played Pamela in the show, but the blonde beauty doesn't blame the British actress for agreeing to star in the series.
Pamela - who was married to Tommy between 1995 and 1998 - said: "I heard she'd been nominated for an Emmy, but maybe that was a joke.
"It's not her fault; it's a job. But whoever created it - well, it just feels like something else stolen."
Despite this, Lily revealed that she was looking forward to watching 'Pamela, a Love Story'.
The 33-year-old actress said: "I can't wait to watch and learn more.
"Of course we could only do our best based on the information we had, so for her to be able to tell her story is so important. I'll be watching along with the rest of the world. I'm eager to see what she says and hear what it's all about."
Shakira feels 'hurt' by Gerard Pique's new romance
Shakira feels "hurt" by Gerard Pique's relationship with Clara Chia Marti.
The 46-year-old singer split from the former soccer star in 2022, and Shakira has addressed their break-up in her 'TQG' collaboration with Karol G.
She sings in Spanish: "Seeing you with the new one hurt me / But I'm already set by myself.
"What we lived I forgot / And that's what offended you / That even life improved me / You are no longer welcome here / I saw that your girlfriend threw at me / It doesn't make me angry, I laugh."
Shakira also claimed that she's moved on from her romance with the former Barcelona star.
She sings: "Tell her to stop pulling, that at least I made you look pretty.
"You left and I've put on my 'triple M' / Better, harder, lighter (more, more, more) / Never back with you, you are bad luck / Because now the blessings pour on me."
Shakira was also rumored to have referred to their split in her song 'Te Felecito'.
She sings: "For completing you I broke into pieces / They warned me, but I did not pay attention / I realized that yours is false / It was the drop that overflowed the glass / Do not tell me you're sorry, that seems sincere, but I know you well and I know you lie."
Shakira and Gerard, 36, announced their split via a joint statement in June.
The high-profile duo explained at the time that they were determined to make their children - Sasha, eight, and Milan, ten - their number one priority.
They said: "We regret to confirm that we are separating. We ask for privacy at this moment for the well-being of our children, who are our maximum priority. Thank you in advance for your understanding and respect."
Dionne Warwick and Dolly Parton are 'two peas in a pod'
Dionne Warwick and Dolly Parton are like "two peas in a pod".
The 82-year-old singer and Dolly, 77, met for the first time before recording 'Peace Like a River' together, and Dionne has revealed that they immediately struck up a rapport.
Recalling their first-ever meeting, Dionne told Billboard: "We had a wonderful, wonderful meeting. It was as if we'd known each other for years."
Dionne likened their encounter to "friends meeting for lunch". She was also impressed by Dolly's work ethic.
She shared: "Dolly is very, very grounded - which I was thrilled about - but she's also very business, which I happen to be about as well. So, it felt like two peas in a pod.
"It wasn't like we were working at all. It was more like two friends meeting for lunch."
Dolly approached Dionne about recording a song together.
And Dionne loved the country music star's gospel delivery.
Dionne said: "She asked if I'd like to do it as a duet. She's testifying on this song, which she knows how to do.
"She felt that I was her voice of choice to do this with. She feels that the world needs it, as I do, and she said, 'We've got a hit song.' It's so beautifully written. [These are] beautiful words to sing and I'm truly honoured that she asked me to record it."
Meanwhile, Dolly previously heaped praise on Dionne, describing the singer as "one of [her] idols".
She said: "I have loved her since we were younger and getting to sing with her was one of the highlights of my career. I loved that she loved my song, and I loved singing it with her."
Simon Cowell hopes to revive The X Factor
Simon Cowell would love to revive 'The X Factor'.
The 63-year-old music mogul helped to unearth some of the biggest names in modern music through the TV franchise, including One Direction, Little Mix and Fifth Harmony, and Simon has revealed that he'd happily revive the format.
He told 'Entertainment Tonight': "When I did 'Idol', it was with the rationale there has to be a number of people who are brilliant who can't get record deals.
"Kelly Clarkson, Carrie Underwood, it was absolutely worthwhile. And it's the same with 'X Factor'. It was Harry Styles, One Direction, Camila [Cabello], Fifth Harmony. I mean, we found so many great people.
"I think with so many people trying to get record deals at the moment, I would argue there's probably more of a need for a show like this again, so for that reason I would do it."
Recent speculation has suggested that NBC could look to lead a revival of 'The X Factor'.
Simon would love to see the show return to TV screens in the US.
He said: "If I had to choose between England and America, I would do it here, 100 percent."
Meanwhile, Simon previously claimed that his son saved him from his workaholic lifestyle.
The outspoken star has Eric, nine, with Lauren Silverman, and Simon credited his son with helping him to overcome his work obsession.
He said: "Before Eric, my life was 99 percent work - I was obsessed with it.
"I got to that point where everything was about, 'If you're not rating against this then you're a failure' and I stopped enjoying what I was doing and I was miserable the whole time.
"I was obsessed with beating the competition. I took it to a ridiculous level and I would get really down about that stuff, to the point I was depressed."
Maisie Williams' ex-boyfriend Reuben Selby moves on with new love
Maisie Williams' ex-boyfriend Reuben Selby has moved on following their split.
The 'Game of Thrones' star and the fashion designer recently called time on their five-year romance and Reuben, 25, is reportedly now dating model Phoebe Torrance, 28, after they were spotted being openly affectionate at London Fashion Week.
A source told The Sun newspaper's Bizarre column: "Maisie and Reuben were inseparable for years - they were partners and best friends.
"They moved out of London to live together but their romance struggled last year and she called time on things.
"It has been really hard for her and that's made worse by the fact he has moved on so quickly.
"Reuben and Phoebe have clicked and are now a couple. It's a massive shock for all of their friends and families."
Maisie, 25, announced the split on Instagram, where she joked about asking for privacy for the sake of her dog.
She wrote: "The end of an era. Reuben and I have decided to end our relationship. Since we met five years ago, our connection always extended deeply into our shared, and separate, creative careers … and it will continue to do so. This decision is something we are so grateful or [sic] as we can protect the magic, that we can't help but emit, whenever we put our brains together."
She then added: "P.s no further questions, please, we must protect our children (my dog)."
Reuben reposted Maisie's message on his own page alongside a heart emoji.
The pair made their debut as a couple in early 2019 when they were spotted holding hands as they strolled around New York City together.
They were last pictured together in October during a trip to Paris Fashion Week in France.
Pamela Anderson claims world leaders wanted a 'kiss on the cheek' in exchange for law changes
Pamela Anderson has claimed world leaders wanted "a kiss on the cheek" in exchange for the laws she wanted changing.
The former Playboy model - who has sons Dylan, 25, and Brandon, 26, with ex-husband Tommy Lee - famously persuaded Russian President Vladimir Putin to stop the importation of seal products and also got ships carrying fin whale meat banned from the country.
The PETA spokesperson has also met with many politicians over the years to use her celebrity status to advocate for causes close to her heart.
Speaking to OK! magazine to promote her documentary 'Pamela, A Love Story', she said: "When I first started getting a lot of attention, I thought, 'I have to share this attention with something meaningful.' That's when I started talking to PETA and all these activist groups. I thought to myself, 'I get a lot of attention, but it just seems so superficial.' So I used it to my advantage.
"I would go and speak to world leaders.
They wanted a kiss on the cheek and an autograph. I wanted laws to be changed.
And we both got what we wanted."
Pamela previously claimed she turned down Putin's offer to bring him flowers to his inauguration.
She told 'Piers Morgan's Life Stories' in 2018: "He wanted me to come to his inauguration and give him flowers ... I didn't do that. Obviously, we have been in the same place together sometimes ... I had a great relationship with Russia."
Meanwhile, Pamela has landed a new plant-based cooking show on Food Network Canada.
The 55-year-old star will front the series 'Pamela's Cooking With Love' - a working title - which has been commissioned by Corus Studios and will see her team up with top level chefs at her home in Canada as they work on a variety of plant-based meals and menus, while the studio has also greenlit a second series of 'Pamela's Garden of Eden' as she renovates her family's Vancouver Island property.
She said in a statement: "Creating elegant and inviting spaces that inspire a compassionate, calm and healthy environment has always been important to me and comes naturally.
"Corus Studios and I have set mutual goals with good intentions. It's been a learning curve - and I am confident they will be a positive partner in helping bring my true vision to life."
My son's experience of COVID was 'very scary', says Pink
Pink felt terrified amid her son's battle with COVID-19.
The 43-year-old pop star and her son Jameson, now six, both caught the virus in 2020, and she admits that it was the "scariest thing".
The chart-topping singer - who also has Willow, 11, with her husband Carey Hart - told 'Who's Talking to Chris Wallace?': "I was using a nebulizer for the first time in 30 years. It was very scary. And in hindsight, looking back, my son was actually the sickest.
"When your kid is, is projectile vomiting and screaming and covered in a rash and telling you they can't breathe. It's the scariest thing. I mean, any parent knows, when your child is sick, it's done-zo, game over is how it feels."
Meanwhile, Pink recently confessed to feeling "giddy" ahead of her album release.
The singer released 'Trustfall', her ninth studio album, earlier this month, and Pink admitted to feeling anxious about it.
Asked if she was feeling nervous, Pink said at the time: "I do because I care.
"This one especially - I haven't been this giddy about it in awhile. I feel, because of the time we were able to take to curate this, I feel like I made a real body of work. No throwaway songs whatsoever. Not that I don't feel great about other albums.
"I guess the maturity and experience and also what's been going on the last three years, it's been an insane rollercoaster."
Pink added that she feels very "proud" of her new record.
Asked if 'Trustfall' is her most personal album to date, she replied: "They're all personal, but I feel very proud. I feel very settled - and anxious!"
Aaron Rodgers emerges after four-day 'darkness retreat'
NFL star Aaron Rodgers has returned after spending four days in total darkness as part of a gruelling isolation retreat.
The Green Bay Packers quarterback - who was previously engaged to actress Shailene Woodley - took himself off to a special facility in Oregon this week to spend almost 100 hours on his own in the dark contemplating his life and his future as he prepares to decide whether to retire or keep playing in 2023.
ESPN now reports Scott Berman - owner of Sky Cave Retreats - has confirmed Rodgers emerged from the dark room on Wednesday (22.23.23).
The sports star previously insisted taking part in the darkness retreat was about more than just his decision whether to carry on playing football. During an appearance on 'The Pat McAfee Show' earlier this month he explained he hopes his stay will give him "a better sense of where I'm at in my life".
He added of the retreat: "It's just sitting in isolation, meditation, dealing with your thoughts. It stimulates DMT [a hallucinogenic drug found naturally in some plants] so there can be some hallucinations in there, but it's just kind of sitting in silence, which most of us never do. We rarely even turn our phone off or put the blinds down to sleep in darkness. I'm really looking forward to it."
It comes after Rodgers previously credited plant-based psychedelic drug ayahuasca with helping him to focus more on "self love". Speaking to Aubrey Marcus, the founder of supplement company Onnit, on his podcast, Aaron said: "To me, one of the core tenets of your mental health is that self-love. That's what ayahuasca did for me, was help me see how to unconditionally love myself. It's only in that unconditional self love, that then I'm able to truly be able to unconditionally love others.
"And what better way to work on my mental health than to have an experience like that? "The greatest gift I can give my teammates, in my opinion, is to be able to show up and to be someone who can model unconditional love to them. I mean obviously it's important I play well, and show up and lead and all that stuff. They won't care about what you say until they know how much you care."
Bethenny Frankel 'isn't doing great' amid health struggles
Bethenny Frankel is "not doing that great" amid her ongoing battle with postural orthostatic tachycardia syndrome (POTS).
The 52-year-old TV star has taken to Instagram to explain that her condition - which can lead to fatigue, dizziness and a fast heart rate - is gradually worsening.
Bethenny wrote on the photo-sharing platform: "There were some comments about my face looking different in recent videos, so here is why.
"I'm bloated, swollen and I've gained 4 lbs in 3 days because my body is desperately hanging on to any water it can.
"A while back I shared what has been a serious battle with POTS. This is an auto-immune disorder that seems to have been drastically exacerbated since COVID. I know there are many of you out there, so thanks for all of the information. It's certainly a condition to manage.
"I suffer from chronic severe dehydration. I have always experienced extremely low blood pressure and dehydration, but it's gotten exponentially worse. (sic)"
The TV personality - who previously starred on 'The Real Housewives of New York City' - has made a concerted effort to safeguard her own health.
Bethenny also urged her social media followers to think before they comment on someone else's appearance.
She said: "I make a tremendous effort to stay hydrated, get IV's, and I haven't had liquor for 6 months. I'm basically on the case.
"Altitude and a dry climate (in my favorite place in the world to do my favorite sport) present additional challenges.
"PS. When you comment on someone's physical appearance, you may not know exactly what they're enduring personally, physically and emotionally. #aspen #dehydration #autoimmune #potssyndrome #thirsty #honestthoughts #liveauthentic #truth (sic)"
Pink fell out with idol Madonna over TV joke
Pink fell out with her idol Madonna after making a joke about her on TV.
The 43-year-old pop star has always been a huge fan of the 'Holiday' hitmaker but she's now convinced the singer "doesn't like" her after an awkward encounter during a TV appearance 20 years ago when the pair met for the first time backstage on the 'Live with Regis and Kelly' show back in 2003.
During an interview on 'The Howard Stern Show' on SiriusXM, Pink told the host: "Some people just don't like me ... I'm a polarising individual."
The conversation then turned to Madonna and Pink admitted the drama played out TV saying: "F***, I loved her ... She tried to kind of play me on 'Regis and Kelly,' and I'm not the one, so [it] didn't work out ...
"It's just such a silly story. I f****** love Madonna, and I love her no matter what. I still love her no matter what. She was such an inspiration to me, but it sort of got twisted around that I was, like, fangirling and was dying to meet Madonna when in actuality she invited me into her dressing room ...
"And so I just said a joke when Regis [Philbin] brought me out and said, 'I heard you were just falling over yourself backstage. How does it feel?' I'm like, 'I thought she wanted to meet me'."
Pink then suggested the joke didn't go down well with the Queen of Pop, adding: "It didn't work out. It didn't work out for us" before Stern added: "Madonna took the joke personally".
The revelation comes after Pink previously revealed she had been approached to perform with Madonna at the MTV Video Music Awards in 2003 when the singer famously shared a kiss with both Britney Spears and Christina Aguilera onstage.
The performance took place just three months before Pink's awkward meeting with Madonna on 'Live with Regis and Kelly' but she was unable to take part because she was on holiday with her now-husband Carey Hart.
Speaking on US radio station KTU 103.5, Pink explained: "I think we all were [invited]. I think Madonna wanted to kiss all of us. I was in Costa Rica at the time, having all kinds of fun with my boyfriend, Carey Hart.
"Gwen Stefani was also invited, I remember. It was a bunch of us."
Sir Rod Stewart proves he's 'not all mouth' by visiting NHS patients after paying for their scans
Sir Rod Stewart proved he's "not all mouth" by visiting a hospital in the UK after promising to pay for patients to have scans to help cut NHS waiting lists.
The 78-year-old musician headed to the Princess Alexandra Hospital in Harlow, Essex on Friday (24.02.23) just weeks after calling into a TV phone on the Sky News channel in which he offered to provide money to help those facing long waits to access treatment on the National Health Service.
Stewart visited the hospital's mobile MRI scanning unit and met with patient Omarie Ryan who had travelled from London to have a scan on his knee. The singer told him: "So this is my first customer. All good pal? You take care of yourself, stay healthy, alright mate."
Stewart met with both staff and patients at the facility and he told reporters he hopes to encourage others to help fund scans across the UK, saying: "If this is a big success, which I think it will be, I'd like to do it in Belfast, Dublin, Edinburgh, Glasgow, Manchester, and just keep it going, and hope some other people follow me."
He added of his decision to visit the hospital: "Because I want to prove I'm not all mouth and trousers and that's why I'm here to prove that I followed through with it, ok folks."
The 'Maggie May' star also explained he decided to offer up money to help after going for a private scan and finding the facility was not at all busy while so many people are facing long waits on the NHS.
He said: "I had just come from my scan in a private clinic near Harley Street [when I called the phone-in]. I walked in and said: 'I'm terribly sorry I'm half hour late'. They said: 'Don't worry, there's hardly anybody in here today'.
"There were eight people with hardly anything to do. Then I thought this is a terrible injustice, so here we are."
Chloe Sevigny hates being photographed on one side
Chloe Sevigny has suggested she "might have" body dysmorphia.
The 'Big Love' actress recalled how two photographers advised her early in her career to only be photographed from her left side and she admitted the comments have stayed with her for decades and she often worries about her appearance.
She told Allure magazine: "Can you imagine saying that to a 19 year old?...
"Even right now, I would have preferred to sit in that seat because then you would have been looking at my left side.
"It informs so many parts of my life, like, when I go to dinner, when I'm rehearsing and blocking a scene, I always favor this side. It's intense. I read this book called 'The Broken Mirror' about body dysmorphia because I feel like I might have…"
The 48-year-old actress - who has two-year-old son Vanja with husband Sinisa Mackovic - admitted she is "not opposed" to undergoing cosmetic procedures such as botox and fillers because she finds it "too hard" to see herself getting older on film.
She said: "It's too hard to get old on screen. It's not fun. I'm not opposed to bits and bobs here and there...
"This high-def TV is not doing anybody any favours. Even the young people. You can tell when people have uppers [teeth veneers] but don't have lowers."
Chloe spent New Year's on vacation in the Cayman Islands and admitted she felt deflated by her pre-vacation diet when she realised she'd be compared to supermodel Bella Hadid and actress Emily Ratajkowski.
She said: "Before we went, I was like, I'm gonna stop eating bread and not drink as much so I can get like, bikini-ready.
"We get down there, and the two other 'celebs' on the beach are Em Rata and Bella Hadid. What was even the point?"
'I farted on them': Evangeline Lilly got her own back on rude airline passengers
Evangeline Lilly used to fart on annoying passengers when she worked as a flight attendant.
The 'Ant-Man and the Wasp: Quantumania' actress only did the job for two months because she found it "miserable" but it didn't take her too long to find a quiet way of getting revenge to people who "weren't pleasant" to her when they needed her assistance on board the plane.
She said: "It's miserable. The training's six weeks. I did it for two months and then I showed up for a flight to Germany without my passport and I was like, 'I don't think this job's for me' and I quit.
"In the meantime, I'd managed to find a good system for if people weren't pleasant with me on the plane. When you pass by, you just do a little 'crop dusting', leave a little scent behind for that a***hole to enjoy…
"I did, I farted on them. What else did I have at my disposal?"
While the 43-year-old actress - who has two sons with partner Norman Kali - didn't enjoy her cabin crew days, she landed her dream job when she was cast as Tauriel in 'The Hobbit' film series, admitting the role brought her out of retirement.
Speaking on 'The Jonathan Ross Show', she said: "I read 'The Hobbit' when I was 13 and then it was my favourite book for a long time. I read 'Lord of the Rings' when I was a teenager.
"I obsessed over being a woodland elf, I swear to god. I fantasised night after night about being a woodland elf.
"And then I was retired, I'd just given birth to my first baby and I got a call… I really didn't want to act but I was like, 'I really want to do that.' "
Evangeline stole a "really important" prop from the set, a runestone, which she lied she had lost during filming in order to slip it into her pocket.
She said: "There was this really, really important prop - the runestone that Kili gave to Tauriel - they had made about a dozen of them and one of them had been chosen. It was beautifully crafted.
"We used all the other ones for rehearsals. It really was the best one, so between takes on one of the scenes I just slipped it into my pocket and then I was like, 'Urm, guys I think I've dropped the runestone, I don't know where it is.'
"There were like 20 people on their hands and knees looking. Peter Jackson is freaking out because it's the one he hand chose for the scene and I was like, 'Sorry!' And I still have it. Don't tell Peter…"
But the former 'Lost' star is glad she kept the stone because a souvenir she was given from the set hasn't stood the test of time.
She said: "I kept a set of the ears. That I didn't have to steal, they just let me have them. I put them in a memorabilia box, a beautiful wooden box. I went to show my son a few years later and I opened the box and there was just this blob of goo at the bottom as they've just melted. They're no more."
The 'Jonathan Ross Show' airs on Saturday (25.02.23) night on ITV1 and ITVX.
Iggy Azalea says Britney Spears' creativity was 'limited' under conservatorship
Iggy Azalea has been back in touch with Britney Spears and she's hoping they will be able to collaborate again now the singer is free from her conservatorship.
The 'Fancy' star previously worked with Britney on their 2015 track 'Pretty Girls' but Iggy admits it was a difficult experience because the 'Toxic' hitmaker was "so limited" by the rules of her conservatorship - a protective order which stripped the singer of control of her own affairs for more than a decade - and the rapper is hoping they will be able to come up with a new project now Britney is able to make her own decisions.
During an appearance on 'Watch What Happens Live with Andy Cohen', Iggy explained: "Yes, I have been in touch [with Britney] ... Would I be interested [in working with her again]? Yes, of course. My collaboration with her is always one of my favourite collaborations."
However, Iggy admits Britney's creativity was stifled by the conservatorship - which was dissolved in 2021 - and hopes they will be able to work together again using the singer's 'own ideas".
She went on: "I just feel like there was so much we wanted to do with ['Pretty Girls'] that we never got to. We never got to do all we wanted to do ...
"She was so limited, obviously. And now that she has the ability to do it her way, [I would] 100 per cent [work with her again]. I love Britney, and she is so much more creative than what people give her credit for.
"Like what she did ['Hold Me Closer' duet] with Elton [John] was amazing. I would love to be part of more of anything that she had to do, especially when they are 100 per cent her own ideas."
Dame Helen Mirren baffled by Shazam! Fury of the Gods plot
Dame Helen Mirren struggled to grasp the plot of 'Shazam! Fury of the Gods'.
The 77-year-old actress plays the villain Hespera in the superhero sequel and admits she found it hard to understand what was going on in the story.
Speaking on 'The Graham Norton Show', Helen said: "Don't ask me about the plot, it's too complicated.
"(Lucy Liu and I) are angry goddesses wearing unbelievably heavy costumes. It was very hot and uncomfortable and in fact, Lucy said at the end of the first day's shooting, 'They are trying to kill us', in all seriousness."
Helen confessed that she isn't a big fan of superhero movies but signed up for the new movie as she loved the original 'Shazam!' film.
The '1923' star said: "I wanted to do it because I loved the first 'Shazam!' It was sweet and funny. I am not a big superhero-type person, but I loved the idea of it and happily signed up for the second one. It is great."
Helen performed some of her own stunts for the movie but ended up breaking her finger.
She said: "I was incredibly brave and didn't say anything or complain because I wanted to be a real 'stunty' person."
The DC Extended Universe (DCEU) movie is being directed by David F. Sandberg and he was astonished to cast both Helen and Lucy as antagonists.
He said: "I mean, it's a dream come true, first of all. I've been watching movies with Lucy and Helen, and now I get to work with them - which is just amazing.
"They're just the best. When we had these parts, we were like, 'Let's try and get the biggest and best actresses we can.' And we were able to, because they said yes. It's amazing."
'The Graham Norton Show' airs on BBC One on Friday February 24 at 10.40pm. It is also available on BBC iPlayer.
Nick Carter accuser claims countersuit seeks to 'silence' her
A woman suing Nick Carter over a sexual battery allegation is asking to have his countersuit against her dismissed.
Shannon Ruth took legal action against the Backstreet Boys star in December claiming he assaulted her on a tour bus after a concert in Washington in 2001 when she was 17 - and Carter - who vehemently denied the allegations - later filed a counterclaim against her and two other individuals claiming they have been trying to extort money from him.
Now Ruth's legal team has filed a motion with a court in Clark County, Nevada asking for the countersuit to be dismissed. According to Etonline.com, the paperwork states: "Carter's Counterclaim is clearly intended for no other purpose than to harass, intimate, and potentially silence [Ruth].
"He seeks to use his wealth and celebrity status to outlast Plaintiff, intimidate her, and possibly even silence her. All while hiding behind being the 'victim' of the '#MeToo' Movement and the preposterous notion that [Ruth] is only seeking attention and publicity."
The documents go on to claim Carter's legal fight back should not proceed because it is "the very definition of a SLAPP lawsuit" - also known as Strategic Lawsuits Against Public Participation which are filed in an effort to suppress free speech or stop court action by burdening the individual with extra costs of a legal defence.
The motion filed by Ruth's team also asks for Carter to be held responsible for covering her court costs and lawyers' fees if his countersuit is dismissed.
The countersuit was filed last month and also targets Melissa Schuman - a former singer with the group Dream who accused the star of rape in 2017 - and her father, Jerome Schuman with Carter claiming they are taking advantage of the #MeToo movement to "extort" money from him.
According to documents obtained by People magazine, the 43-year-old star alleged the women launched a five-year conspiracy to "defame and vilify" him and "otherwise ruin his reputation for the purposes of garnering attention and fame and/or extorting money from Carter."
Nick alleged the pair had set out to "destroy innocent lives" and more than £2.3 million has been lost in business since the December lawsuit.
New Lord of the Rings movies in the works at Warner Bros
New 'Lord of the Rings' films are in the works at Warner Bros.
The company's co-chairs and CEOs Michael De Luca and Pam Abdy are "honoured" to be taking on the new project based on the J.R.R. Tolkien books, and believe the author's universe "remains largely unexplored on film".
They said in a statement: "Twenty years ago, New Line took an unprecedented leap of faith to realise the incredible stories, characters and world of 'The Lord of the Rings' on the big screen.
"The result was a landmark series of films that have been embraced by generations of fans.
"But for all the scope and detail lovingly packed into the two trilogies, the vast, complex and dazzling universe dreamed up by J.R.R. Tolkien remains largely unexplored on film.
"The opportunity to invite fans deeper into the cinematic world of Middle-earth is an honour, and we are excited to partner with Middle-earth Enterprises and Embracer on this adventure."
Peter Jackson helmed the first 'Lord of the Rings' trilogy - which starred Elijah Wood, Cate Blanchett and Sir Ian McKellen - from 2001 to 2003, and 'The Hobbit' trilogy from 2012 to 2014.
Jackson and Fran Walsh and Philippa Boyens, his main collaborators on 'The Lord of the Rings', have admitted Warner Bros. and Embracer have kept them "in the loop every step of the way".
The trio told Variety: "We look forward to speaking with them further to hear their vision for the franchise moving forward".
A new deal is said to have been brokered to make "multiple" 'Lord of the Rings' movies based on Tolkien's books.
Lee Guinchard, CEO of Freemode, said: "Following our recent acquisition of Middle-earth Enterprises, we're thrilled to embark on this new collaborative journey with New Line Cinema and Warner Bros. Pictures, bringing the incomparable world of J.R.R. Tolkien back to the big screen in new and exciting ways.
"We understand how cherished these works are and working together with our partners at New Line Cinema and Warner Bros. Pictures, we plan to honour the past, look to the future, and adhere to the strongest level of quality and production values."
Adam Levine suing car dealer after being sold 'fake' rare vehicle
Adam Levine is seeking over $850,000 in compensation after he was allegedly sold a fake car.
The Maroon 5 frontman thought he was trading in two of his own vintage vehicles for a 1971 Maserati Ghibli 4.9 Liter Spyder - an extremely rare motor as only 25 were ever made - but is now taking legal action against Rick Cole, who he claims has swindled him.
According to court documents, back in 2021, Adam swapped two Ferraris, from 1968 and 1972, with a combined value of $950,000 and in return the classic car dealer gave him $100,000 and what he thought was an "extremely desirable and valuable car in the current classic car market."
However, when the Maserati was taken to Autosport Designs to market it, it turned out the vehicle wasn't genuine, with the 43-year-old singer claiming Cole took a number of steps to pass it off as the real deal.
Adam was told the dealer had already sold a car with the same vehicle identification number (VIN) as his new ride, with it being owned by British luxury vehicle collector Clive Joy and "under the care of legendary race car driver Christian Traber."
The 'She Will Be Loved' hitmaker argued the car dealer - who has previously made deals with the likes of Frank Sinatra, Robin Williams and Steve McQueen - deliberately kept the earlier issues concealed in order to make a major profit.
Documents obtained by the New York Post newspaper's Page Six column alleged: "Subsequent inspection and investigation revealed that the vehicle is not authentic.
"Cole egregiously never disclosed any of this … withholding this information in order to make substantial monies on the sale."
Adam has argued that as the identity of the car was now clouded, its value was "far less than that paid by" his Adam Levine Living Trust.
The court papers noted it was possible the car was a Ghibli Coupe converted into a Ghibli Spyder, but it is unknown whether that is the case.
The 'Moves Like Jagger' hitmaker's trust are seeking to recoup the purchase price of $850,000 after claiming Cole had refused to reverse the deal or give back the money.
The car dealer has yet to comment on the lawsuit.
Gene Simmons' daughter Sophie Simmons marries
Gene Simmons has expressed his pride after his daughter Sophie Simmons married her longtime partner James Henderson.
The couple tied the knot officially at a courthouse in Los Angeles on Friday (17.02.23) before exchanging vows in front of around 50 family and friends in an intimate ceremony at a house in Malibu, California owned by the bride's mother Shannon Tweed-Simmons on Wednesday (22.02.23).
KISS rocker Gene and Shannon said in a joint statement to PEOPLE: "We couldn't be prouder of our daughter. James is a solid young man, and Sophie can do anything she puts her mind to. We wish them a lifetime of love and happiness. If they are even half as happy as we are, they will last long."
Sophie wore a blush-coloured dress by Galia Lahav and walked down the aisle for the sunset ceremony to the sound of 'No One's Gonna Love You' by Band Of Horses.
Sophie later revealed the song has a special meaning for the couple after they attended one of the band's concerts when they first started dating almost a decade ago.
She explained: "When my fiance and I first started dating nine years ago, he took me to a Band of Horses concert. I was so tired from filming our reality show 'Shannon and Sophie' back then, I fell asleep on his shoulder. We were way too early in the dating phase for me to do that. Luckily, he thought it was cute, and he woke me up for that one song."
They chose the location for the wedding - her mother's investment property - for the incredible views and because they wanted to keep the nuptials small and intimate.
Guests feasted on foods including pasta, pizza and spicy chicken sandwiches, and the couple played movies by their favourite director David Fincher throughout the reception. They also included nods to his film 'Fight Club' by stocking the bathrooms with pink soaps and there was even a gruesome cake inspired by gory thriller 'Seven'.
It was shaped like a box and inside there was another cake shaped like the groom's head. Sophie also used the reception to surprise her famous father with a song she wrote for him called 'Daddy's Girl' which was played during their father-daughter dance.
The continued the celebrations the day after the wedding with a large reception in Los Angeles, which they planned to follow with a brunch on Friday (24.02.23).
Steven Yeun lands Thunderbolts role
Steven Yeun has been cast in 'Thunderbolts'.
The 39-year-old actor has joined the Marvel blockbuster and insiders suggest that his part could play a significant role moving forward in the Marvel Cinematic Universe (MCU).
Steven joins an ensemble cast that also features Florence Pugh, Sebastian Stan, Julia Louis-Dreyfus, David Harbour, Hannah John-Kamen and Olga Kurylenko.
The movie is being directed by Jake Schreier from a script by 'Black Widow' writer Eric Pearson. It is scheduled to be released in July 2024.
Little is known about the plot of the movie but the comics revolve around a group of villains who are sent on missions commissioned by the government.
Steven previously starred in the hit TV series 'The Walking Dead' before his performance in the 2020 film 'Minari' earned him an Oscar nomination for Best Actor.
Julia will star in the film as Valentina Allegra de Fontaine and recalled how Marvel bosses went to extreme lengths to keep her identity a secret on set.
The 62-year-old star said: "There's so much secrecy around it. When I first started shooting, I had to go to set wearing a black cloak with a hood and keep my head down so nobody could see it was me walking into the soundstage."
Louis-Dreyfus has also demanded that her character gets the chance to "kick some ass" in the film.
She said: "I pitched it; I told them I really want to fight. I haven't seen the script yet - we'll see if that happens."
However, Julia admits that the physical demands of a Marvel part are off-putting.
She said: "Ugh. I guess I'd better get in shape."
Meghan McCain 'horrified' by suggestions she uses weight-loss drug after giving birth
Meghan McCain thinks it is "horrifying" people keep asking her if she will take Ozempic to lose her baby weight.
The former 'View' star only gave birth to her and husband Ben Domenech's second daughter Clover a month ago but she is "really astonished" by how many times she'd been approached with the suggestion she take the drug - which is usually prescribed for diabetes - to get back into shape.
She wrote in an essay for DailyMail.com: "I just had a baby four weeks ago, and you wouldn't believe what I'm hearing.
"Yes, I'm fielding all the usual questions: Is she sleeping? Am I sleeping?
"The answer - obviously - is 'no'. But then, I get hit with this: Are you going on Ozempic? Excuse me?"
The piece was titled: "I just gave birth and I'm being urged to take a 'miracle shot' of Ozempic as a quick fix to melt away the baby weight... It's horrifying, unfair and disturbing - and I refuse."
Meghan - who also has two-year-old Liberty with her spouse - was "astonished" at the number of people who had brought up the drug to her.
She wrote: "Ozempic also seems to be the hottest thing in the media industry. So many of the men and women you see on TV every day are rumored to be using the drug.
"Now, I understand some people legitimately struggle with obesity and need Ozempic. But I am not one of those people.
"Which is why I have been really astonished by how many, from casual friends to industry acquaintances, have brought it up with me.
"I'm told 'everyone is doing it,' as if that was ever a compelling case.
"I hear 'just take the shot', as it has become known in shorthand. I was even offered a black-market freebie by someone with 'extra shots at home.' Well, let me make one thing very clear. I'm not taking it. I refuse."
The 38-year-old star sees a "clear moral issue" with the popularity of the drug and the idea that medication can be used as a quick-fix.
She noted: "I am realistic about how long it takes to have your body feel normal again post-baby. No, don't rush me!"
And Meghan insisted the subject will have consequences for future generations.
She wrote: "As a new mother, I also have a responsibility to set an example for my daughters, who will one day face the same beauty standards.
"Their world will only be more challenging as social media seeps more deeply into the American mind. This is not the world I want for them and not the world I want for myself."
'It's inappropriate': Pedro Pascal refuses to do Mandalorian voice for kids
Pedro Pascal thinks it is "creepy" when parents ask him to do his Mandalorian voice for their children.
The 47-year-old actor insisted it is "inappropriate" for him to talk to youngsters in the same "bedroom voice" he uses in character as Din Djarin in 'The Mandalorian' and doesn't think it "works" in real life when he isn't wearing his famous silver helmet.
Speaking on 'The Graham Norton Show', he said: "People come up to me and ask me to do the voice for their kids. But I think it sounds inappropriate because it is a breathy, low-register bedroom voice.
"It is so creepy and doesn't work in real life."
Pedro joked his regular screen partner, Grogu - who is also known to fans as Baby Yoda - always takes the spotlight away from him.
He said: "He is remarkably lifelike and a real screen partner, but does steal every scene."
While Pedro can be seen in 'The Mandalorian' season three from next week, he is currently starring in 'The Last Of Us' but admitted he has no recollection of being offered the role of Joel.
He said: " "It is a bit hazy because I had stayed up very late meeting everyone and was very excited, so I took a sleeping tablet.
"When they called to offer me the part, I was so drowsy they had to repeat the offer.
"I then forgot that completely and when I woke up the following morning, I thought because of the time difference between London and LA, I would be waiting by the phone all day to hear if I got the job!"
Watch the full interview with Pedro on 'The Graham Norton Show' on Friday (24.02.23) night.
Ryan Reynolds to star in comedy film Boy Band
Ryan Reynolds is to star in and produce the comedy 'Boy Band'.
The 'Deadpool' actor is attached to feature in the Paramount project and will once again team up with frequent collaborator Shawn Levy.
Ryan originated the story and co-written the movie with Jesse Andrews - the scribe behind 'Me and Earl and the Dying Girl' - and is also set to produce via his Maximum Effort banner.
Levy will produce via his 21 Laps Entertainment company and could potentially direct the film, although scheduling will be the determining factor.
Reynolds is hoping to shoot 'Boy Band' in either late 2023 or early 2024. Details of the film are being kept under wraps, but it is being described as a boy band reunion movie.
The star has shown his singing skills in the Christmas film 'Spirited' as he performed song and dance numbers alongside co-star Will Ferrell in the Apple flick.
Ryan previously confessed that he found working on the musical more challenging than making a superhero film.
The 46-year-old actor said: "Training for a superhero movie is something I've been doing since I was 20 and I'm 46 now. It's second nature to me. Doing a fight sequence is in my bones. I memorise them very fast.
"I can make a mistake and use that mistake to my advantage in the moment.
"Whereas dancing, if I make one mistake, I completely fall apart. I don't know if I would [make a musical] again. I don't think so.
"They're such vastly different disciplines.
"When you haven't spent your life at a craft like song and dance, you're just always playing catch-up.
"Thank god we have 15, 20, 30, 50 takes to get it right!"
Gorillaz's Netflix film scrapped in cutbacks at streaming giant
Gorillaz's Netflix film has been cancelled.
Damon Albarn has confirmed the streaming giant has cut the animated movie due to needing to make cutbacks in their "movie offerings".
In a new interview with the Dutch-language Belgian outlet HUMO, he said: "The streaming platform for which we were making the film has withdrawn. They started to panic because they were making too much content and decided to cut back on their movie offerings.
"And, as has been classic Hollywood practice for decades, the guy we were working with has moved on to another company. From then on you have lost your guardian angel, and there seems to be a bad smell hanging on you. Hollywood is quite territorial: if a new guy comes along, he must and will have a different opinion, even if he secretly agrees with his predecessor."
Damon first teased the animation project in a 2021 interview with Zane Lowe on Apple Music 1.
He spilled at the time: "I'm at Netflix because we're making a full-length Gorillaz film with Netflix. Yeah, we're having a writing session in Malibu this afternoon.
"It's really exciting to do that. It's something we've been wanting to do for a very long time. It's been through so many incarnations.
"Gorillaz doing a movie. Honestly. But Netflix, I don't know. I mean, apart from them kind of running this city now, I mean - It's just extraordinary to see how ubiquitous they are now. Yeah. They just seem like they're a good creative team, you know? But I can't say anything more about it, obviously, because... No, no, no."
Gorillaz is the animated virtual band Damon founded with comic book artist Jamie Hewlett in 1998, comprising the characters 2-D, Murdoc Niccals, Russel Hobbs, and Noodle, and non-virtual member, producer Remi Kabaka Jr, as of 2016, who also voices Russel.
The 'Feel Good Inc.' band release their new album 'Cracker Island' on Friday (24.02.23).
Damon Albarn plans to 'pass on' Gorillaz to someone else
Damon Albarn wants to "pass on" Gorillaz to someone else one day.
The Blur frontman and artist Jamie Hewlett launched the animated band in 1998 and the 54-year-old musician thinks it would be "amazing" if the group kept going for years as they would be able to hand over the project to someone else to keep it going.
He said: "I'd like to pass it on to another guy who's a cartoonist and a musician. That would be amazing."
Damon is currently busy promoting Gorillaz' eighth studio album, 'Cracker Island', which, like their previous efforts features an array of special guests.
But the 'Feel Good Inc.' hitmaker admitted he had originally wanted The Strokes' Julian Casablancas to sing on 'Oil' until producer Greg Kurstin suggested Fleetwood Mac singer Stevie Nicks.
Asked how Stevie came to feature on the record, he told The Sun newspaper: "Greg Kurstin instigated it.
"I originally had that tune down -- believe it or not -- for Julian Casablancas.
"But Greg asked, 'Why don't you try Stevie? I know her and I'm going to see her next week'.
"I said, 'Be my guest, play it to her'. I didn't think she would agree in a million years but she liked the subject matter."
Bad Bunny features on another track, 'Tormenta', and he was on Damon's radar because of his daughter Missy and her friend Salima.
He said: "They grew up together and went to the Spanish school at the top of our road. So they're attuned to Latin music and into reggaeton."
The 'Song 2' rocker admitted he is in awe of the Puerto Rican musician's talent.
He gushed: "Bad Bunny's the real deal. He's got one of those annoying voices which is exactly right every time. So accurate and so consistent, it's amazing.
"When I hear people like him, I think, 'If I could sing like that, I would be the biggest artist in the world, but I can't, so I'm not!'
Addison Rae lands role in Eli Roth's slasher film Thanksgiving
Addison Rae is to star in upcoming slasher film 'Thanksgiving'.
The social media star will be part of the cast for director Eli Roth's upcoming horror movie, which is based on the spoof trailer the 50-year-old filmmaker made 16 years ago for the Quentin Tarantino-Robert Rodriguez double bill 'Grindhouse', but it is unclear what role she will be playing.
Sources told The Hollywood Reporter the movie centres on a slasher who arrives at a small town in Massachusetts with the intention of "creating a Thanksgiving carving board out of the town's inhabitants."
'Grey's Anatomy' star Patrick Dempsey is also in talks to join the cast, but the director is hoping to feature a number of unknown names.
Production is due to begin in Toronto next month.
Eli will also serve as producer alongside Electromagnetic Productions' Roger Birnbaum.
Addison made her movie debut in 'He's All That' in 2021 and previously revealed she wanted to prove she's not "limited to one thing" and hoped to explore a variety of acting roles.
She said: "I want to show people I'm not just limited to one thing.
"I want to play the bad guy but also the good guy. I eventually want something really deep and emotional and real as possible."
And the 22-year-old star claimed she had to work "much harder" in order to make it as an actress because of her background.
She explained: "In this industry, when you come in and get labelled as one thing ... people like to keep you there. Which is understandable, and I get it, but what people don't realise is I've always wanted to do acting, I've always wanted to do music. I've always wanted to do all these other things that they didn't really get to see or know, because I just started being known when I was 19 years old.
"People haven't really seen the background, or the classes I used to take and things like that. So I try to tell myself, 'You have to work that much harder to get people to take you seriously.'"
Paris Hilton reveals date rape drug abuse hell at 15: 'Older guy sexually assaulted me after wine and roofie'
Paris Hilton has told for the first time how she was assaulted aged 15 by an older man who knocked her out with date rape drug Rohypnol.
The multi-millionaire hotel heiress, 42, who this month had her first child with her 42-year-old venture capitalist husband Carter Reum - a boy they have named Phoenix Barron Hilton Reum - has also revealed she was kissed in her teens by a predatory teacher who bombarded her with phone calls.
She said in a candid chat on her troubled past with the February issue of Glamour magazine, ahead of the release of her tell-all autobiography 'Paris: The Memoir', about being drugged as a teen after she and her friends met a group of men at the Century City Mall in Los Angeles: "We would go there almost every weekend. That was our favourite thing to do and these (older) guys would always just be hanging around the stores... we'd talk to them, give them our beeper numbers.
"And then one day, they invited us to their house and we're drinking these berry wine coolers.
"I didn't drink or anything back then, but then when I had maybe one or two sips, I just immediately started feeling dizzy and woozy.
"I don't know what he put in there, I'm assuming it was a roofie (Rohypnol.)"
Paris added she woke a few hours later and found her friend had left, but she had memories of being abused.
She said: "I remembered it. I have visions of him on top of me, covering my mouth, being like, 'You're dreaming, you're dreaming,' and whispering that in my ear."
The incident happened when Paris was sent to live with her maternal grandmother after she says she was targeted by a teacher.
She added: "I was just such a young girl and I got manipulated by my teacher. He took advantage of a young girl and that was something I blocked out as well, I didn't remember it until years later.
"He would call me on the phone all the time, just flirting with me, trying to put in my mind that I was this mature woman."
One night when he lured her to his car she said they kissed, before her mum and dad drove up - and chased them at 100mph.
She said: "We only kissed, but if my parents didn't come, imagine what he would've tried to do?
"We literally drove through Bel Air at like 100 miles an hour. We were going so fast and somehow we got away from them through a red light. He was freaking out and drove me back home to Bel Air, where he was like, 'Get out.'"
Paris said she went into her house and pretended to be asleep, and added: "To this day, I've not talked about it with my family. I've never told anyone.
"I don't know what it was, I just felt so ashamed by the whole situation - just from the beginning at such a young age and it really stuck with me in a weird way."
Paris first revealed details of her abusive past in her 2020 YouTube documentary, 'This is Paris' - including abuse she suffered during her two years at schools for troubled teens, as well as being the victim of a leaked sex tape.
Hacks actress Jean Smart undergoes heart surgery
Jean Smart is recovering from heart surgery.
The 'Hacks' actress didn't go into detail about the procedure she had undergone but confirmed it had been "successful" and urged her fans to "listen" to their bodies and seek medical advice if they felt something was wrong.
The 71-year-old star wrote on Instagram: "February is American Heart Month--a time when the nation spotlights heart health, so it feels important to share with all of you that I am recovering from a recent, successful heart procedure.
"I am fortunate to have excellent professional care and support from family and friends while I continue to recuperate. Please listen to your body and talk to your doctor--I'm very glad I did!"
Some of Jean's castmates were among those who commented on the post, with Kaitlin Olson and Mark Indelicato leaving heart emojis, while Johnny Sibilly wrote: "We love you [red heart emoji] (sic)"
According to Deadline, work on the third season of the HBO Max comedy series - in which Jean plays comic Deborah Vance - has been paused while the actress recovers but is expected to resume around 13 March.
HBO Max and UTV said in a joint statement: "We are so happy that our beloved Jean Smart's heart procedure was successful and she's on the mend. HBO Max and UTV send their well wishes."
Jean recently revealed she had been "having a blast" filming the new season of 'Hacks', which began production last November.
She said: "We're having a blast. I had to learn how to drive a bulldozer the other day."
But the veteran actress confessed to feeling embarrassed when she had to get close to one of her co-stars.
She said: "I had to get bench-pressed by Luke Macfarlane, a very handsome young actor, which was kind of embarrassing."
'I'm too old for this': Selena Gomez quits social media
Selena Gomez is taking a break from social media - just a day after regaining her title as Instagram's most-followed woman.
The 30-year-old singer-and-actress - who, with 382 million followers, has broken the record set by Kylie Jenner in January 2022 - has decided to step away from "everything", hinting she is tired of online drama after fans tried to stoke up a row between her and the 'Kardashians' star.
She said in a TikTok Live clip: "I'm going to be taking a second from social media, because this is a little silly. I'm 30 and am too old for this. But I love you so much and I'll see you guys sooner than later. I'm just gonna take a break from everything."
The 'Only Murders in the Building' star's decision comes after a TikTok user posted a video earlier this week accusing Kylie of mocking Selena's eyebrows, which both stars were quick to dismiss.
Kylie - who has 380 million Instagram followers - commented: "This is reaching, u guys are making something out of nothing. this is silly.(sic)"
Selena replied: "Agreed @kyliejenner It's all unnecessary. I'm a fan of Kylie!(sic)"
The 'My Mind and Me' singer had said she felt "so blessed" to have become Instagram's most-followed woman again.
She said: "I'm very happy, I'm so blessed. I have the best friends, the best fans in the whole world. I just couldn't be happier."
But earlier this month, Selena - who only returned to Instagram in January following a four-year hiatus - branded social media a "waste of time" and admitted that now that she employs an assistant to manage her various platforms, doesn't even have access to the photo-sharing site on her personal phone.
She said: "I never got the chance to go to an actual high school. The world was my high school for the longest time, and I started getting inundated with information that I didn't want.
"I went through a hard time in a break-up and I didn't want to see any of the [feedback] -- not necessarily about the relationship, but the opinions of me versus [someone] else. There'd be thousands of really nice comments, but my mind goes straight to the mean one.
"People can call me ugly or stupid and I'm like, whatever. But these people get detailed. They write paragraphs that are so specific and mean. I would constantly be crying. I constantly had anxiety…I couldn't do it anymore. It was a waste of my time."
Yoko Ono 'has quit New York City to live on farm 42 years after watching John Lennon shot outside their apartment'
Yoko Ono has reportedly secretly quit New York City to live on a farm 42 years after she watched her late husband John Lennon shot to death outside their home in the city.
The singer and artist, who last week celebrated her 90th birthday, has spent decades traumatised by the loss of her Beatles icon partner, but stayed in their nine-room apartment in Manhattan's exclusive Dakota Building - where gunman Mark David Chapman assassinated him on 8 December 1980.
But now, Dailymail.com has reported Yoko has decided to relocate full-time to her 600-acre farm near Franklin, New York.
The outlet said on Thursday (23.02.23) night she is "not thought to have any plans to return" to her home in the Dakota, on the Upper West Side.
It said there is no suggestion Yoko plans to sell the Manhattan apartment, but said the move was a "major change" for John's widow as she was a stalwart of the New York social and arts scenes before withdrawing from public life in the last few years.
It's been reported she is struggling with her health and requires "round the clock" medical care.
She was seen at an event in 2017 in a wheelchair and told fans: "I have learned so much from having this illness," though details of her condition have not been made public.
Yoko and John bought the farm where she is said to be living for $178,000, along with 100 cattle.
Despite her health, Yoko last week celebrated her 90th with friends and family including her son Sean, who she had with John in 1975.
Musician Sean, 47, created a virtual "wish tree" to mark her birthday, with Ringo Star, Sir Elton John and her stepson Julian among those to have sent wishes to her website.
Sean said about the gift: "I wanted to give the whole world an opportunity to make a wish for her and plant a tree in her honour. Make a wish. Plant a tree, Wish Yoko a happy birthday. It's that simple."
In November 2020 it emerged she had handed over the responsibility for handling her business affairs and John's $800 million fortune to Sean.
Yoko married John in 1969 and they stayed together until his death, when his killer Chapman - who is still languishing in jail after he had his 12th bid for parole rejected last year - shot the 'Imagine' singer on the doorstep of the Dakota as he and his wife came home.
Before assassinating John, Chapman turned up at the apartment building and asked John to sign an album, which the Beatle did before he got in a limousine and went to a recording studio.
When he got home around 10.30pm, Chapman was waiting and shot him in the back and shoulder four times in front of Yoko, with John pronounced dead at hospital about an hour later.
The gunman was found sitting outside the Dakota reading a copy of 'The Catcher in the Rye' and said he had shot John after becoming infuriated about the singer's global fame.
He issued an apology to Yoko in 2020, after his 11th parole bid was turned down, telling her he constantly dwells on his "despicable act".
Paris Hilton had abortion in 20s but kept it secret out of 'shame'
Paris Hilton had an abortion in her 20s but kept it secret out of "shame".
The socialite-turned DJ, 42, had her first child with her 42-year-old venture capitalist husband Carter Reum earlier this month - a boy she has named Phoenix Barron Hilton Reum - but has now revealed she was almost a mother more than two decades ago.
She told the February issue of Glamour magazine about her termination - in a candid interview in which she also recalled the sexual abuse she suffered as a teen: "This was also something that I didn't want to talk about because there was so much shame around that.
"I was a kid and I was not ready for that."
Paris added it was not until the US Supreme Court overturned the Roe v Wade abortion ruling last year she felt motivated to talk about it.
She said: "I think it is important. There's just so much politics around it and all that, but it's a woman's body... why should there be a law based on that?
"It's your body, your choice and I really believe in that. It's mind-boggling to me that they're making laws about what you do with your reproductive health, because if it were the other way around with the guys, it would not be this way at all."
Paris added she decided to have her son via surrogacy because she feared pregnancy would bring back the trauma of her abortion - and memories of being abused at her old school for troubled teens, Provo Canyon in Utah, where she says she was sexually molested and regularly had samples of her blood withdrawn and drips pumped into her veins.
Paris added about the prospect of giving birth: "I'm just so scared, I think, again, leading back to Provo of even being in a doctor's office, just all of that.
"The shots, the IVs that they put in... when I was in 'The Simple Life,' I had to be in a room when a woman was giving birth and that traumatised me as well.
"But I want a family so bad, it's just the physical part of doing it. I'm just so scared... childbirth and death are the two things that scare me more than anything in the world."
Read the full interview in the Glamour UK February digital issue, online now.
Paris relives Weinstein trauma: 'He followed me into toilet while screaming, You wanna be a star?'
Paris Hilton says Harvey Weinstein left her "freaked" by following her into a toilet and banging on the door of her stall while howling: "Ya wanna be a star?"
The 42-year-old hotel heiress opened up about the incident - which she claimed ended with Weinstein being dragged away by security - in an interview in which she relived being abused at school and attacked by a man who knocked her unconscious with a date rape drug when she was 15.
She told the February issue of Glamour magazine about her terrifying encounter with Weinstein at The Foundation for Aids Research gala during the Cannes Film Festival in 2000, when she was 19: "I was at lunch with my girlfriend and he came up to the table and was like, 'Oh, you want to be an actress?'
"And I said, 'Yeah, I really want to be in a movie.'
"I was a teenager, so I was impressed by him. I was like, 'Oh my god, Harvey Weinstein is so cool!' and he said, 'Well, we should have a meeting. You can come up to my room and read scripts'… and I just didn't want to go, so I never went."
Paris said about the following day, when Weinstein was hosting the Aids Research gala which she attended: "I went into the bathroom and then he followed me.
"He tried to open the door, he was hammering on the door, banging on it. And I wouldn't open it, because I was like, 'I'm in a stall, why do you want to come in here?'
"And I just wouldn't open it. And security came and literally carried him away and he was like (shouting), 'This is my party,' going nuts. It scared me and freaked me out."
Paris' Glamour interview was published on Thursday (23.02.23), hours before Weinstein was sentenced to another 16 years in jail for rape and sexual assault in LA - on top of his current 23-year term for a 2020 conviction for raping an aspiring actress and sexually abusing a TV and film production assistant.
When asked if she had heard rumours of his abuse, Paris said: "Yeah, and it was just someone so powerful in Hollywood who everyone was terrified of.
"I didn't even want to say anything about it because I was like, 'I don't want people getting mad at me for saying anything,' because it was just a known thing.
"He was just like that and people were like, 'OK, just turn a blind eye.'"
Paris, who this month had her first child with her 42-year-old venture capitalist husband Carter Reum - a boy she has named Phoenix Barron Hilton Reum - also told in the chat how she was picked up by an older man at a mall in LA when she was 15, before he drugged her, leaving her with memories of waking up with him on top of her covering her mouth and telling her: "You're dreaming."
She also told how she suffered abuse during her two years in various schools for troubled teens, such as Provo Canyon School in Utah, where she spent 11 months.
Paris said she was force-fed drugs at the institutions, and subjected to late-night gynaecological examinations.
She added: "This was something that I had blocked out from my memory, but after hearing the story from other survivors, I started having flashbacks.
"Late at night, staff members would come in and take certain girls and bring them into this room. And literally you would scream and cry, they would hold you down, four of them, men and women, and literally just be putting fingers… and just doing things on a regular basis to certain girls."
Read the full interview in the Glamour UK February digital issue, online now.
Alec Baldwin pleads not guilty over fatal shooting of 'Rust' cinematographer Halyna Hutchins
Alec Baldwin has pleaded not guilty over the fatal shooting of 'Rust' cinematographer Halyna Hutchins.
The 'Glengarry Glen Ross' actor, 64, was charged with one count of involuntary manslaughter in January over the 2021 tragedy, and submitted his plea in the case on Thursday, according to documents obtained by Page Six.
Alec had expected to be arraigned on 25 February, and reportedly no longer needs to appear in court on Friday (24.02.23), but is not allowed to drink alcohol, own a gun or talk to potential witnesses besides discussing the continuation of the filming of neo-Western 'Rust'.
The production is set to resume in spring, without its armorer Hannah Gutierrez-Reed, who is also facing an involuntary manslaughter charge over Halyna's death on the New Mexico set of the movie on 21 October 2021 aged 42 when a prop gun went off during rehearsals and hit in her in the chest.
The film's director, Joel Souza, 49, also sustained injuries in the incident, but the District Attorney has stated no charges would be filed in relation to his wounds.
Aled has denied accusations he pulled the trigger on the prop gun, but prosecutors argued photos and videos "clearly" show him "multiple times", with his "finger inside the trigger guard and on the trigger" ahead of the shooting.
The actor initially faced up to five years in prison, but is now looking at 18 months behind bars - as is Hannah - if convicted, after a judge dropped the firearm enhancement charge tied to the one of involuntary manslaughter.
Hannah's attorney Jason Bowles, told 'Entertainment Tonight' about how she will not be returning to the 'Rust' production with Alec: "Hannah is not returning to the 'Rust' filming."
After charges were filed against the pair, Melina Spadone, an attorney for Rust Movie Productions, confirmed plans would go ahead to complete the film, stressing there would be "on-set safety supervisors and union crew members" and that the production "will bar any use of working weapons or any ammunition".
Harvey Weinstein caged for another 16 years for rape and sexual assault
Shamed Hollywood titan Harvey Weinstein has been sentenced to another 16 years in jail for rape and sexual assault after he begged the judge for "mercy" and insisted he was the victim of a "set-up" - and branded his actress accuser an expert at turning on "the tears".
The 70-year-old former power-player - who produced classics including 'Pulp Fiction' and 'Good Will Hunting' and who is currently serving 23 years behind bars for a 2020 conviction for raping an aspiring actress and sexually abusing a TV and film production assistant - was handed the term at a Los Angeles courthouse on Thursday, (23.02.23) which has been branded a life sentence given his age and frail health.
After a trial in December, a jury found him guilty on three counts - rape, forced oral sex and sexual penetration by a foreign object - at the Mr C Hotel in Bevely Hills, LA, in 2013.
All charges related to a single victim, a European model and actor who testified anonymously as 'Jane Doe One' during hearings.
The woman said she was assaulted after Weinstein turned up uninvited at her hotel room during a LA film festival.
Jurors remained undecided on two counts related to accusations made by Jennifer Siebel Newsom, a documentary filmmaker and the wife of California Governor Gavin Newsom, according to the New York Times.
The publication also stated they could not agree on one count stemming from allegations by model and screenwriter Lauren Young.
Jane Doe One said in a statement: "Harvey Weinstein forever destroyed a part of me that night in 2013, and I will never get that back."
While begging judge Lisa Lench for "mercy" on Thursday, Weinstein told her he "didn't deserve" to spend the rest of his life locked up, and insisted the allegations against him were part of a "set up".
The former mogul pleaded to the judged in front of a packed court after being wheeled in for sentencing in a grey Los Angeles County jail uniform: "Your Honour... I maintain that I am innocent.
"I never raped or sexually assaulted Jane Doe One. I don't know that woman and she doesn't know me.
"This is a made-up story. With all due respect, Jane Doe One is an actress... Jane Doe One can turn on the tears.
"Please don't sentence me to life in prison, I don't deserve it. I beg your mercy".
A representative for dad-of-five Weinstein, whose fashion designer wife Georgina Chapman, 46, walked out on him in 2017 before their divorce was finalised in 2021, said the verdict was "cruel" given his age and deteriorating physical condition.
Juda S Engelmayer told Page Six on Thursday: "It's not justice, but a pile-on for a man many people just decided should be cast off and discarded regardless of facts. It will be appealed."
Weinstein's lawyers used the LA trial to attack the #MeToo movement sparked by Weinstein's abuse, urging jurors to forget it and focus on the case.
His attorney Alan Jackson told the jury: "The truth is immutable. It's not a feeling. It's not a whim. It's not a hashtag."
Thursday's sentencing had been delayed from 9 January to allow for a retrial motion to be entered by Weinstein's lawyers, which was rejected by Judge Lench.