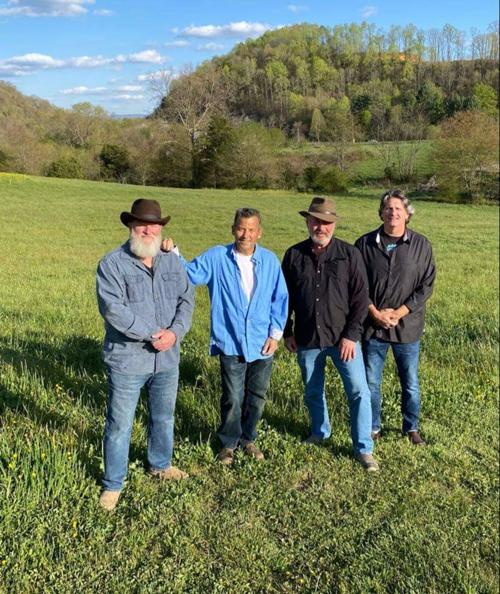 Some people play music for money. Some seek fame.
Bristol's Blue Mountain Saints perform music for the simple love of doing so.
Camaraderie on the bandstand, witness the Blue Mountain Saints onstage at Delta Blues BBQ in Bristol, Tennessee on Saturday, May 1. A four-man band of buddies, the genre-hopping group formed two years ago.
"We had a nice takeoff until COVID hit. Then we went dormant," said Mark Mervis, who plays bass guitar in Blue Mountain Saints. "This is our first show since COVID."
In addition to Mervis, Blue Mountain Saints consist of guitarist D.M. Doyle, lead guitarist and singer Joe Hoskins and drummer Jim Madigan. In years past, Mervis, a longtime figure in the Bristol music scene, was a member of such groups as Box Set and progressive bluegrass outfit Wires and Wood.
"Joe was in Box Set with me," Mervis said. "We've been in duos, trios and Box Set together. Jim moved here from New York after he went to Rhythm & Roots. Doyle was a Connecticut guy who ended up in California, then Boone, North Carolina, then here. Jim played in big bands and jazz in New York. We have a deep mix of songs and styles we love."
Among their substantial mix, Blue Mountain Saints feature a range of alluring original tunes. From a blue-eyed soul base, numbers including "Other Side of Lonely" and "Ray" illustrate the band's penchant for dramatic themes.
"Our ultimate goal is to play all originals," Mervis said. "We hook the crowd with our take on other tunes, but originals are important to us."
A stack of their own songs comes from the prolific pen of the late Jeff Blackburn.
"'Ray' is a Jeff Blackburn song," Mervis said. "We played it in Box Set. Jeff, who was a member of Box Set, died about a year and a half ago. He left us a lot of songs that he wrote."
About "Ray," it's neither a tribute to Ray Charles nor a serious tune. Ponderous, yes. Interesting, quite. Memorable? Listeners will not soon forget its story.
"It's about alien abductions," Mervis said.
Sort of a "Plan 9 from Outer Space" set to music?
"Well, he's paranoid," Mervis said. "There's little green men, and Ray's lost all his marbles."
Hey, prop it up alongside Joe Carson's "Hillbilly Band from Mars" and let it spin.
Stylistically, there's nothing alien about Blue Mountain Saints. They blend bits of the infectious pop music that fueled Box Set with tastes of the blues, country, folk, rock and tidbits of bluegrass. They're a melting pot, from which boils adventurous takes on the music they love.
"We play music for grown-ups," Mervis said. "We've got a repertoire of about 150 songs. Our music tastes vary, but our originals and our takes on songs from other eras focus on a 1970s sound."
Onstage, they'll spew neither blood nor cringe-inducing invectives. Instead, the members of Blue Mountain Saints seek to entertain themselves and their audiences using music that bonds with the life-affirming joints of crisp musicianship and meaningful lyrics.
Blue Mountain Saints, they're not a band on the run; they're a band set to stay.
"It's a brotherhood," Mervis said. "Hey, I get to play music with my buddies."