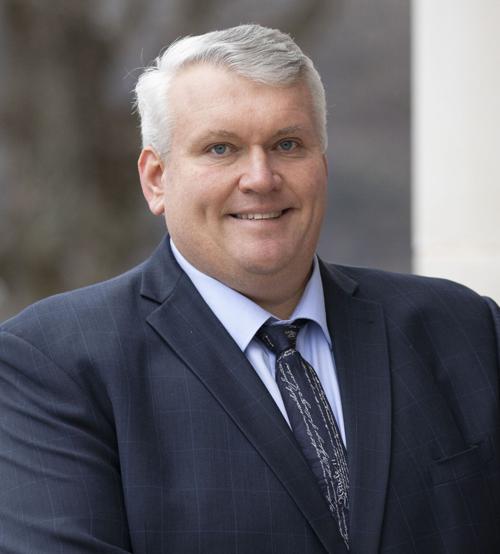 Republican Travis Hackworth will soon take the oath to become the next state senator from the 38th District, after handily defeating opponent Laurie Buchwald.
Hackworth, 45, received 75.7% of votes Tuesday in the special election to fill the seat of former Sen. Ben Chafin, R-Lebanon, who died Jan. 1. Hackworth received 17,943 unofficial votes to 5,724 — 24.1% — for Buchwald, a 60-year-old nurse practitioner from Radford. All totals are unofficial until each locality completes its canvass and results are certified by the state.
The winner said Tuesday night the victory hadn't sunk in yet.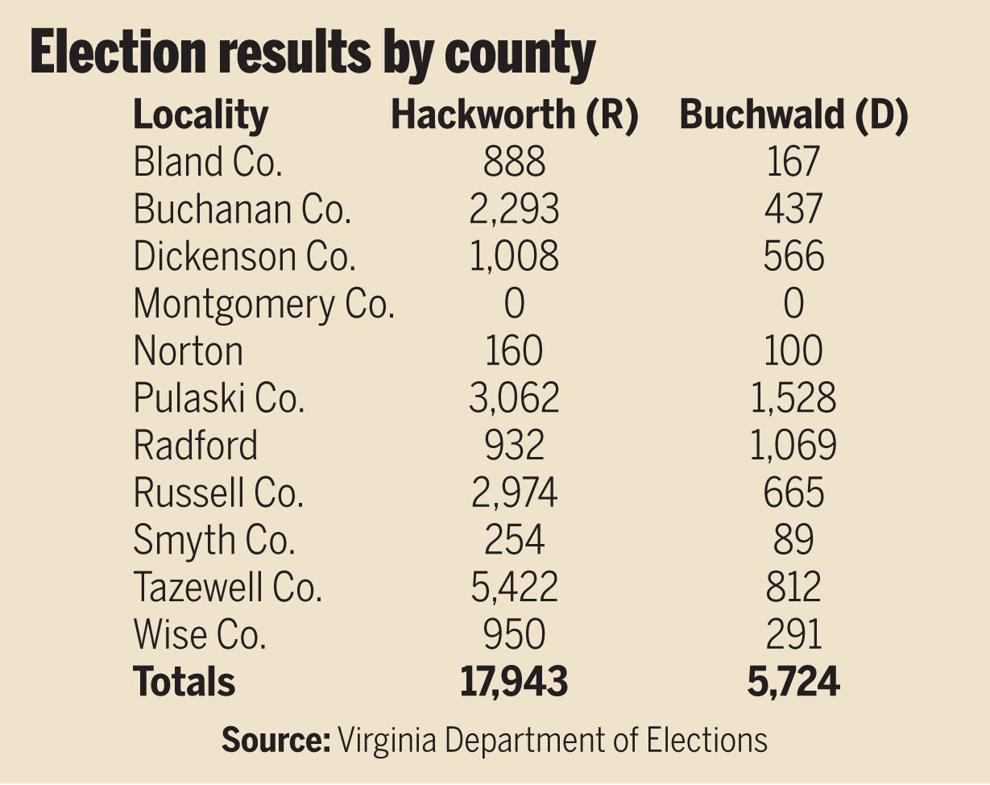 "I just want to say I am so thankful and grateful," Hackworth said. "I have had support from all areas of the 38th District. … My family, my wife Angel [and] the pastors around here have been absolutely wonderful. I just want to say thanks for the overwhelming victory that we were able to show the liberals the 38th District is still very much a conservative district."
He credited his campaign volunteers, who he said "kicked butt," including primary opponent Joni Baker, who went "above and beyond" working in the campaign.
Hackworth hopes to take the oath of office April 2.
Hackworth swept every locality except Buchwald's home district of Radford, where she was a two-term City Council member.
A two-term member of the Tazewell County Board of Supervisors, Hackworth's biggest victories came close to home. He won his home county with 86.7% of the vote and received 84% of the votes cast in Buchanan County.
The massive district includes all of Bland, Buchanan, Dickenson, Russell, Pulaski and Tazewell counties, parts of Montgomery, Smyth and Wise counties and the cities of Norton and Radford.
Sen. Todd Pillion, R-Abingdon, extended congratulations in a tweet Tuesday night.
"Congratulations to Travis Hackworth on winning the special election in the 38th Senatorial District! This election restores full representation of SWVA in the Senate of Virginia and we're ready to work together on the people's business here at home and in Richmond," Pillion tweeted.
The Virginia Senate Democratic Caucus also released a statement.
"While the results tonight were not what we were hoping for, Laurie Buchwald ran an incredible and positive campaign focusing on the issues we have heard around the 38th District: economic security, educational opportunities, and Southwest Virginia having a representative who will concentrate on what's best for every one of her constituents and every Virginian," according to the statement. "We would like to congratulate Senator-Elect Travis Hackworth on his victory and look forward to working with him in the Senate."
The seat has been in Republican hands since Chafin won a special election in 2014 to fill the unexpired term of former Sen. Phillip Puckett, who resigned.
Hackworth emerged from a six-person January firehouse primary, running on a conservative platform, billing himself as "pro-God, pro-business, pro-guns, pro-life, pro-family, pro-police, pro-coal, pro-veterans, and pro-America first."
Hackworth entered the race with endorsements from members of the current Southwest delegation and former state Sen. Bill Carrico.
The candidate was able to raise more than $236,000 during the abbreviated campaign's roughly two-month span.