'I need a budget'
Youngkin: 'Ample funds' to weather DC debt standoff turmoil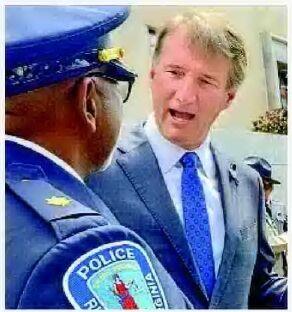 VIRGINIA
Pausing for a moment Friday to pick up a theme from his remarks at a memorial ceremony to honor law enforcement officers who died in the line of duty, Virginia Gov. Glenn Youngkin was blunt:
"I need a budget," he said. Beginning with lessons learned from the Partnership for Petersburg's push to tackle violent crime in the hard-pressed little city, Youngkin last year launched his "Operation Bold Blue Line" effort to boost law enforcement resources — and the money for that is tied up in the budget impasse.
That money includes $30 million to recruit 2,000 new members of law enforcement, and additional funding for prosecutors and to tackle the pay issues that make retaining experienced officers a challenge, as well as funding for equipment and training.
On Thursday at an event to announce the state teacher of the year, Youngkin said he agreed with leaders of the state Senate and House of Delegates money committees that it made sense to hold off on nailing down an agreement to narrow a $1 billion gap between the two bodies' budget packages while the federal debt ceiling crisis hangs over the economy.
But, he said, "we have ample, ample funds" to weather any economic turmoil from the federal debt standoff and still provide for tax relief and major investments his budget proposal called for in education, mental health services, law enforcement and water quality measures for the Chesapeake Bay.
Education funding is one area of dispute, since the Senate's version of a budget calls for three times as large a boost in direct state aid to K-12 schools — a $1 billion increase — while axing Youngkin's proposed cut in the top income tax rate to 5.5% from 5.75% as well as increasing the standard deduction and cutting the corporate tax rate to 5% from 6%.
Youngkin said he thinks President Joe Biden needs to take more seriously the GOP-led U.S. House of Representatives' demands to cut spending as a quid pro quo for increasing the federal debt ceiling.
That ceiling says the U.S. cannot borrow more than $31.46 trillion. Treasury Secretary Janet Yellen has warned it means the government could run out of cash as early as next month because it is unable to borrow money in the short term to cover the usual fluctuations in revenue that any enterprise sees.
The issue does not arise in Virginia because the state constitution says its budget has to have a balance between spending and revenue, which as a practical matter means maintaining large reserves.
As of the end of fiscal year 2022, those stood at $2.65 billion and were projected to rise to $3.8 billion by the end of this fiscal year on June 30.
The state's borrowings are made for the same reason homeowners take out mortgages or drivers arrange car loans — to cover the big lump sums needed for a major investment, such as expanding highways or erecting college buildings.
Youngkin said the excess of revenue over state spending so far is running above the $3.6 billion projected when he was putting together his budget proposal.