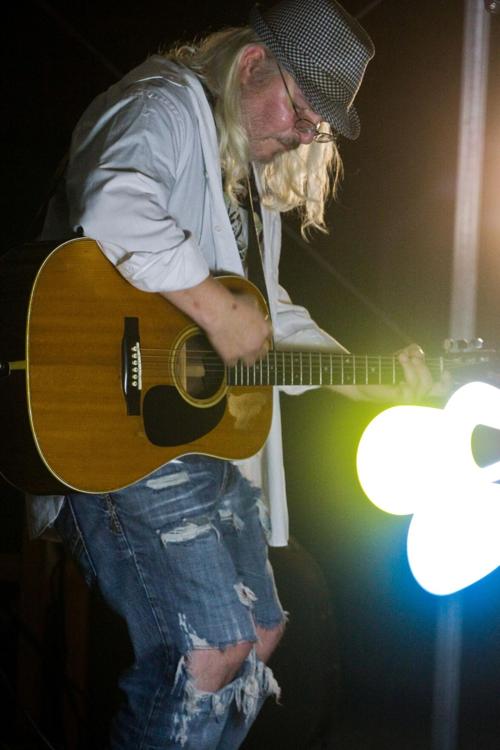 Lyle Lovett and Dwight Yoakam
Texan Lyle Lovett and Kentuckian Dwight Yoakam stormed country music's bland shores of the 1980s with two-pronged styles of country that bore deep tenors of revolution.
They were among country music's wave of new traditionalists.
Now Lovett joins Yoakam for a summit of country authenticity on Friday. Watch online as the event streams live via Lovett's website. Buy tickets now for $10 a pop.
Yoakam debuted in 1986 with the groundbreaking "Guitars, Cadillacs, Etc., Etc." Lovett followed months later with the captivatingly quirky "Farther Down the Line" and "Cowboy Man." Neither sounds like the other. However, their distinctive routes to country legendary status mostly sidestepped mainstream waters en route to forming a climate all their own.
Lamb of God
Monuments in Richmond amount to more than debated hunks of concrete and sculpture. Modern-era monument of metal Lamb of God calls Richmond home.
From Richmond the stars of heavy metal will stream live a pair of albums on Friday, Sept. 18, and Friday, Sept. 25. Check the band's website for tickets and access to the feed.
"Wake up! Wake up!" Lamb of God scream on "Memento Mori," the opening blast from the veteran band's new self-titled album. They'll perform the epic album in its entirety Friday. A week later, Lamb of God cracks the seal on its career-making "Ashes of the Wake" album from 2004. "Laid to Rest," perhaps the band's signature song, has garnered a whopping 66 million spins on Spotify. So while Robert E. Lee awaits his fate in Richmond, Lamb of God marches on.
Hip Hop 4 Peace
Music reflects culture, and culture often reflects music.
So it goes with Hip Hop 4 Peace. Presented by New York's Universal Hip Hop Museum, the event streams live Monday, Sept. 21, to commemorate the United Nations' International Day of Peace. Find the stream on the museum's YouTube site.
Hip-hop's relatively brief history embraces the culture and tenor of the times. Chuck D's Public Enemy challenged the police decades ago, long before such initiatives as "No Justice, No Peace" and "Black Lives Matter." With Hip Hop 4 Peace, such old-school hip-hop pioneers as Chuck D and Kurtis Blow will speak and perform on societal issues at hand.
Music Notes
Somber was the night, soaked were the songs.
A handful of the area's leading musicians paid tribute to the late Justin Townes Earle on Friday night at Wolf Hills Brewing Co. in Abingdon. Attendees braved heat, humidity, then rain. Performers braved their emotions.
Scotty Melton cried as he sang "Turn Out My Lights," a song he wrote with Earle, his longtime friend and former roommate. Host Logan Fritz spoke passionately of his late hero, then sang with even more verve. Likewise Bill Edwards and the always-brilliant Adam Bolt.
Onlookers listened intently. Some sipped beer, a few held hands, most seemed enthralled as Earle's music touched in the moment amid its echoes for all of time. He wrote of love won and love lost, humor in the moment, battles from the past and pain that never seemed to go away.
Earle wasn't there Friday, but his music sure was, and that's one thing that none of us will outlive.
Never say dead apparently applies to 423 Social.
Several weeks ago, management for the venue took to its Facebook page to announce its closure on Aug. 23. Located on Volunteer Parkway in Bristol, Tennessee, they've since had a change of direction as 423 Social has reopened.
"423 Social is back baby!" as indicated by a post on the venue's Facebook page. "First and foremost, we want to say thank you for your loyal support to 423. We would not be here without you!"
They went on to say that 423 Social will reopen Friday, Sept. 18, with a performance by The Midnight Gypsys. One night later, Wyldeheart returns to 423.
The return of 423 from the dead appears to satisfy local folks. Nearly 250 people either liked or loved the post.
Canada's True North Records spins a stack of winners during this week's free MP3 downloads. Simply access www.faceboob.com/tnrecords and scroll down to find the link. A trove of 10 songs await. Gems included vary from Bruce Cockburn's steaming "Blind Willie" to Buffy Sainte-Marie's "You Got to Run."