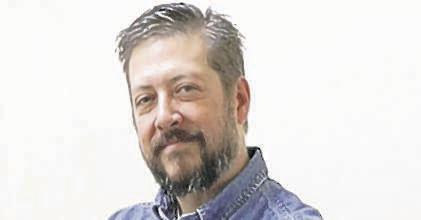 Spring has sprung, according to the old cliché used by every unimaginative writer who ever penned a story that referenced spring.
We emerge from a long, hard winter, trees begin to show their early shades of green, and animals shake off their cold-weather slumber, especially angry octopuses, drug-dealing cats and video-conferencing chimps.
It's time once again for the infrequent series Nature Run Amuck, a look at animals in the news.
Never pick a fight with an eight-armed opponent.
According to a report from Reuters, an Australian author and his family were on holiday at a resort when an octopus whipped the absolute dog snot out of him.
I'm not going to use his name here for fear that he will one day Google himself, this column will pop up, he'll be angered by what I write about him, he'll jump on a plane, he'll fly to America to confront me, and he will say, "That's not a knife (pulls giant knife) — THAT'S a knife," which is what all Australians say and do in a confrontation, according to "Crocodile Dundee."
On the beach, the author thought he saw the tail of a stingray emerge from the water and strike a seagull. Scooping up his 2-year-old daughter, he moved in close to investigate.
There is a school of thought that taking a 2-year-old child into a potentially dangerous situation is always a good idea. They can be used as a human shield, and, if that fails, they are light enough to throw a considerable distance to distract your attacker so you can run to safety.
Rather than a stingray, this turned out to be an octopus that "lashed out at us, which was a real shock," the author said in an email to Reuters. He and the 2-year-made it back to shore, but the author immediately returned to the water to "explore a collection of crab shells."
That didn't sit well with the octopus, which smashed him "across his arm — followed by a more forceful sting across his neck and upper back."
To his credit, the author took responsibility for the smackdown.
"This was clearly the octopus's domain," he said.
It was unclear if the fight was sponsored by Foster's Lager.
Hey, Frisky, got any weed?
According to another report from Reuters, which was clearly on a roll last month, six high-dollar, pedigree cats were confiscated in Thailand as part of an investigation into drug trafficking and money laundering.
When reached for comment, Whiskers the cat said, "Those dirty coppers got nothing on me, see? I'm clean, see? I don't know nothing about no smack, no bootleg hooch or no numbers racket, see?" (Whiskers' former owner watched a lot of old gangster movies on TV.).
Thai officials said the cats, worth thousands of dollars to people who would inexplicably pay thousands of dollars for a cat when there are six or seven free ones on my street they can have, will be auctioned off.
Turn your audio on, Mr. Bonzo. Mr. Bonzo, your … no, we can see you, Mr. Bonzo. Your audio is not on.
Chimps in two Czech zoos are enjoying video conferencing, unlike some of us corporate monkeys who are forced to video conference and don't enjoy it.
People, via Yahoo News, reported zoo personnel set up video monitors so the chimps, who haven't had visitors during the pandemic, could have some interaction, watching the daily lives of other chimps.
At first, the chimps didn't like what they saw, said Gabriela Linhartova, an ape keeper, but it quickly grew on them.
"It has since moved into the mode of 'I am in the movies' or 'I am watching TV.' When they see some tense situations, it gets them up off the couch, like us when we watch a live sports event," she said.
And, of course, everyone gets a good laugh during the zoo Zoom call when Mr. Bonzo forgets to wear his pants.