BRISTOL, Tenn. — Ann McDaniel relaxed in her red recliner on Wednesday afternoon.
Legs crossed, she sipped from a bottle of Boost as she looked her guest directly in the eyes.
"I'm having my 100th birthday," said McDaniel, when asked of Tuesday, Aug. 4.
One must be over the moon about such a prospect.
"No," McDaniel said, "but I'm jumping. Just drive by and honk."
In lieu of a party during the pandemic, folks are asked to drive by McDaniel's home at 42 Tremont Place from 6 to 7 p.m. Tuesday, Aug. 4. By all means, honk and wave, particularly as McDaniel will be in her yard to observe the proceedings.
"You don't think about it until it slips up on you," McDaniel said of turning 100. "I'm thinking to the good Lord, 'Hold on, I'm coming.' That's the most important thing."
A member of Edgemont Presbyterian Church in Bristol, Tennessee, McDaniel holds dear her faith. A copy of Billy Graham's book, "Unto the Hills: A Daily Devotional," rests atop an end table. She's owned it for a while.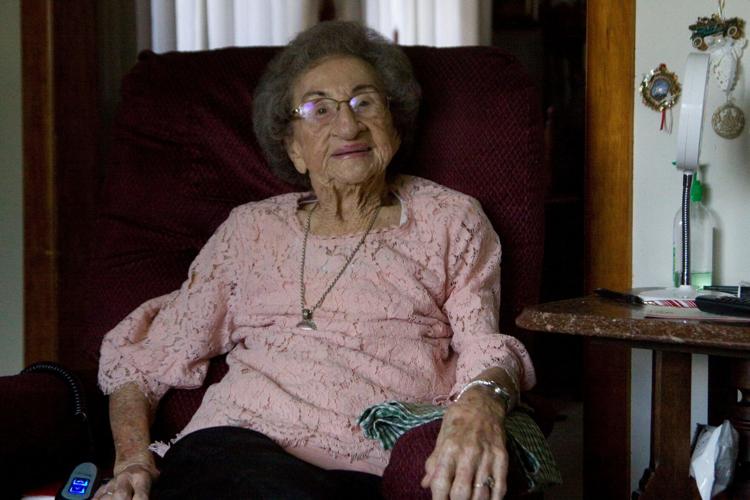 Just outside her front door and in the driveway sits her most recent large purchase. Yep, she bought a car mere weeks ago at the age of 99.
"I sure did!" McDaniel said, as a large smile graced her friendly face. "I bought a new red car. It drives real well."
Yes, Tennessee, at the age of 99 and soon to be 100, she still drives. And well, too.
"I drive at least once a week," McDaniel said. "It gets me to where I'm going. I go get my hair done once per week at The Styling Salon down on the (Volunteer) Parkway by Robin Bowman. Miss Robin came today and prettied me up for you."
Ann McDaniel's smile radiates a welcoming nature. Strangers aren't strangers when she greets them. Indeed, she treats people as friends. People matter to her.
"That's the main thing," she said, "treating people well. You get so much in return. Like last night. I thought, 'What am I going to have for dinner tonight?' Well, a neighbor across the street sent chicken and dumplings."
Several neighbors pitch in to help McDaniel with the more strenuous tasks of life. They clean house, cook for her, mow her yard and so forth.
"She is like my grandmother. We're best friends," said Debbie Graybeal of McDaniel, whom she refers to as "Miss Mac."
Ann McDaniel does not hail from Bristol. She was born Aug. 4, 1920, to Emory and Maude Ryan in Castlewood, Virginia.
"I was born at home," she said. "Wonderful childhood! I had a wonderful father and mother."
Reared on the family farm, McDaniel still owns the property.
"I'm a farmer. I'm still farming," she said. "I've got 800-some acres in Russell County and Scott County. It's principally hay, but I have a bunch of cattle, too."
Know this about Ann McDaniel. She's one of a growing number of Americans living to be 100 years old.
According to the Centers for Disease Control and Prevention, there were 50,281 centenarians in America in 2000. That number jumped 44 percent by 2014 to 72,197. Today, more than 80,000 people accompany McDaniel as 100-year-old Americans.
Consider 1920, the year of McDaniel's birth. Woodrow Wilson was president of the United States. Alcohol was prohibited by the 18th Amendment to the Constitution, the first commercial radio station began, and women earned the right to vote.
Furthermore, Hollywood was silent when McDaniel was born. The first talking motion picture, "The Jazz Singer," debuted when she was 7. She preceded country music's Grand Ole Opry by five years, the first television invented by seven years, and the first personal computer by 55 years.
Oh, and Babe Ruth was in his first season with the New York Yankees in 1920. He hit a home run on the day before McDaniel's birth and another on the day after her birth.
She doesn't remember those days, but she does remember The Great Depression, which took root during her ninth year.
"It wasn't too bad because we were country people in Russell County," McDaniel said. "We had plenty to eat, enough to wear. We never went hungry."
McDaniel turned 21 in 1941, the year that the United States went to war during World War II. She married Harold McDaniel, a Navy man, in 1943.
"He served on a ship," she said. "I know he went to Algiers. I was just praying that he would get home safely."
He did. McDaniel's husband built a career in the Navy. As a result, they traveled often after the war. Among her memories, the nights spent in New York City maintain a particular glimmer of recollection all these years later.
"This was back in the '40s," McDaniel said. "It was wonderful! Going to the big stores. Bought a lot of pretty things."
Those were the days before any such thing as rock 'n' roll or hip-hop. Hot acts on the bandstand during the pre-Elvis Presley years included pop acts Bing Crosby and Frank Sinatra and country music's Roy Acuff and Eddy Arnold.
"We saw Guy Lombardo in New York City," McDaniel said, aglow upon thought of the memory.
Lombardo cultivated a superstar's career that began in the 1920s and encompassed several decades. His smash hits included "Red Sails in the Sunset" and "It's a Love-Love-Love."
"Oh, he was great!" McDaniel said. "Lots of dancing. I liked country and popular music. Frank Sinatra, oh, he was a honey!"
Live 100 years. One will experience history in the moment, joys as well as sadness multiplied. McDaniel's no different. Like most people on the day of President John F. Kennedy's assassination in 1963, she remembers well the sorrow felt.
She heard the announcement of his death through radio.
"I remember sitting in the dining room on this couch we had, and how it was a very sad day," McDaniel said. "Oh, no! Oh, no!"
Live a day, live 100 years. McDaniel's known her share of ups and downs. Yet she stands steady, speaks clearly, remembers vividly, smiles warmly, and loves widely.
Oh, and the day of her 100th birthday?
"I'm going to sit in my front yard," McDaniel said, "and watch people drive by and honk."
Why, McDaniel may even drive by and honk, too. She recently renewed her driver's license — for another eight years, until she's 108. Character? She has enough to fill her car and yours, too.
Ever thankful, the soon-to-be centenarian smiled as warm as a mother's love.
"God knows what a wonderful life I've had," McDaniel said. "And still am having, yes!"
Concerned about COVID-19?
Sign up now to get the most recent coronavirus headlines and other important local and national news sent to your email inbox daily.