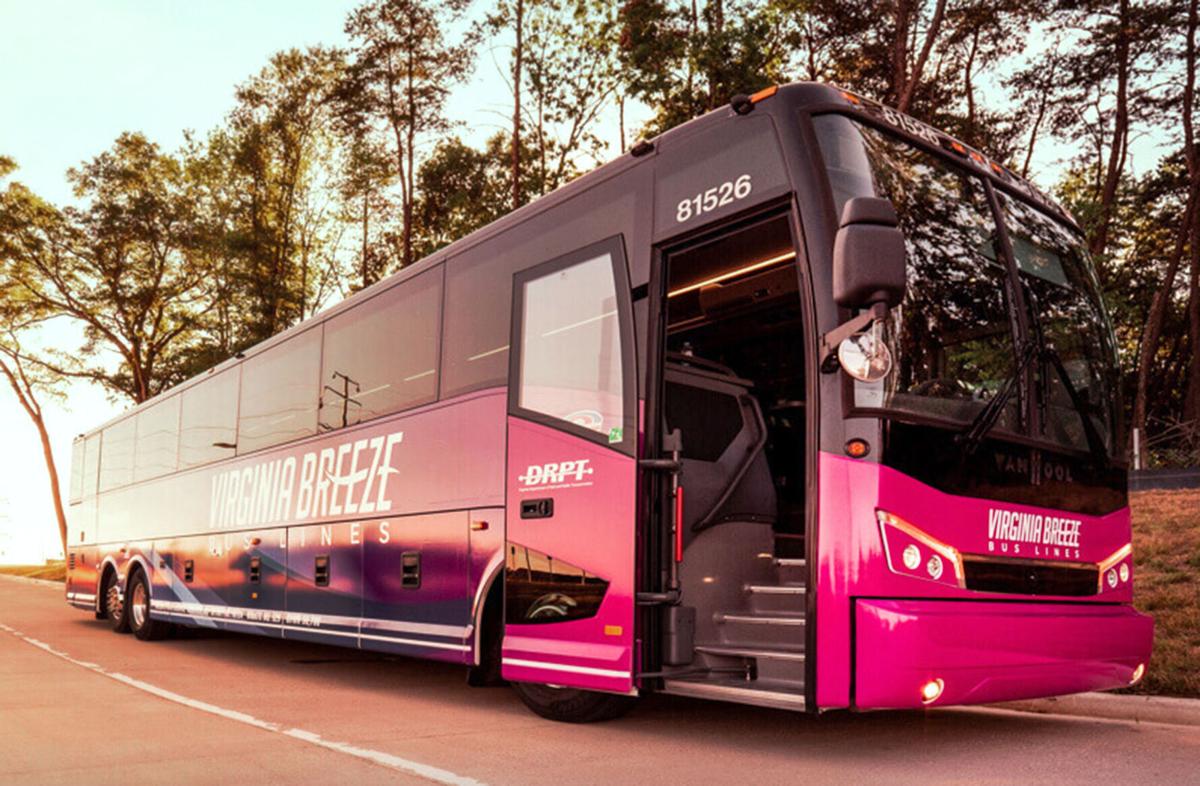 BRISTOL, Va. — Virginia Breeze, a public-private partnership bus carrier serving Virginia and Washington, D.C., will begin a new route to Bristol starting Monday, Nov. 15.
The company will initiate its fourth route across the state, linking the Twin City with the nation's capital, according to the Virginia Breeze website. Virginia Breeze intercity bus service is operated by Megabus in cooperation with the Virginia Department of Rail and Public Transportation.
A ceremony is planned Saturday in front of the Birthplace of Country Music Museum. Birthplace of Country Music Way, which includes traffic access to The Bristol Hotel, will be closed from 8 a.m. until noon.
Mayor Anthony Farnum said the addition of Virginia Breeze is "very exciting" news for Southwest Virginia.
"The Virginia Breeze will provide a missing, critical transportation service between Bristol and Washington, D.C., in a way that will make Southwest Virginians feel more connected," Farnum said Monday.
The Highlands Rhythm route is slated to offer one northbound and one southbound trip every day, except in severe weather and other extenuating circumstances. The bus is scheduled to leave Bristol daily at 11 a.m. and offer eight stops before arriving in Washington, D.C., at the Union Station bus deck at 6:05 p.m.
A southbound bus is scheduled to leave Washington at 1 p.m. daily and arrive in Bristol at 8:10 p.m.
Departure and arrival will be at the Virginia Department of Transportation park and ride lot at Interstate 81's Exit 5.
Other route stops include Wytheville, Radford, Christiansburg, Salem, Harrisonburg, Dulles International Airport and the West Falls Church metro rail station.
Bus tickets range in price from $15 to $60, according to the website.
Virginia Breeze began operations in December 2017, providing bus service along the I-81 corridor. It suspended operations last March in the wake of the pandemic, then relaunched with two additional routes in August 2020.
Virginia Breeze presently operates its original northbound and southbound route linking Blacksburg and Washington, D.C., offering eight stops and a 6.5-hour trip. Its other two routes are the Capital Connector, which includes Martinsville, Danville and Richmond, and the Piedmont Express, which includes Danville and Lynchburg — connecting each to Washington, D.C.
With the Union Station connection in Washington, travelers can then take a Megabus or an Amtrak train to cities along the Northeast corridor, including Baltimore, Philadelphia, New York City and Boston or the metro to sites around the district.
Asked if the planned Hard Rock Bristol Casino Hotel project was a factor in securing the bus route, the mayor said people are already noticing the Twin City and region.
"Bristol is on the map, and the casino is helping with that. I hope this [bus] leads to soon having passenger rail service at the train station."
The city has worked for years to bring Amtrak service to and through Bristol. Gov. Ralph Northam announced earlier this year that Amtrak will soon extend passenger service from Roanoke to the New River Valley.