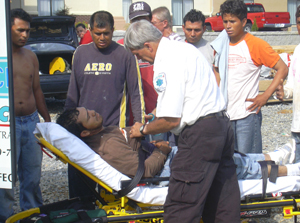 A male construction worker helping build a new Country Inn and Suites hotel off Pepper's Ferry Road was injured by falling debris Friday morning.
A co-owner of Thomas Builders Inc., the company building the hotel, said he wasn't completely sure what had happened.
"Something fell on him and hit him," Darrell Thomas said.
A rescue worker on scene identified the debris as a staircase.
Thomas also didn't know the injured man's name, saying he was a worker through a subcontractor and didn't speak English. A number given to reach the subcontractor was disconnected.
Members of Lifecare Ambulance Service placed a neck brace on the injured worker and transported him to Wythe County Community Hospital. When a rescue worker asked a man identified as the foreman on duty how much the stairs that fell on the man weighed, he responded, "a couple hundred pounds."
The hospital declined to release information on the man's condition.
Thomas declined to answer anymore questions.
Wytheville Building Official Stan Massie said on Friday that the builder had been told of a design flaw in a staircase and had been trying to repair it. According to Massie, while up to code, the structure didn't meet the franchise's standards.
The Virginia Department of Labor hadn't received any information regarding the incident on Friday, but an agency spokeswoman said if an investigation were initiated no information could be released.
In July 1996, a Missouri worker was killed during construction at the Country Inn Motel in Fort Chiswell. A 6,500-pound metal pipe fell on the man who was working on an elevator.